AURORA, Colo. — Officers from the Aurora and Denver police departments were involved in a shooting Monday near Abilene Street and East 35th Place in northern Aurora.
At about 11 a.m., Denver Police Department (DPD) responded to a carjacking that took place in the area of 48th Avenue and Chambers Road, according to Aurora Police spokesperson Crystal McCoy.
The suspect, later identified as 22-year-old David Guillen from Denver, kidnapped the victim and drove to the area of 35th Avenue and Abilene Road, where the masked suspect got out of the car, McCoy said.
An Aurora Police news release said the suspect began walking east on 35th.
Denver Police called Aurora Police for emergency cover at about 11:20 a.m., McCoy said during a news briefing.
The suspect was armed with a handgun, according to McCoy.
Police said officers gave the man multiple commands to drop the gun.
The man raised the gun and pointed it toward officers, according to Aurora Police.
Police said six officers, five from Denver and one from Aurora, fired their guns at the suspect.
The suspect died at the scene. His identity will be released by the Adams County Coroner's Office, according to McCoy.
All of the officers who fired shots are on paid administrative leave, McCoy said.
Officer-involved shooting in Aurora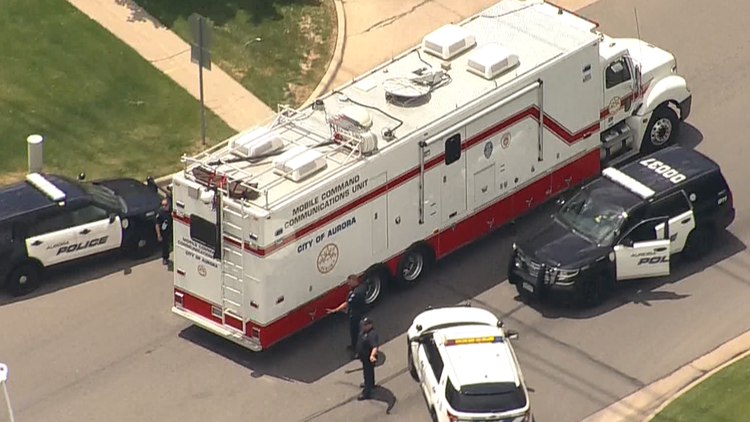 Anyone with information about the suspect is asked to call Crime Stoppers at 720-913-7867 or by visiting metrodenvercrimestoppers.com. Tipsters can remain anonymous and may be eligible for a reward of up to $2,000.
Metro Denver Crime Stoppers works by assigning a code to people who anonymously submit a tip. Information is shared with law enforcement, and Crime Stoppers are notified at the conclusion of the investigation.
From there, an awards committee reviews the information provided and, if the information leads to an arrest, the tipster will be notified. Rewards can be collected using the code numbers received when the tip was originally submitted.