BOULDER, Colo. — Content Warning: This article deals with sexual assault, a topic that could be sensitive to some readers.
Students at the University of Colorado Boulder marched to an off-campus fraternity Friday evening to show support for two women who said they were sexually assaulted.
The first incident was reported at a frat house in the 1000 block of 12th Street either late Oct. 23 or early in the morning on Oct. 24, according to the Boulder Police Department (BPD). The second assault was reported at that same location about a week later on Oct. 31, according to BPD.
Both investigations are in their "early stages," police said. Police did not specify which fraternity house, but students on campus said it was Pi Kappa Alpha. The president of that fraternity declined to comment Friday.
The students who marched to the house said they want to see action taken against the fraternity and those responsible for the assaults.
"We can't let it get looked over again," said Selena Powell, the organizer of the protest, who said she is also a survivor of sexual assault. "We can't let it get swept under the rug. We need to bring awareness because it's not just our college campus that it's happening at. It's every college campus, so we need to set a standard and we need to stick to that and let frats or literally anyone know that it's not okay."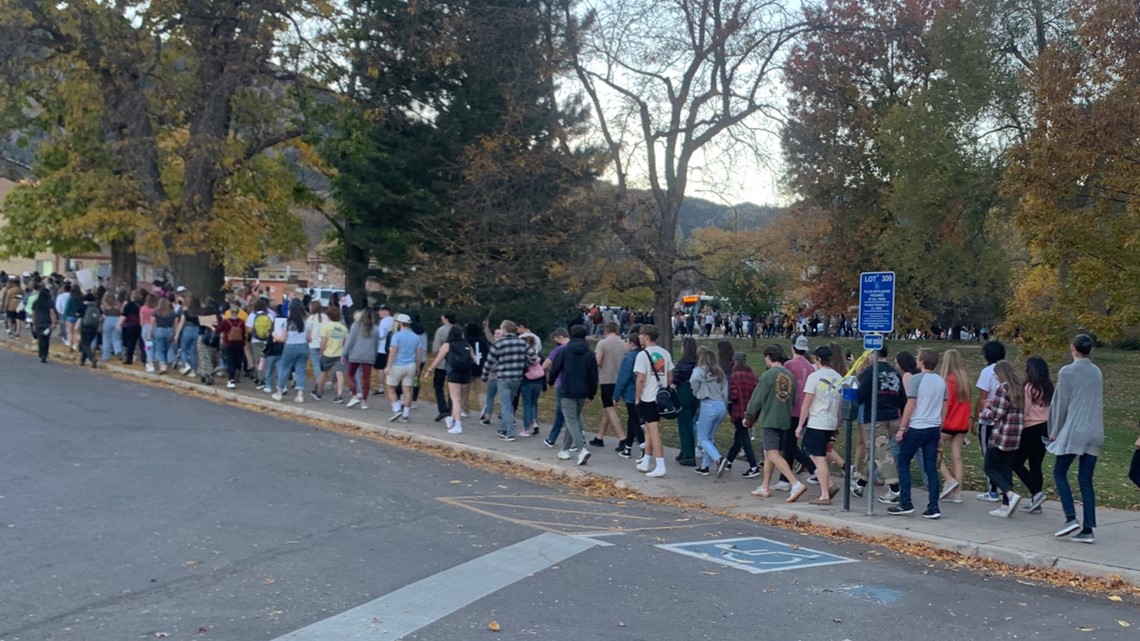 Organizer Morgan Hughes, a freshman at CU Boulder, said she hopes a protest like this brings accountability.
"I know a lot of people are willing to stand up for an anonymous victim, and that's crazy to see," she said. "And that's what we need. We need students supporting other students, whether it's somebody you know or somebody you've never even heard of. We can't just sit here and let this get brushed under the rug kind of thing."
The department said they couldn't release further details without compromising the integrity of the investigations.
> Video: 2 women report sex assaults at Boulder frat house
"We stand behind each other. Especially if it happens to our friends, I mean, people hear about it," organizer Anthony Tyles said. "None of these people even know the victim and they're here, they're protesting today. We back each other as a community."
The University of Colorado said that while most fraternities are comprised of CU students, most organizations are not affiliated with the university.
The university released a statement saying:
We are aware of recent allegations of sexual assault off-campus. In most cases, we cannot publicly share the details of specific cases due to privacy laws.
Sexual assault has devastating impacts on victims and survivors and our campus community as a whole. CU Boulder is deeply committed to continuously improving our prevention and education efforts and ensuring that our response resources meet the needs of our campus community. CU has dedicated resources for confidential support and advocacy, safety measures, and investigative response regardless of whether incidents occur on or off campus.
All allegations of sexual misconduct are reported to the Office of Institutional Equity and Compliance (OIEC). Anyone who would like to share information or discuss addressing such conduct can contact OIEC at 303-492-2127 or cureport@colorado.edu. We also ask anyone with information on a crime to report it to the police. University community members seeking free and confidential support, trauma informed counseling, and victim advocacy can also reach out to our Office of Victim Assistance at 303-492-8855 or assist@colorado.edu.
University leaders also sent a letter to students, acknowledging sexual assault as a "very real problem" at CU and sharing several resources.
This past fall, that office collaborated with CUPD to create a new position. It offers immediate emotional support for those impacted by traumatic experiences and works with students affected by traumatic events, including sexual assault incidents that occur on campus.
The Independent Interfraternity Council in Boulder, which is the governing council for its 21 member fraternities, also released a statement, saying:
The IFC on The Hill is committed to the concept that fraternities are values-based organizations whose members have responsibilities to be gentlemen. The IFC on The Hill understands the gravity of sexual assault and its impact on its survivors. We have been working for months to implement sexual assault and harassment education with the help of women across the hill.
The IFC on The Hill has and will continue to cooperate with University of Colorado and Boulder Police investigations. We deplore inappropriate sexual conduct and when presented with evidence of such conduct we take action with a member chapter within the context of our constitution and bylaws. The IFC on The Hill is also committed to ensuring our member chapters are capable of holding its individual members accountable for their actions.
We encourage anyone with information regarding incidents of sexual assault to contact the University of Colorado's OIEC at (303) 492-2127 or Boulder Police Department's dispatch at (303) 441-3333. We also encourage university community members seeking confidential support to contact the Office of Victim Assistance at (303) 492-8855.
Anyone with information about either assault is asked to call dispatch at 303-441-3333. Anyone who's been a victim of sexual assault and would like to make a report should contact the BPD's non-emergency number at 303-441-3333.
"We are encouraged to see our students using their voices to speak about this incredibly important topic," CU Title IX Coordinator Llen Pomeroy said in a statement. "We are here to support them."