GREENWOOD VILLAGE, Colo. — Following four incidents of alleged vandalism at one of their offices, police said a threat of "civil war" was sent to public health officials at the Tri-County Health Department (TCHD).
Greenwood Village Police said in a news release that the threat was emailed Tuesday to a receptionist for TCHD, which covers Adams, Arapahoe, and Douglas counties. Officers have since increased patrols outside of the Greenwood Village office on South Willow Drive.
"I know you're the receptionist and not responsible for these edicts... but tell the 9 petty tyrants who want to keep locking most of Colorado down to F--- OFF," the email said, according to the news release. "'We the people' are DONE with this f***ing bulls***, and you're about to start a hot-shooting no bulls*** civil war."
TCHD has nine directors, all with medical expertise, appointed by county commissioners. Wednesday, the department issued this statement:
On May 5 a citizen wrote an email to the Tri-County Health Department (TCHD) directed to the Board of Health (BOH) expressing their displeasure with the current handling of the response to the COVID-19 pandemic. This communication used offensive language and expressed a concern that if the BOH continued with their current course of action, that it would lead to severe negative consequences including community violence. In an abundance of caution, due to the sentiment expressed and the harsh language used, this email was reported to the Greenwood Village Police Department. In their judgment, the content of the email was not criminal in nature, and while it is unfortunate that the language used was intimidating, TCHD supports the rights of citizens to redress their grievances with their government and acknowledges that this is a very trying time for everyone.
Also Wednesday, the Aurora Police Department (APD) confirmed to 9NEWS that it is looking into four reports of vandalism at the TCHD satellite on East Hampden. Windows were broken on April 16, 18 and 20, police said. The office was spraypainted on Monday of this week, APD said.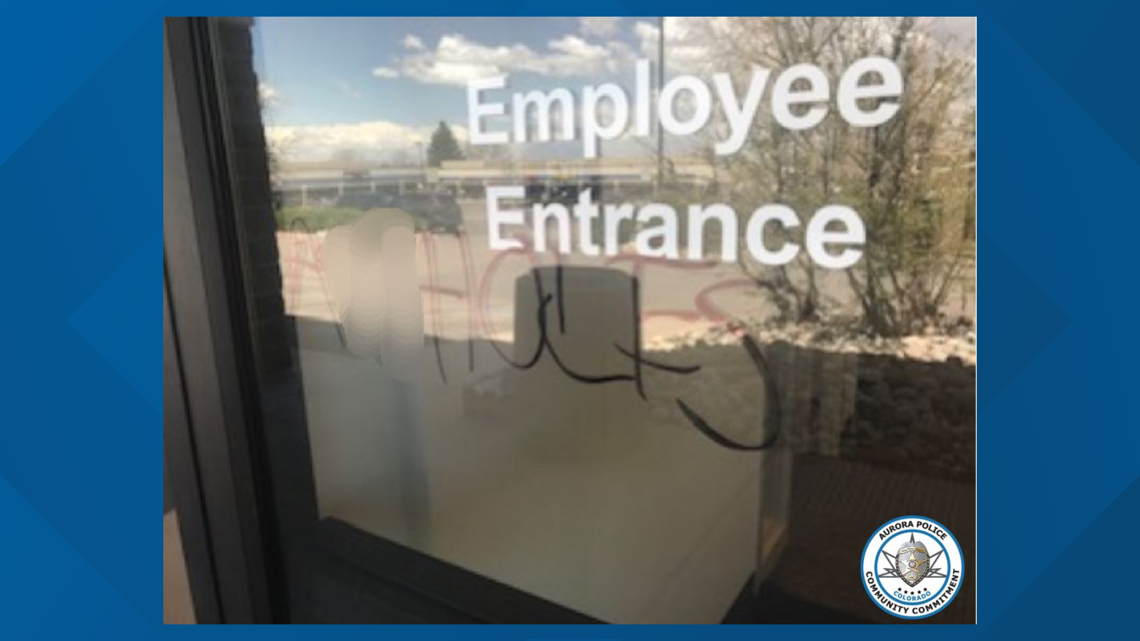 The City of Aurora sits in all three of the counties supervised by TCHD.
Elected officials in those counties have been vocal about the department's health orders during the pandemic.
In March, six Republican state lawmakers in Douglas County urged their local commissioners to separate from TCHD and form a new health department after a stay-home order was put in place because of COVID-19.
"It is our understanding that at least two of you opposed this heavy-handed application of governmental power. To those who did oppose the action, thank you [for] standing for the constitution and with the majority of constituents here in Douglas County," a letter to the commissioners said.
Senators Chris Holbert and Jim Smallwood, who tested positive for the novel coronavirus, and Representatives Mark Baisley, Patrick Neville, Kim Ransom and Kevin Van Winkle signed the letter, which also said it was "unacceptable" for a health department to issue a shelter-in-place order.
Late last month, Tri-County Health exempted Douglas County from an extended stay-home order. TCHD said the exemption was due to the county's lower case count, but the Republican mayor of Aurora, Mike Coffman, said it was the result of political pressure.
When TCHD announced the extension, Coffman said on social media at the time that he supported the statewide "Safer at Home" approach instead, which allowed for relaxed guidelines. He said he was "deeply disappointed" in the decision to keep Aurora under a stay-at-home order.
Coffman told Next with Kyle Clark on Wednesday that the threats of physical violence against TCHD are "sad and tragic." Still, he wants to change the model that puts Aurora under the health department's authority, and he wants clear guidance on whether to join Denver in a public mask order.
Watch the full interview here.