DENVER — Denver Police are looking for four men who beat and robbed a man exiting a W Line light rail train during the evening rush hour last month.
A surveillance video of the scene obtained by 9NEWS shows four men exiting a light rail train. They walk toward another door of the same car and wait for another man to exit. When the man exits, the men punch and kick him, knocking him to the ground. They grab some of his belongings and run away. One of the attackers grabs the man's backpack, kicks the victim in the head and walks away.
"My first thought was, try and get some help," said Brian Stack, who got off the train in front of the man who was attacked.
He called 911 and watched as the group beat the man.
"I was concerned that these guys could turn on me or anyone else who was around," Stack said.
Stack said he waited on hold with 911 for several minutes and finally got in touch with a dispatcher. He tried to keep an eye on the attackers but lost them.
Denver Police confirmed Friday that no arrests have been made in the case. They're looking for four men in their late teens or 20s. The agency couldn't confirm whether this attack was tied to a string of others along the W Line since last summer.
Stack said he rides light rail three to five times a week to commute to work during the winter. He said after this incident and when his family had an e-cargo bike stolen along the same light rail line in the fall, he's concerned about safety on public transit.
"Every ride I've taken after that, I'm kind of on a swivel, watching what's going on and who's getting on and off," he said. "I don't think there's a very good feeling about security on our public transit, as much as it could be and should be better utilized by the community."
RTD Chief of Police Dr. Joel Fitzgerald will brief the RTD board on his department and their crime prevention efforts on light rail next week.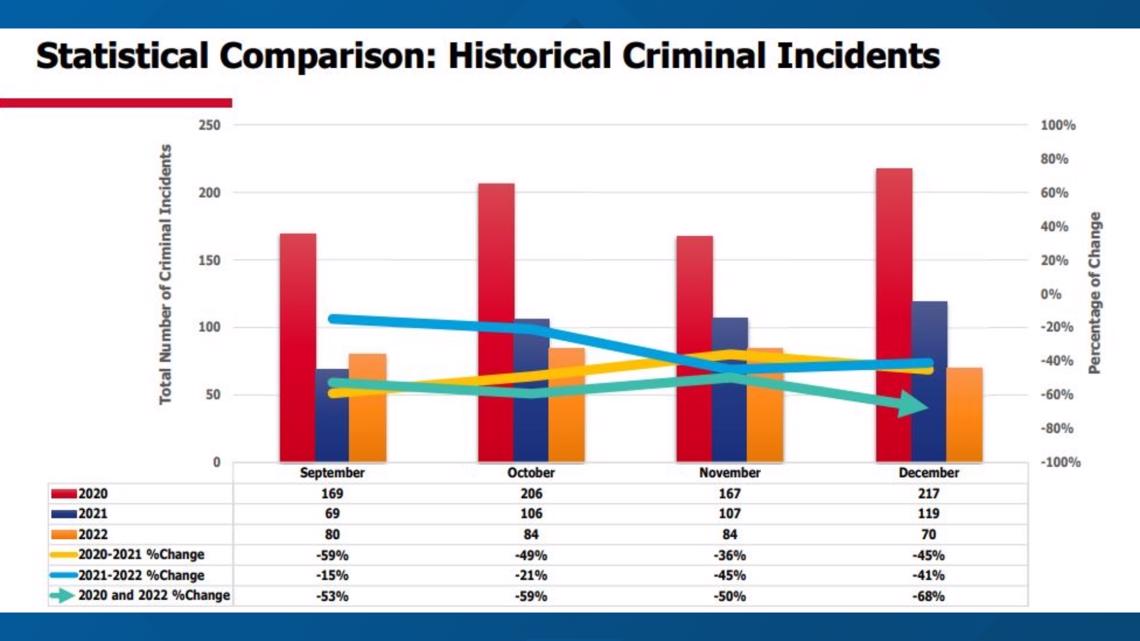 In a presentation shared with the board ahead of the meeting, Fitzgerald reported that incidents of crime are trending down. December of 2022 saw a 41% decrease in crime from the prior year.
Fitzgerald will brief board members next week on efforts to transition from contracted security guards to more sworn officers, growing the RTD police department from 22 officers now to 70 by the end of year and 140 by 2025.
RTD has already begun several safety improvements at Denver Union Station, which saw an uptick in crime tied to drug use last year. The agency plans to make the underground bus concourse a fare area, requiring anyone who uses the concourse to have a ticket.
"More security presence would be nice and better lighting at the stations," Stack suggested.
Send tips about this or any story to 9NEWS reporter Steve Staeger by e-mailing steve@9news.com.