WELD COUNTY, Colo. — The mother of the man arrested this week in connection with a 1979 murder of an Aims Community College employee believed he had killed the victim, according to an affidavit for his arrest from the Weld County Sheriff's Office (WCSO).
James Herman Dye, who has a multistate criminal history, was arrested in Witchita, Kansas in connection with the death of 29-year-old Evelyn Kay Day. Her murder was one of the county's oldest cold cases.
Multiple other family members said they believed that Dye, now 64, was capable of murder, the affidavit says. He's now being held in Kansas awaiting extradition on two counts of first-degree murder. Each count is related to a different theory about how Day was killed.
Day was working at Aims Community College as a business lab monitor and was last seen alive around 10 p.m. by a student on Nov. 26, 1979. When her husband realized the next morning that she had not come home, he filed a missing person report with the Evans Police Department and notified her coworkers, an affidavit in support of Dye's arrest says.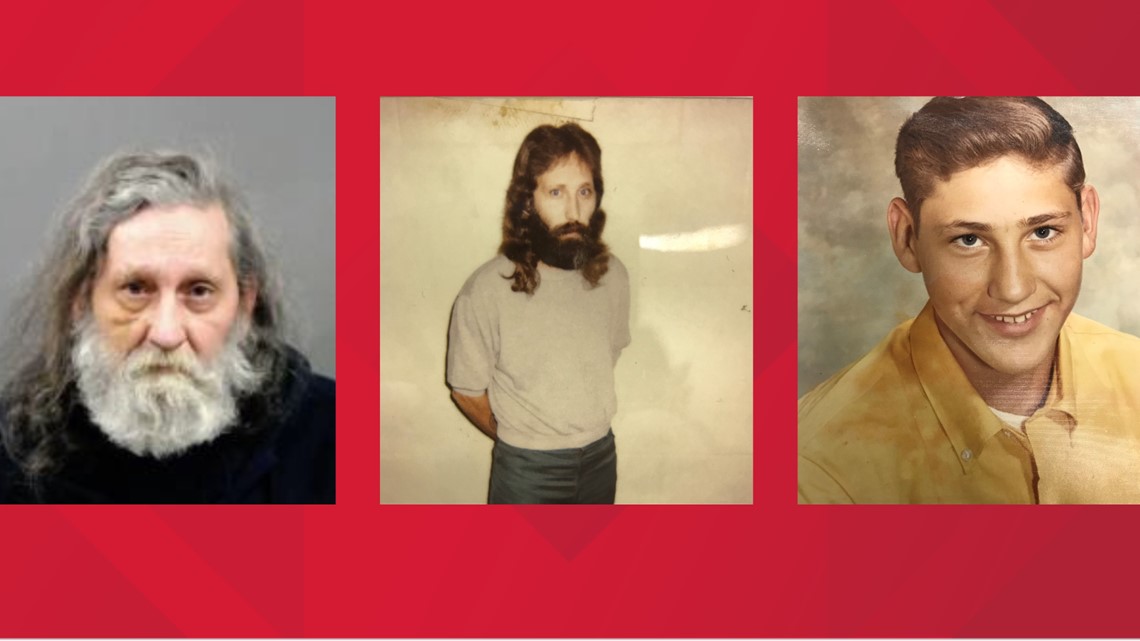 He also gave coworkers a description of Day's vehicle, which was a red Datsun station wagon, and asked them to watch out for it.
Around 5:30 p.m. on Nov. 27, two of her coworkers found her vehicle parked on the eastbound shoulder in the 5700 block of 20th Street, about three blocks away from the Aims campus, Sheriff Steve Reams said Friday. Those coworkers parked behind her vehicle and then discovered her body inside.
"Kay [the name she went by] had been beaten, sexually assaulted and strangled to death with the cloth belt of her own overcoat," Reams said.
Investigators recovered DNA from her body, and it was determined it did not match her husband.
Cold Case Det. Byron Kastilahn reopened the 41-year-old case in May 2020.
"This cold case position that I am in, it just came about this year, so there's well over 40 cases that I have to go through," said Kastilahn. "Sheriff Reams certainly helped out by narrowing down some, the older that were priority due to their age. So I got to work on this one as soon as possible."
According to the affidavit, it wasn't until around that time that the DNA collected from Day's body was submitted to the Combined DNA Index System (CODIS) DNA database. In late August 2020, Kastilahn was notified that the sample matched Dye.
He searched Dye's criminal history and found him to be a multistate offender with arrests in both Colorado and Kansas, the affidavit says. That criminal history includes:
Oct. 5, 1977: Second-degree sexual assault arrest
Feb. 5, 1981: Sexual assault on a child arrest
May 7, 1981: Attempted sexual assault arrest
March 30, 1987: Sexual assault on a child arrest
1982: Third-degree assault arrest
Investigators noted the circumstances surrounding the 1977 assault appeared similar to what happened to Day.
Kastilahn also checked with Aims Community College for student and employee rosters and in late August 2020 learned that Dye was a student there during the summer and fall quarters of 1979, the winter quarter of 1980 and the summer of 1982.
He also checked case records to see if Dye's name had ever come up in the investigation and found a tip came in through Crime Stoppers in 1988. The tipper said that they believed that Dye "is the one who killed the girl or is very much involved in the murder," the affidavit says. The tipper said that on the night of the murder, Dye came home with blood "all over his clothes" and "got rid" of them that night, the affidavit says. The person also said on that night that Dye talked about a girl being killed "out at Aims" even though Day's death had not yet been reported on the news.
When contacted, the affidavit says the tipper, was "slightly uncooperative" and Kastilahn noted there appeared to be no additional followup.
As part of his investigation, Kastilahn spoke with Dye's ex-wife and two sisters. His ex-wife and one sister both said they believed Dye was capable of murder, the affidavit says. Another sister revealed that Dye's own mother believed that he had killed Day, according to the affidavit.
He also determined that Dye and Day both lived in Evans.
Two detectives traveled to Kansas on March 22 to arrest Dye. When interviewed he denied any knowledge of Day or the case itself.
The Weld County Sheriff's Office continues to seek information in this case. Anyone with information is encouraged to contact Det. Byron Kastilahn at 970-400-2827. Tips can also be submitted to Northern Colorado Crime Stoppers at 1-800-222-8477 or the Crime Stoppers website at crimeshurt.com. Those submitting tips through Crime Stoppers that lead to the arrest and filing of charges on a suspect(s) may be eligible for a cash reward.
Genetic genealogy has been instrumental recently in solving other decades-old cold cases.
Investigators use DNA taken from crime scenes and have it specially sequenced and then uploaded to public databases with the hope of finding a relative of the killer. From there, they'll work through family trees to narrow down to one potential suspect.