DENVER — Colorado's two presidential candidates will take the biggest stage of their careers on Thursday.
It will be the second of back-to-back debate nights because a stage can only fit so many people, and there are so many people trying to win the Democratic primary. These are the first debate events featuring the qualifying challengers who hope to unseat the incumbent, President Donald Trump. Trump.
The other 10 qualifying Democrats faced off in a prime-time fight Wednesday night, in the first debate of the 2020 presidential campaign -- the unofficial starting line for the party's quest to wrest the White House from Trump and deny him a second term.
Here's everything you need to know about the debates:
WHO:
In their debate, Bennet and Hickenlooper will stand at opposite ends of the stage, essentially flanking candidates with higher poll numbers. From left to right, the candidates are:
Marianne Williamson: an author
Hickenlooper: Denver's former mayor, who finished his two terms of governor of Colorado in January.
Andrew Yang: an entrepreneur
Pete Buttigieg: mayor of South Bend, Ind.
Joseph Biden Jr.: former vice president
Bernie Sanders: U.S. Senator from Vermont
Kamala Harris: U.S. Senator from California
Kirsten Gillibrand: U.S. Senator from New York
Bennet: former superintendent of Denver Public Schools, who's been a senator since 2009.
Eric Swalwell: Congressman from California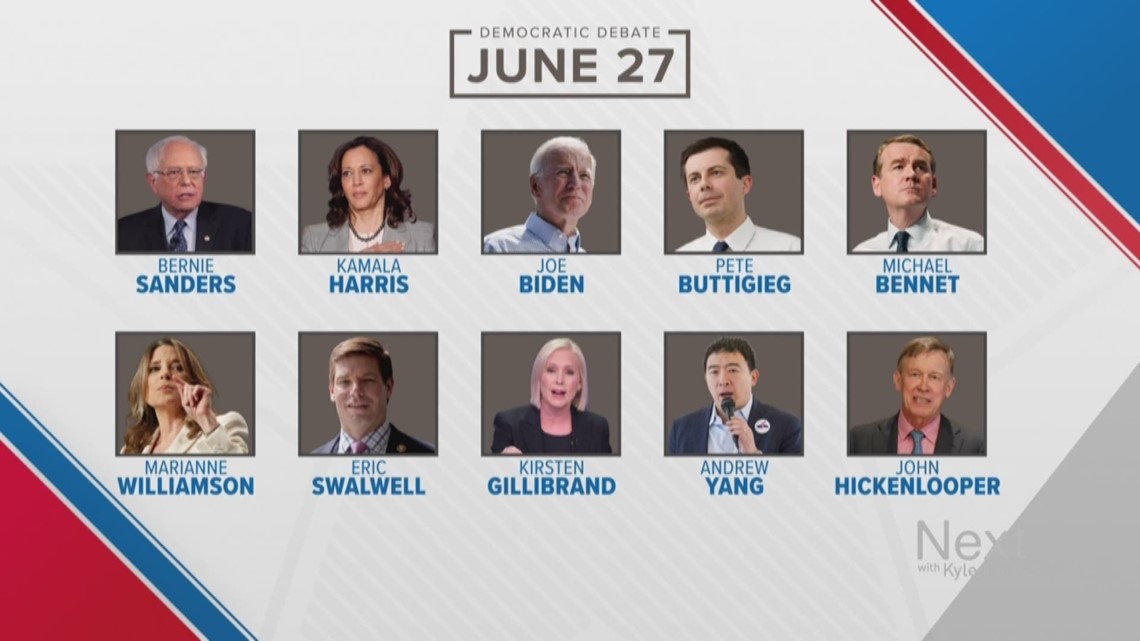 In Wednesday's debate, from left to right, were Bill de Blasio, Tim Ryan, Julian Castro, Cory Booker, Elizabeth Warren, Beto O'Rourke, Amy Klobuchar, Tulsi Gabbard, Jay Inslee and John Delaney.
Savannah Guthrie, Lester Holt, Chuck Todd, Rachel Maddow and Jose Diaz Balart, anchors from NBC News, MSNBC and Telemundo, are moderating both nights.
And 9NEWS political guy Marshall Zelinger and photojournalist Anne Herbst are there to cover it all.
WHERE IS THERE?
The Adrienne Arsht Center for the Performing Arts in Miami, Fla.
And where to watch? Since NBC is hosting, the debate will air on 9NEWS and on NBC News' digital platforms.
WHEN ARE THE DEBATES?
Same time, same place, different days. Catch both debates at 7 p.m. MST. The first happens Wednesday, and the second happens Thursday.
WHAT CAN WE EXPECT?
Ten candidates per night. Five moderators per debate. Each event lasts two hours, but time is of the essence with that many people.
Each candidate gets 60 seconds to answer questions and 30 seconds for the follow-ups. They won't deliver opening statements, but they do have the opportunity for closing remarks.
Bennet and Hickenlooper have both done individual town halls on CNN, but in terms of big national attention, people really took notice of Bennet after a Senate floor blow-up with Sen. Ted Cruz (R-Texas). In less than eight hours, that back-and-forth ended up becoming C-SPAN's most-watched video from the Senate floor. As for Hickenlooper, his name most recently ended up in the headlines after he was booed at an event in California for comments on socialism.
The debate lineup, which was decided at random, now presents a true opportunity for Bennet and Hickenlooper to earn recognition across the country. They'll get screen time with several of the party frontrunners who are polling ahead of them. Both Bennet and Hickenlooper just hit the 1% polling threshold to allow them on stage.
Biden is the top-polling candidate on stage with both Coloradans.
We sat down with 9NEWS Democratic political analyst James Mejia, who said Bennet and Hickenlooper may be able to use their lack of recognition to their advantage. WATCH: