COLORADO, USA — Editor's note: Amy is a parent who will be blogging about this upcoming school year for Mile High Mornings. Scroll to the bottom for her full bio.
9/25/20
It sounds nice. I don't get to do it as much as I would like. I work, provide support for my son's online schooling, take care of our many pets, volunteer and take care of my house. I do offer breaks to myself to keep my sanity. When our family chose to do online schooling this year, I knew that my free time would be stretched very thin. So, what did I do? I forced myself to carve out some time each day just to be me.
Relaxing can take many forms. Some people like to take a long, hot bath. I can barely use the restroom without my son needing something. If I want heat, I'll wait for my next hot flash. So, no long hot baths for me. It's more like a quick shower.
Some people like to relax by eating, especially chocolate. I know that there are health benefits to cacao. However, my cacao consumption frequently comes in the form of candy that I shouldn't eat. I had candy for lunch yesterday. My son lovingly informed me that it was a "fat person" thing to do. I responded by opening another piece of candy. Let it go, kid. This bowl is the first bowl of Halloween candy that will be gone long before Halloween arrives. It's all in the name of relaxing.
My watch beeps at me several times a day to remind me to do a breathing exercise. She (yes, my watch is a girl) usually picks the worst possible times to ask me to breathe. I'm super good at ignoring her. I think it's supposed to keep me centered and relaxed. Nice try.
I had a membership at a massage business. I canceled it because it's too much of a pain to get into seeing someone. The inconvenience of that plus the COVID-19 precautions makes it no fun. Add massages to an ever-growing list of things that will be on the emotional back shelf for a while.
However, what I did do for myself was a mental pyramid. It's similar to the food pyramid, but it's a relaxing pyramid. I thought about what relaxes me or what is essential. I also thought of things that cause stress. My brain can only handle so much information before I start getting stressed, so I made sure that I prioritized accordingly.
At the bottom of the pyramid are the most important things to me, and I choose to give most of my emotional energy towards (Jesus, my family, friends, coffee, and naps). In the middle are things that I have to deal with, but I don't let it drain my energy. (my home doesn't have to be spotless every day, and it isn't. Also, meetings regarding my son's education – those can be stressful). The things at the top of the pyramid get very little, if any, space inside my head (toxic relationships or what others think of me).
As for the rest? I deal with things as they come along. If I'm not good for myself then I won't be able to help others that rely on me.
9/17/20 blog
"Grace" is a nice word. Depending on how you are using it, it can be either a noun or a verb. It can mean mercy that is not merited or elegant movement. It can mean to honor with one's presence or a short prayer.
I need grace on a daily basis. God has not blessed me with elegant movement. I stay at home most of the time (Thanks again COVID-19) so there's not many people to grace with my presence. I say grace several times a day.
In this instance, I would be referring to grace that one might give others, especially educators. I truly feel sorry for them during this time. They need grace.
Last spring, without notice, our world changed. Teachers had to shift from brick and mortar learning to remote learning in a very short amount of time. They need grace.
For some teachers, tech skills are not their forte. They had to do their jobs relying on tech. The teachers that I worked with were really trying to make things work for the children. Some parents were complaining that there was too much work assigned so the teachers lightened up the work load considerably. Then a separate group of parents were expressing their displeasure that there wasn't enough work to do. These poor teachers just can't win. They need grace.
We all just wanted to make it until the end of the school year. Maybe, just maybe, things would be "normal" in the fall and kids could go back to school like they used to do.
"It ain't over until the fat lady sings" is a colloquialism that is appropriate. COVID-19 is a big girl and she doesn't like to sing. She's not leaving soon.
Which leads me up to this school year and the online school that my child attends. I remain resolute that this was the correct choice for our family. Even on the days when my child and I are frustrated, I don't make it an issue for his teachers. They need grace.
There are definitely some growing pains. I would be lying if I said I was always happy every day when my child is online. Scan this, upload that, Google Drive this, video that. Sheesh! My son has issues with executive functioning, organization and motor skills. He tries his best but it's difficult for a lot of adults to get the technology straight, much less a special needs child.
What I have heard from some teachers is that they're sad to not see the children in person. They did not go into the profession to see the children on a one-inch square on their computer screen. They did not go into the profession to post another module online. They did not go into the profession to do a synchronous learning session with almost 200 tweens. Class sizes online are understandably large for a lot (not all) classes. Can a teacher get a personal connection with 200 kids at once? No, however they're trying and they need grace.
I am in the room when my son is doing synchronous classes. So far, his teachers have done an admirable job.
When school started, I joined an group for parents whose children are doing online school this year. The original idea was to support each other and share ideas. I left the group recently because it was more of a mob mentality where the teachers were a common target. I want no part of that. They need grace.
A kind word goes a very long way. On occasion, I do contact my son's teachers. It is not always relating to the subject they teach or my child. Sometimes it is just to say thank you. I love our teachers. They make all other professions possible. I appreciate them more than I can say. I am most definitely on your side.
9/10/20 blog
"You can't do that. You're a guest in my home"
These are the two sentences that have been going through my head this week. It seems like most school districts are already overwhelmed. Now add the medley of remote learning along with blended and in-person learning and it's the perfect storm. I think that some school districts have taken things a bit too far.
There has been more than one story in the news this week about children being suspended for the background content in their online school meetings.
Some schools are adding addendums to the policies and conduct rules that are addressing remote and online learning. Other schools are duplicating penalties that the child would have received if they were on campus. Meanwhile, others are having children/parents sign contracts for school computer usage even though they are at home and using a personal device.
Can a school hand down a disciplinary action when the alleged infraction did not occur in the building? Yes, they can and yes, they should. I have heard of children being mistreated off school grounds. I've also seen children send threatening electronic messages. In those circumstances, it definitely merits the school looking into the situation to determine if any follow up needs to be completed.
However, schools need to look at the specifics of each individual situation and determine the best course of action (if any). Common sense dictates that a school would review any recordings prior to disciplining a child. Also, I would think they would contact a parent first regarding a concern with their child's behavior or safety.
I work for a school district and more than once I've spoken with a child about how they might want to make better choices. Children will likely do the right thing with counsel and not elevating the situation to an unnecessary level. My son hears me say frequently "Just because you can doesn't mean you should." I love our schools but you can't just apply a one size fits all approach to discipline.
Returning to the Zoom meetings, my son attends five synchronous classes each week. He has autism, ADHD and a few other disabilities. He does need a fidget toy to keep his hands busy. Yes, it's in his IEP. No, he doesn't fidget with an orange tipped toy but I wouldn't be bothered if he did.
As a parent, can I inspect the homes of my child's online teachers to make sure it's suitable for teaching? No, I can't nor do I want to. I am assuming that they have made the necessary preparations in order to teach. I want the same from them. I have made the necessary preparations in order for my son to learn.
I realize that school staff has to wear different hats and are looking at many things each day. When I'm at work, I'm working with the children under my care. When I'm at home, the buck stops with me. I am the authority figure in my home. If a teacher has enough time to critique my child's toys then they can come over anytime. The coffee is always warm and the couch is comfortable.
9/3/20 blog
Anyone who knows me is aware that I'm a little (ok a lot) of a helicopter parent. We're not talking Baby Bell helicopter. I'm more of a full-blown Apache helicopter mom. I used to apologize for it but not so much anymore. My husband and I are molding our youngest son into what we know will be a great young man and I take my job as a mom seriously.
Last spring, we started buying the things we needed for his online school area at home. We didn't make the decision to have him be online only until July. Since then, it has been a steady stream of Amazon boxes to get him set up in a way that will enable him to be successful this school year. We have everything we could think of.
Everything but etiquette lessons.
An absolute sign of the times is that my son has to know "Zoom Etiquette". It was actually one of the things they talked about in his synchronous learning classes the first week of school. I talked to my son about basic etiquette on Zoom before school even started. The rest would be up to his teachers.
My son's teachers went over the basic information. Either before or after the meeting, I gave him my rules. I am providing my son's paraprofessional support for this school year. I also work as a paraprofessional for his school district. I can't help but slip into "work mode" when I look at some of the other kids but I do manage to bite my tongue.
I'm not emotionally strong enough for Zoom. I'm not going to be around to see the cause of death on my death certificate however I'm sure it will be tech related. Since I'm still here I'm assuming that Zoom will only make me stronger.
8/27/20 Blog
When I was in elementary school, my second-grade teacher liked to post a picture on the blackboard. She wouldn't say a word about instructions. The only thing she would say is to use our imagination and write a story based upon what we saw in the picture.
For me, that was always a fun exercise because I love looking at pictures and seeing or wanting to know the story behind it. In some way, I still do it to this day. If Mrs. Griffith only knew the seed that she planted so long ago.
Having a child and several pets means that there is always something that needs to be cleaned in my home. I don't think I have had a chance to sit in years.
Recently, I was straightening the area around my son's new school space at home. I hung a new mask on his hook for him to grab the next time we go out. Right after that I noticed that I hung it on the backpack that hasn't been used since March of this year. He is doing online school this year so there's no need for it.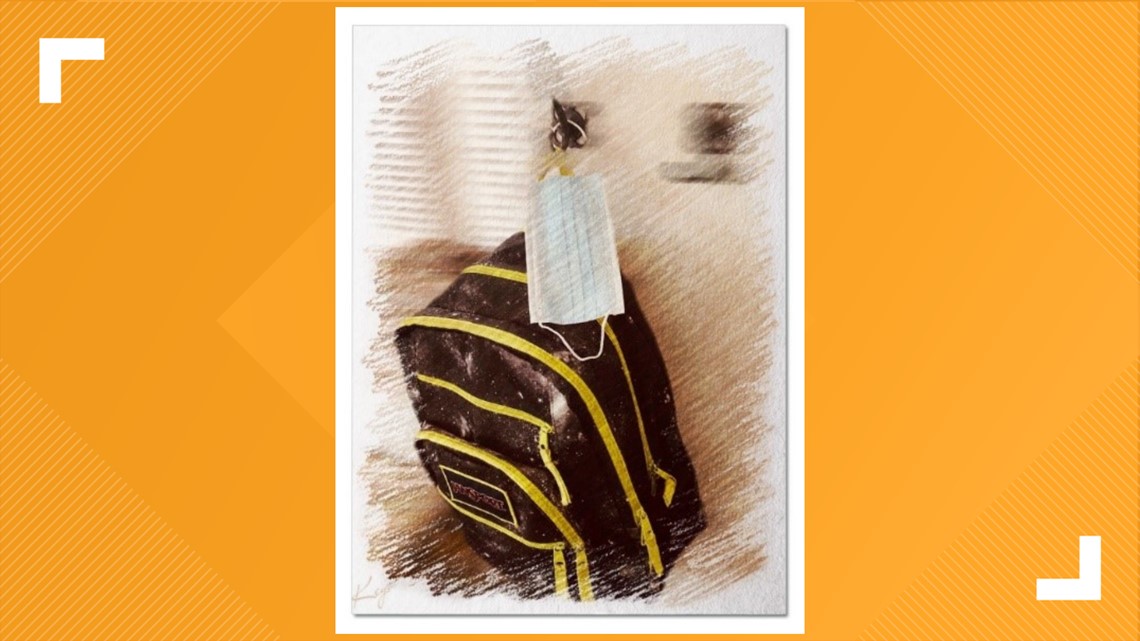 I looked at those two things together and was feeling sad. To me, that picture sums up the difference between pre-COVID-19 and the reality of our new world.
There is a stark difference between the two.
The virus has stolen some of our children's innocence. Children should be able to run and play, not mask up and run away. They should be able to have play dates, not Zoom chats.
My son will never again have a summer when he's 12. Every summer I make a huge list of everything we want to do.
We usually do almost everything on the list. If we don't, it is because we ran out of time. What did we do this summer? Goat yoga and fishing. Why? Because we didn't want to be close to anyone.
Don't get me wrong, our family loves goat yoga and fishing but there wasn't anything else that we were willing to have our son near. We take this virus seriously and we're doing what we feel is right for our family.
When I look at things like this picture, I get sad and cranky. Can I call it sanky? At any rate, when I was sanky looking at it, I decided to invent a happier story. A story that doesn't have COVID-19. A story where there is joy.
Before I could even write a story, I realized that I couldn't think of a happy story where a mask is involved. Mrs. Griffith would be so disappointed in me. Since I couldn't think of a story, I settled for a haiku.
OK, technically I settled for two of them. The first one is more how I was feeling by looking at the picture and the second one is when I was feeling more positive. Either way they both represent how I feel when I look at the picture.
My son wears a mask
COVID-19 tells him to
These masks are no fun
I love being home
The sound of my child laughing
Love is in my heart
I can't control my circumstances but I can control my reaction to it. Today I choose joy.
8/19/20 Blog
Let's talk pajamas. Growing up, my family called them PJs. You can call them jammies, nighties, nightgowns, blanket sleepers, footie pajamas or loungewear. The list goes on but they're a stay-at-home-thanks-to-COVID-19 necessity.
School started this week. There was no back to school shopping for us this year. It wasn't necessary, at least not in the traditional sense. Since our family has decided to do online learning, there was no point in buying new clothes.
My son's old clothes still fit and who is he wearing new clothes for? Our pets? The neighbors? We adapted to this ever-changing vortex of a year by going with the flow.
In keeping with that line of thinking, back to school shopping this year consisted of buying new pajamas. Since entering the social distancing season of life, our family owns more pajamas than I'll admit to having.
I frequently tell my son that everything in life is either a blessing or a lesson.
Pajamas are definitely a blessing. After wearing primarily pajamas for several months, I now look at a stack of jeans and shirts with a feeling of contempt. Pffft. Denim = I'm leaving the house. Denim has been pushed to the back of the closet, only to come out when it's absolutely necessary.
I'm pretty imaginative, so trust me when I say I don't find it necessary very often.
I'm an organized person and I love making lists. In honor of pajamas…
The Top 10 Reasons Why Pajamas are Awesome
1. It makes for a fun family dance time before school to play "Livin' La Vida Loca." Except I have our own version: "Livin' La Vida Jammies."
2. My son doesn't need to get dressed for school. He changes into day pajamas and he's ready for school.
3. When my son participates in synchronous learning this year, he'll look great. Hair will be brushed, school shirt on, along with the ever-present pajama bottoms. As long as he doesn't have to stand up while on camera then we're set. If he has to stand up, we'll suddenly have a (cough cough) technical glitch that will cause our feed to go dark.
4. There is no need for my son to get changed into "play clothes" when he gets home. He's been wearing them since the morning.
5. Wearing pajamas all day keeps you in a relaxed mood. A relaxed mood is better for my son. He'll be in a better frame of mind when doing school work. I'll be in a better frame of mind when I'm providing his needed supports. Since I'm going through seventh grade again, trust me when I say I need to be relaxed.
6. I've found that we actually get more done. In spite of the relaxed mood in our home, we do everything we would if we were "dressed". Flannel doesn't slow us down.
7. Almost all pajamas have an elastic waist. Elastic a very forgiving piece of material in pants or shorts.
8. There is a feeling of accomplishment that you get when you change from your daytime pajamas to your nighttime pajamas.
9. Pajamas can be very stylish. There are some really super cute pajamas out there. It's all about finding something that works for you. If there is an emergency that forces us to leave our home, we're going to look fabulous standing on the sidewalk.
10. Thanks to online merchants, I don't even have to leave my home to order more pajamas. I order in pajamas and pick up the package from my front porch in pajamas.
Now if you'll excuse me, I have to go pajama shopping.
8/14/20 Blog
In 2010, if you would have asked me where I saw myself in 10 years, I doubt I would have said, "gee, my plan is to mostly isolate myself and my youngest child for months on end. I want to wear as many elastic waist shorts as I can so that I can eat more cookies. I want to do virtually all of my shopping online so that I don't have to enter a brick and mortar store. I want to avoid seeing people in person. I want to wear a mask whenever I go out. I would like to pull my child from in-person learning so that he's not as impacted by a global pandemic. No, no really, that's my dream."
Ok, no one has ever said this.
Truthfully, I'm not one to dwell on negativity or what I can't control. I didn't ask for COVID-19 to change my world but it has, so I embrace the change. I buy elastic waist shorts in a rainbow of colors, because who doesn't like a rainbow? I buy cookies in bulk now and make sure we always have milk on hand because cookies and water just aren't the same.
I'm pretty sure some online retailers are having a record year thanks to my shopping habits. I tried several different types of masks before I finally found one that I would be comfortable wearing when I go out. When my face fogs up, I just pretend it's a mini facial.
However, the change I struggled with was school. COVID-19 has impacted our most precious resource: our children.
I love our school district and the teachers and staff who work with the children every day. They miss the kids and we miss them right back. Every child and family are different and I respect the choices and sacrifices that we all have to make. Due to my son's disabilities, continuity and the need to keep things on an even keel is critical. If our son went to school in person, it would be blended learning (two days at school, three days at home) with an excellent chance that learning will go to fully remote during the school year.
That just wasn't going to work for us.
So, we chose to have him attend the online school for our school district. He understands that he'll be at home for the entire school year and that his learning environment will stay the same. I believe in giving children as much control as I can, so my son was instrumental in picking out and decorating his school area at home.
He has "dancing water" speakers for the computer and plants hanging over his school desk. School this year is in one of our living rooms and when he's done for the day, he will go into other rooms in the house. That helps with keeping the boundary between school and home life.
I have faith in our school district and that my son will receive the education he deserves for this year. I remain confident that we made the right choice for our family. Our family will enter this school year with hope for the future and knowing we will do what we need to do to help our son succeed.
Amy has lived in Colorado her whole life, and says the best job she's ever had is being a mom. She is the mother of a girl and two special needs boys. Her daughter and oldest son are older and moved out of the house, but her youngest is still at home and will be doing 100% online schooling for the 2020-21 school year.
She also works as a substitute paraprofessional, who works with students with significant needs. She says her own children and the children she works with have made her a better person.