DENVER — The Colorado State Board of Education at its special meeting on Monday met with Gov. Jared Polis and State Epidemiologist Rachel Herlihy to discuss the future of schools in Colorado as the state continues to combat the spread of COVID-19.
"You need to be prepared for whatever comes our way." Polis said.
In late May, the Colorado Department of Education (CDE) provided districts around the state with guidance around how to safely reopen. Part of that guidance is what the CDE is calling a toolkit and includes requirements and considerations for school districts to use while planning for the fall.
The governor was hopeful for the new semester.
"Most likely, and I express a strong sense of optimism, most schools will be back largely in a normal way," Polis said.
That toolkit was discussed at Monday's meeting, where board members emphasized the guidance must evolve as new data emerge and conversations with the state health department continue.
Polis, during Monday's virtual meeting, said that as youth sports and camps open in Colorado, there's an opportunity to learn what works and what doesn't.
When there is an outbreak, we'll know everyone who is likely exposed, Polis said, referring to those sports teams and small-group camps.
"To make it so that outbreaks are less likely to be dozens and dozens of students," Polis said. "That it's likely to be caught early, contained early."
In the meantime, he said, he wants to make sure protocols are in place to make sure outbreaks are caught and contained early, possibly at a classroom level. He added that these are kids officials are talking about, and maintaining social distancing will be hard so school leaders need to be smart about scheduling.
"Meaning not having all the kids together in passing time, not having all the kids together in lunch, not having all the kids together in recess," Polis said.
>> Watch the full meeting below
Dr. Rachel Herlihy gave a presentation on the latest data to board members, where she said during Colorado's stay-at-home period, the state reached about 80% social distancing – 100% is complete isolation. She added that while COVID-19 cases continue to decline in Colorado, that decline is slowing.
She said a lot is still unknown about the novel coronavirus, including Multisystem Inflammatory syndrome (MIS-C), which appears to be linked to COVID-19 and affects children.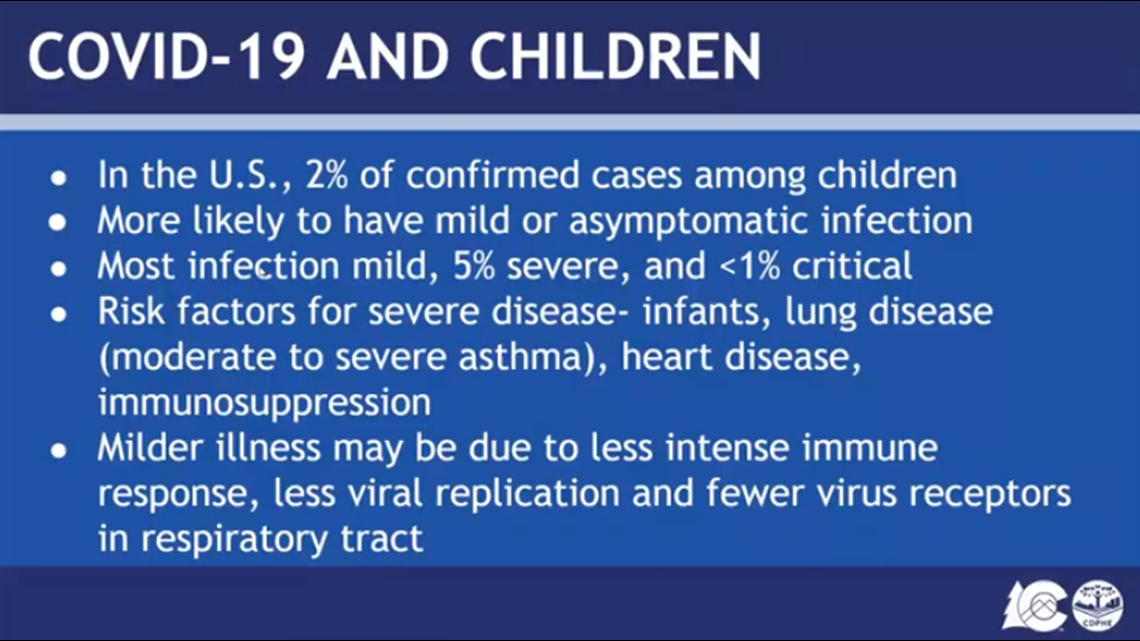 Herlihy shared scenarios based on data of what the next several months could look like in Colorado, including a possible second peak of COVID-19 cases larger than what the state saw in April: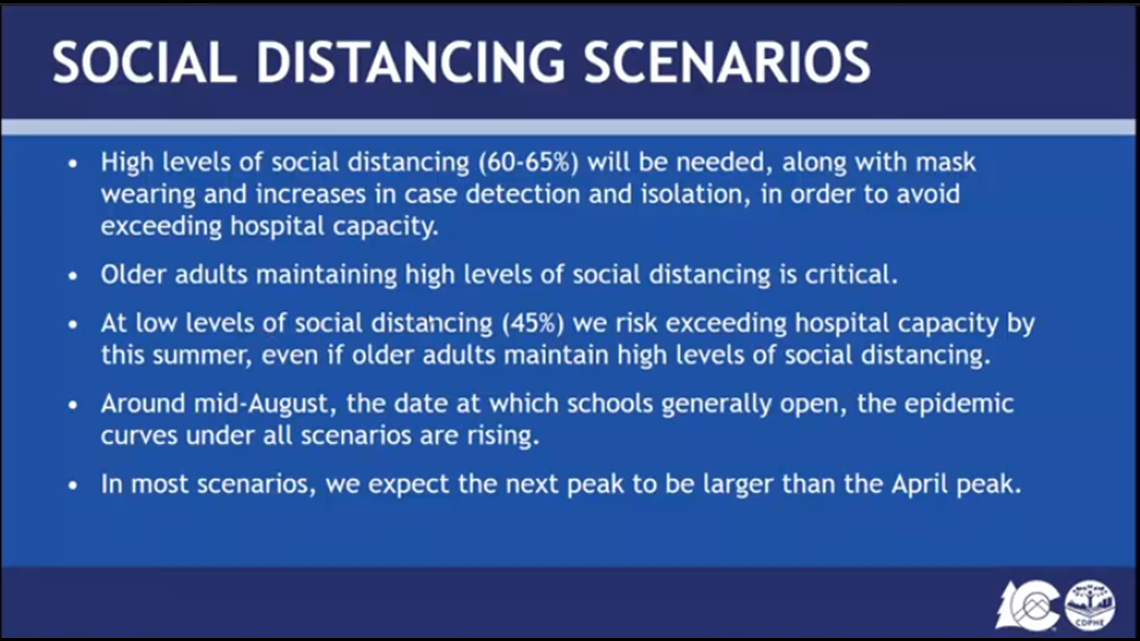 The goal of the meeting was to gather more information so the board members can continue to update CDE guidance for districts as they make plans to reopen in the fall.
However, Vice-Chair Steve Durham (R) of the 5th Congressional District in
Colorado Springs, pressed Herlihy on the data, the economy and small businesses.
"The economic and social costs will continue to grow," Durham said.
Durham asked Herlihy if the state ever reached its ICU-bed capacity and if the report she was sharing had been peer-reviewed or if a controlled study had been done. He gave South Dakota as an example of a state with less restrictions than Colorado as well as lower numbers of COVID-19 cases.
"There were very different conditions in different parts of the state, and yet we had one statewide order," Durham said. "Any chance we can, try to undo some of that."
Herlihy said while the state came close, it never reached its capacity in part because stay-home orders were put in place quickly. She added that several academic institutions contributed to the report, including University of Colorado, Colorado State University and the Colorado School of Public health, and had been cross-checking each other's work.
"I think it would be helpful if we received a few more options," Durham said.
Polis responded saying many of those decisions were policy-based and many areas in Colorado were able to open sooner than others. He explained that schools will take on a similar format – some schools will be able to open in a more traditional way, while others will need to adjust to help prevent the spread of COVID-19.
Herlihy emphasized that data is lagging and as more data is collected and released, models will be adjusted, but we are just now seeing some data from when the state transition from a stay-at-home to a safer-at-home order.
She also said it's unclear what immunity to COVID-19 looks like, if it's short-term or long-term.
Immunity numbers now are only about 3% of the population – we have a long way to go, unfortunately, Herlihy said.
The Board will meet again on Wednesday.
"We know that this will end. We know there will be a vaccine, a cure, but until then, we just need to be very, very careful," Polis said.