JEFFERSON COUNTY, Colo. — School district staff recommended 16 Jeffco elementary schools for closure or consolidation because of declining enrollment and a decreasing elementary school student population.
In the state's second-largest school district, which can accommodate 96,000 students, only 69,000 students are currently enrolled in 155 neighborhood schools.
The 16 elementary schools recommended for closure include:
Emory Elementary School in Alameda
Peck Elementary School in Arvada
Thomson Elementary School in Arvada
Campbell Elementary School in Arvada West
Peiffer Elementary School in Bear Creek
Colorow Elementary School in Dakota Ridge
Green Mountain Elementary School in Green Mountain
Bergen Meadow (K-2) in Evergreen
Molholm Elementary School in Jefferson
Glennon Heights Elementary School in Lakewood
Parr Elementary School in Pomona
Sheridan Green Elementary School in Standley Lake
Witt Elementary School in Standley Lake
Vivian Elementary School in Wheat Ridge
Wilmore Davis Elementary School in Wheat Ridge
Kullerstrand Elementary School in Wheat Ridge
For each closure, the district has named a nearby receiving school for students to move.
The school board will vote on the recommendations in November following community meetings and a public hearing.
Jeffco Public Schools began conversations about closing and consolidating some of its schools amid declining enrollment in July. The district already closed two elementary schools, Fitzmorris and Allendale in Arvada, in the past two years.
A July presentation to the school board showed the state's second-largest district had the largest decline in student population in the state, losing more than 5,000 students between 2019 and 2022.
Jeffco Superintendent Tracy Dorland spoke at the July board meeting about 49 elementary schools -- more than half of the district's elementary schools -- with fewer than 250 students and/or a building utilization of 60% or less.
Thirty-nine percent of the district's excess capacity is at the elementary school level.
"To be a thriving district where all students achieve their biggest dreams, we must build on our many bright spots and confront our challenges through the lens of opportunity," the presentation read.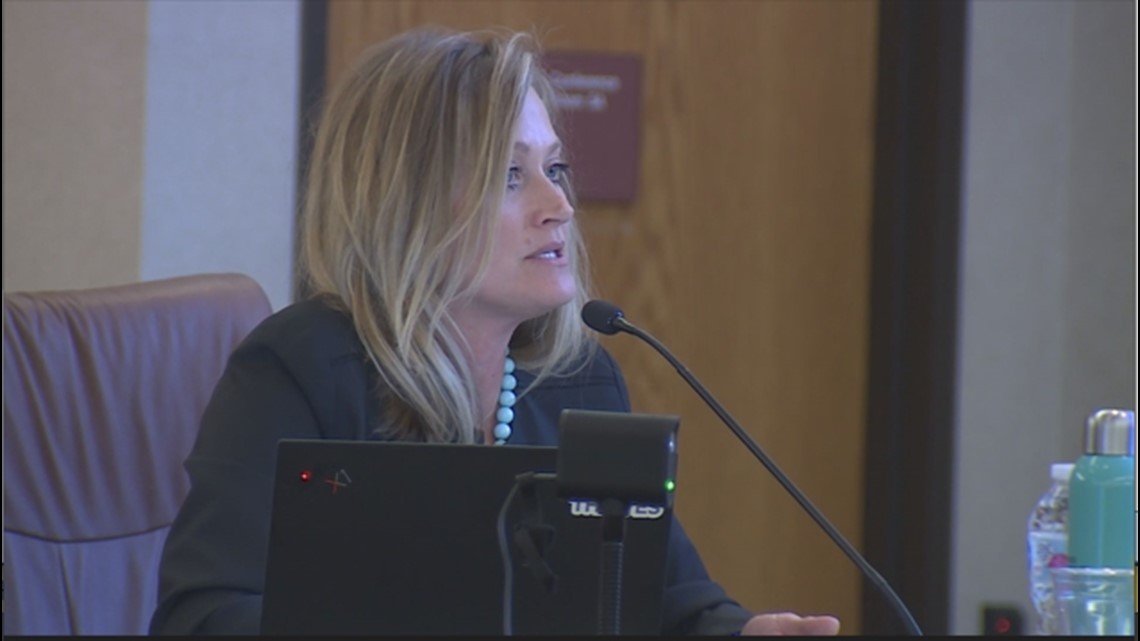 The district's timeline for potential school closures and consolidations is:
A superintendent recommendation delivered to the board on Aug. 25. Schools will be named for consolidation and other related actions will be recommended.
Community conversations held in September and October.
Public hearings on consolidations the week of Oct. 24.
A board vote expected on Nov. 10.
Board members said they found no joy in these closure decisions, but consider it "necessary."
"As sorry as I am that we've come to this point, I'm equally optimistic our school district will emerge stronger because of the steps we're taking," District 5 board member Mary Parker said.
"It's very hard. There's no two ways about that. It's also necessary, if we're going to give our schools the resources they need and give every single child the education they deserve," District 2 Board Member Paula Reed said.
"It was really important to me that the process be transparent, the metrics be clear and fair, that people would see it coming, and they'd have input into what happened next," Reed said.
The district will hold community engagement meetings in the coming weeks. Dorland said those conversations won't change which schools are on the list, but rather, will be conversations about the best way to merge two school communities.
"I don't want to close their school. None of us want to close their school," Dorland said. "But we do believe we can have meaningful engagement around what do we want for our students and how do we make sure when we bring two school communities together, where everyone feels welcome. And we can provide through a more robustly resourced school what that community does want for its students."
Letia Frandina is a parent of a third grader at Peck Elementary School in Arvada. She learned during "back to school night" Thursday that her son's school would be consolidated into nearby Seacrest Elementary.
"I've worked in education before, and I know that even with the best of intentions the year of a closing school can be tricky," Frandina said. "Supporting 16 schools closing in one year, like culturally, feels really concerning for the kids who are involved."
Frandina and her husband explained the news to their eight year-old Friday morning.
"He was confused," Frandina said. "He was upset. He asked immediately about his two best friends and where they would be going."
Frandina said she's also concerned about continuity and consistency in her child's education.
"It just feels so disruptive, like there's just been so much turmoil," she said. "It kind of just deflates your sails a little bit and takes the joy out of what should be just a very celebratory kind of year."
In Thursday's special meeting agenda, the district cites 2020 Census data to explain a population increase in Jefferson County that shows 55,854 new residents moved in between 2000 and 2020.
But the district said the population of school-aged kids (5-19) decreased by nearly 30,000 kids. The population of children 5 and under also went down.
"In 2020, the lowest number of births in 15 years was recorded. There are significantly fewer school-aged children in Jeffco today than 20 years ago," says the agenda.
Members of the Jefferson County Education Association, which represents teachers, responded to the district's recommendations with a letter asking the district to "engage in a transparent, equitable process to ensure everyone has a voice in the future of Jeffco Public Schools."
The statement included their goal of retaining teachers and asking the district to "value the voices of all stakeholders – educators, support professionals, parents, students and our community."
The association suggested that the district consolidate schools, instead of closing them. They also suggested repurposing school space to serve as community centers, affordable housing and other ideas from the community.