KUSA — KUSA – Some of the signs commented on the fact they had to get second jobs to buy supplies for their students. Since they belonged to teachers, others referenced physics, Lord Voldemort and Lord of the Flies. And more than one sign referenced an outdated but commonly cited statistic claiming that Colorado ranks 46th in country for teacher pay (it's actually 31st).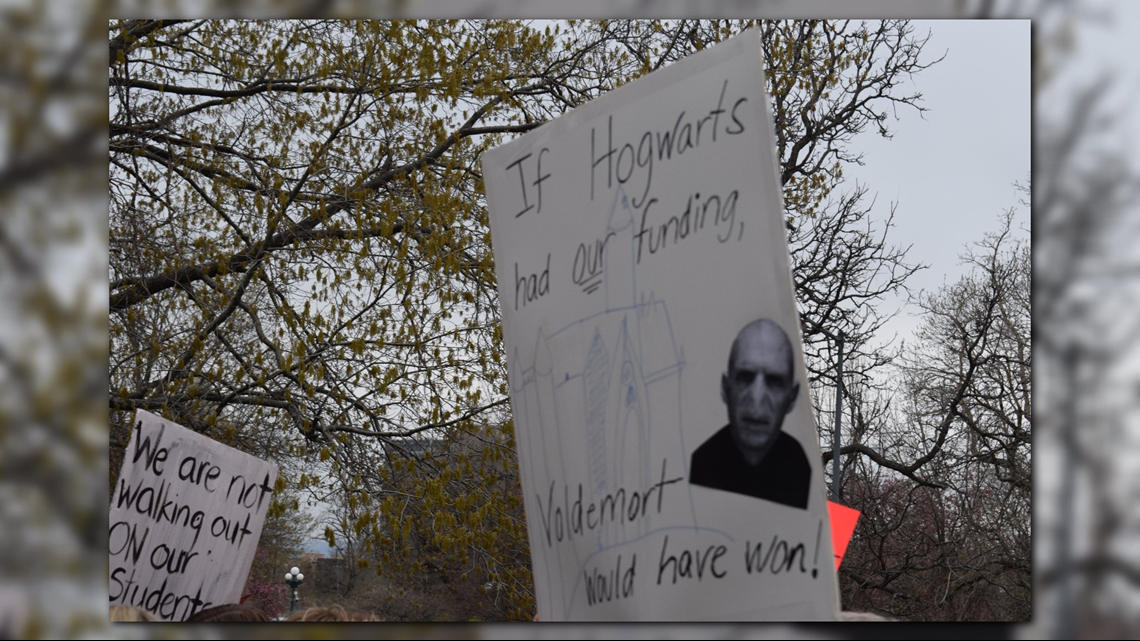 Hundreds of teachers from Jeffco and Douglas County schools – two of Colorado's largest districts – rallied at the state Capitol Thursday during the first of what's anticipated to be two days of gatherings that have canceled class for more than 500,000 students across the state.
Michael Carroll teaches art at Ryan Elementary School in Wesminster. He says his pay has been frozen for seven years, and that he's making 17 percent less than he was when he started his career if you factor in how much more expensive it's gotten to live on the Front Range.
PHOTOS: Teachers rally at the Colorado Capitol (Day 1)
"We need to catch up," he said. "We decided a long time ago that we didn't want stupid people, and that's why public education started."
Teachers are rallying for higher pay (something that's actually determined at a local rather than state level), increased funding for K-12 education and protections to the retirement plan for public employees.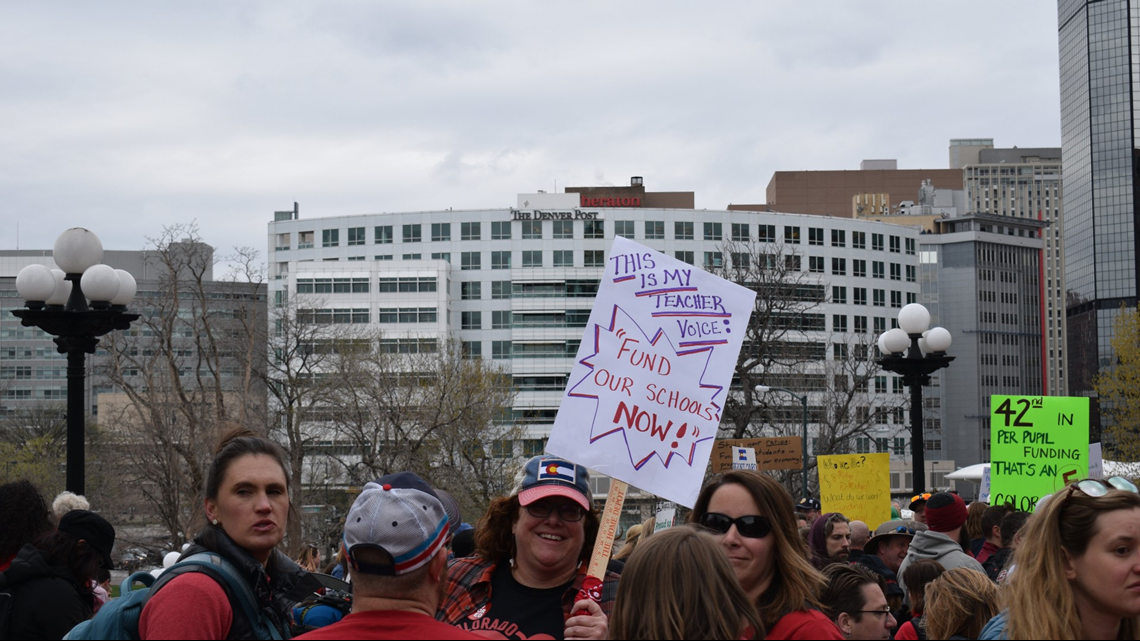 Nancy Irvin teaches at Ranch View Middle School in Douglas County. She acknowledged that everyone wants a raise, but that paying teachers more benefits more than just the person getting the paycheck.
"Teachers being secure makes for a better environment [for students]," she said. "If you can't afford to live in the community where you teach, that's a problem."
Mark Hendrickson, whose wife is a teacher, was holding a sign that claimed Colorado was 46th in the country when it came to teacher funding. He said he realized it was when incorrect when he saw a report on 9NEWS about the topic.
He acknowledged that there was a difference between Colorado teacher salaries being 46th in the country versus 31st, but that there is still work to do.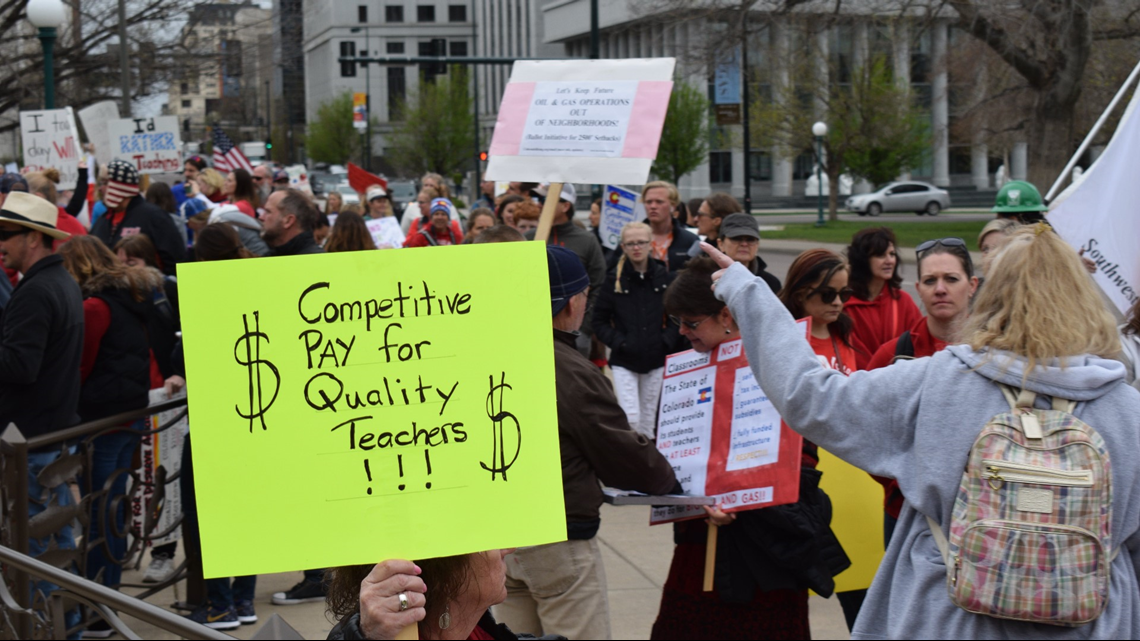 "It's a lot better, but it's not good enough," he said.
Shelly Baum, who teaches seventh grade at Bell Middle School in Jefferson County, says while teacher pay is a big topic of the discussion, most of the signs were meant to focus on their students.
She says she loved her job, but that she might retire early to do something else – a job where she doesn't have to spend her own money or stay up late grading papers. Baum says as other experienced teachers retire, this could lead to a big problem.
"It takes time to learn your craft," Baum said. "We have a huge problem being able to hang onto young teachers."

She says in some districts, starting pay for teachers is as low as $29,000 – and between increased cost of living and student loan debt, "it's a real problem even getting someone through the door and into a career."
During Thursday's rally, 9NEWS spoke to one fourth-year teacher who declined to be named, but who said she is considering leaving her teaching career to be an engineer because she just can't afford rent or to pay her student loans.
"It's actually the end of the month right now, and I'm not spending any money," she said.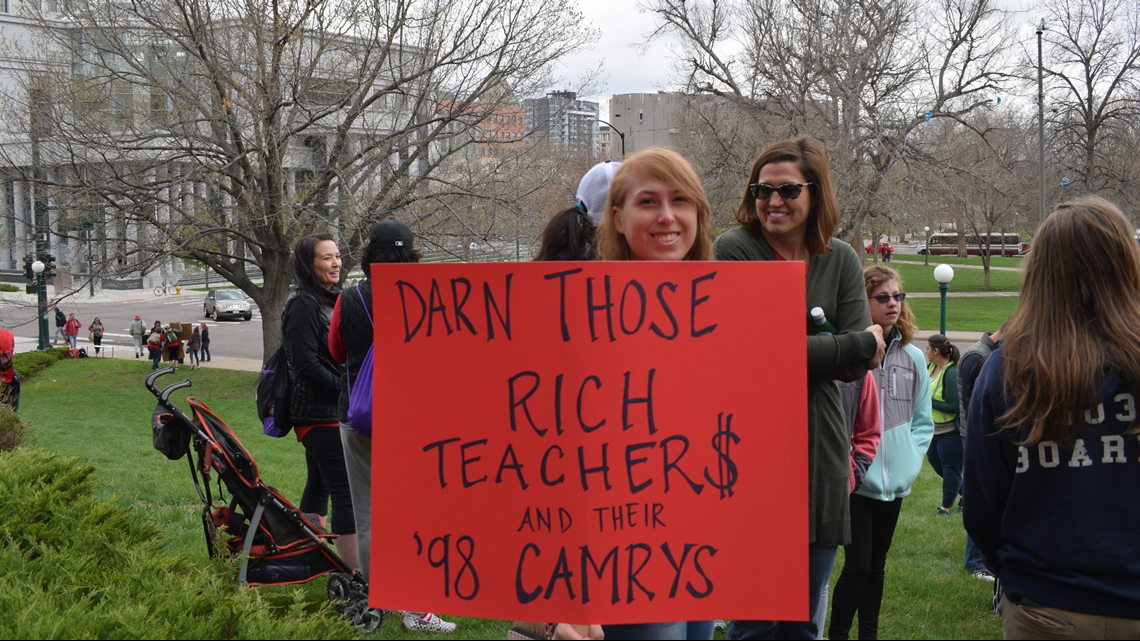 Sarah Buck, a second generation teacher who works for Adams 12 Schools in Thornton, works a second job. She says a raise for teachers would mean that she has more time to focus on her primary responsibility: her students.
"When I don't have to work a second job, I can spend more time planning," she said. "Most of my income goes to supplies for my kids."
As the day wore on, teachers filed into the Capitol to lobby lawmakers to give K-12 more money out of the state budget.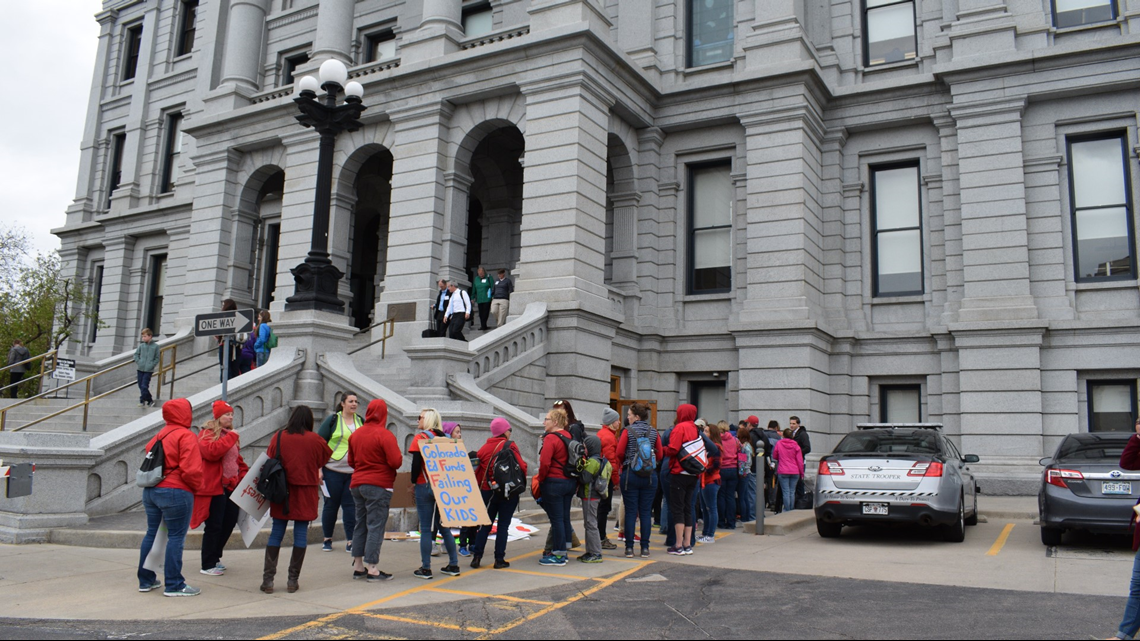 They had to leave their signs – the ones that referenced Voldemort, their second jobs and the subjects they teach – outside. Dr. Karla Esser, who the director of the Master of Arts in Education program at Regis University, made sure they were safe.
She has worked as a teacher and principal, and says she's noticing Colorado's known issues with education funding creep to the university level.
"People aren't interested in teaching anymore because they can't afford to live in Colorado," Esser said. "There's a continuous decline in the number of students who go into teaching."
Thursday was the first day of the teacher rallies at the Colorado State Capitol. 9NEWS will be back for the second day and provide coverage on 9NEWS.com. Teachers rallying on Friday include those from Denver Public Schools and Cherry Creek Schools.