KUSA — KUSA – Hours after the rally first started, thousands of red-clad teachers from some of Colorado's largest districts marched to the State Capitol for the second time … but this, time, they walked across Broadway and stopped on the lawn amid a chorus of honks from passing cars.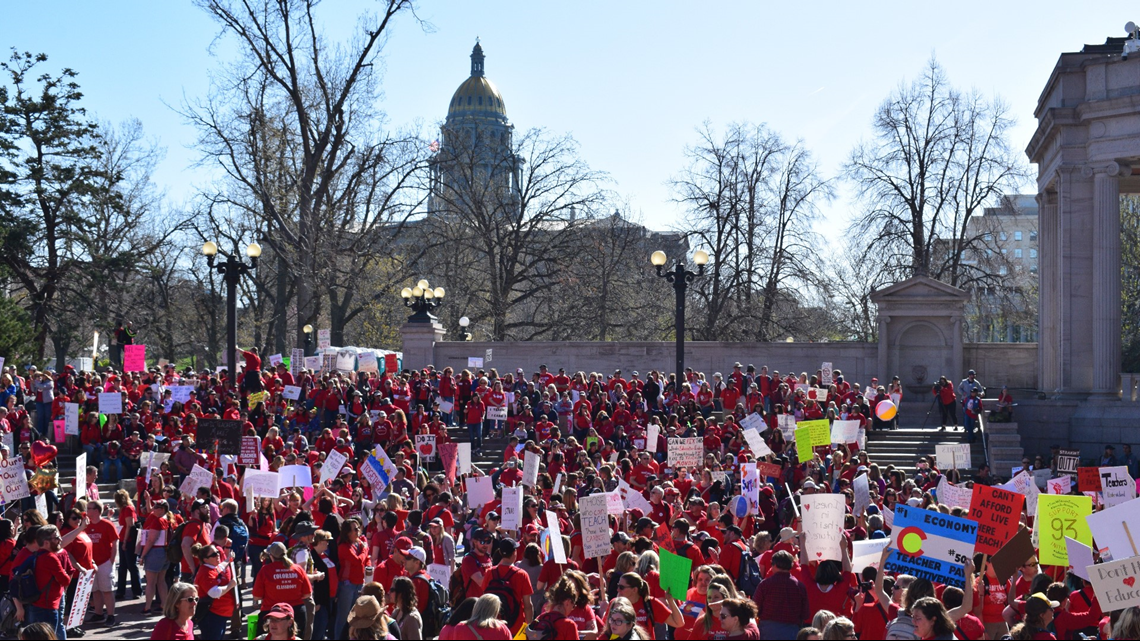 Friday was the second day of teacher rallies that have canceled class for more than 530,000 students from across the state. Teachers from Denver Public Schools, Cherry Creek Schools and dozens of other smaller districts were there for the second day of speakers and marches (but this time, there were also food trucks).
Colorado teachers are rallying for better K-12 funding, better pay (something that's actually controlled at a local level) and protections to their retirement plan.
Hickenlooper: "I know that you deserve fair pay"
Gov. John Hickenlooper (D-Colorado) addressed the teachers at Friday's rallying, telling them he would help push for the state to pay back about $1 billion borrowed from education during the recession.
"I know that you deserve fair pay," Hickenlooper said. "You deserve to be able to afford to live in the community where you teach.
"Over the last 15 years I've been in public service, I've toured over 250 schools in the state and I've talked to literally thousands of teachers, and I know how hard you all work and I know it's not just teaching, that you are inspiring the last generations of Coloradans."
The governor spoke for less than five minutes and did not offer any more funding than has already been approved for next year.
Some of the teachers held signs referencing the Taxpayers Bill of Rights (TABOR) and Gallagher Amendment – two pieces of legislation that greatly impact education funding.
Teachers asking states to spend more on education isn't new – but it wasn't until the economy recovered and teachers started striking nationally that action has been taken. NBC Political Director Chuck Todd says he believes teachers have noticed the economy is doing well but the money hasn't necessarily made its way to them.
"Some of that, you had conservative legislatures filled with people that were not fans of the public schools, believed they were too liberal on some social issues and maybe used that as an excuse to vote against raising the pay of teachers," Todd said. "But I really think something flipped over the last year. I think a lot of it has to do with the overall improving economy and the fact that teachers look like they've been left behind. And I think that's why it's been so effective down the road in many of these places."
A day off for students, but the potential for lessons
Even though classes were canceled at Denver Public Schools – the state's largest district – the popular Shakespeare Festival continued and some students even attended both the rally at the Capitol and paid tribute to the Bard himself.
Gaby Warren came to the Shakespeare Festival to support her little brother armed with signs from the teacher walkouts.
"We probably can get better computers, because some of the computers are not working right at my school," she said.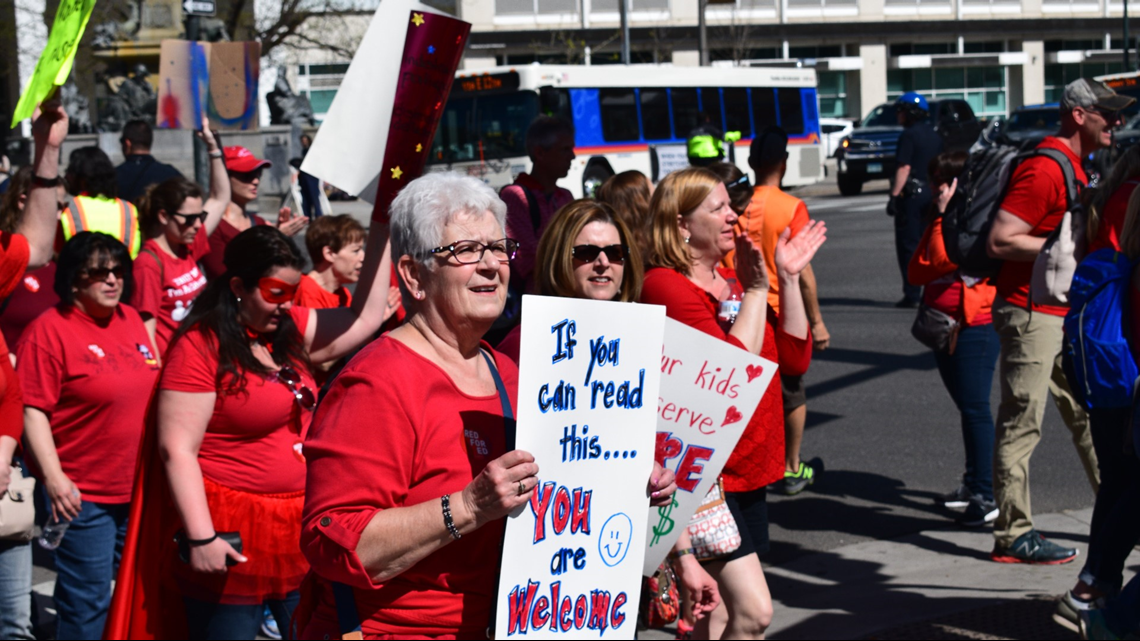 Patrice McGivney was in the car for two and a half hours to make it to the rally. She goes to Pueblo East High School – where teachers voted for a strike due to lack of funding. She says she hasn't learned about TABOR in class.
"It's better to be part of history than in a history class," she said, adding that the majority of students that she knows support their teachers and what they're protesting.
Kate Witten is a senior at Elizabeth High School. She says she researched TABOR and education funding on her own because her mom's a teacher.
"I don't learn any of that in classes whatsoever," she said.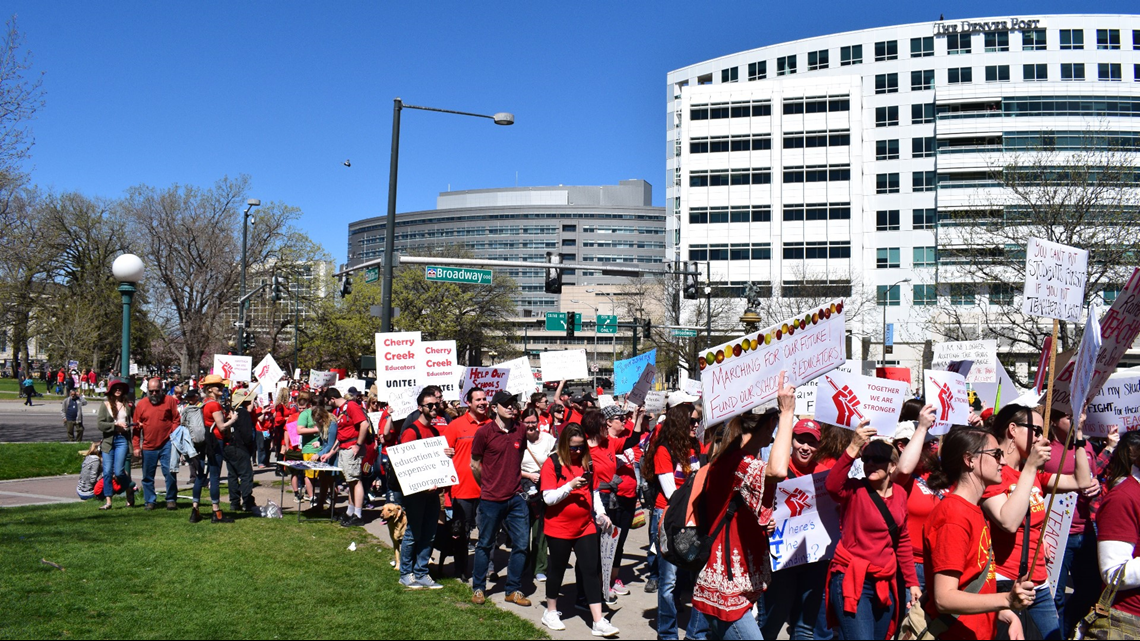 A rural perspective
Of course, not everybody could make it to protest at the Colorado State Capitol. Colorado's a big state – and rural teachers have their own set of problems.
School funding in the northeastern plains is even less than the state's average – and that's what educators in Sterling gathered at the Logan County Courthouse to try and draw attention to.
"We'll start pushing our state reps, our state senators, and we'll start pushing initiatives and hopefully people will understand that those initiatives are for the betterment of all," said Mary Beth Skerjanec, an eighth-grade language arts teacher at Sterling Middle School. "It will help all of Colorado, but it will bring rural Colorado up to where it needs to be."
After the rally, the organizers of the Sterling event had a training session for their fellow teachers on how to properly contact legislators and petition in the community.
What's next?
As teachers left Friday's rally, they said this is only the beginning and plan to fight for legislation and ballot measures to increase funding for public education in Colorado.
A retired math teacher had already gathered 200 signatures by Friday afternoon for Initiative 93. If more than 98,000 signatures are gathered, it would be a ballot measure that would raise taxes on the wealthy, and increase funding for public schools.
We have put together a timeline of the national walkouts, as well. You can watch it below: