DENVER — Every red-clad teacher we spoke to inside the Colorado State Capitol Monday said they would rather be in the classroom than protesting for better pay, school funding and protections for their pensions, but they felt what they were doing would ultimately benefit students in the long run.
The rally, which was organized by the Colorado Education Association (the state's largest teachers' union), comes as the House Finance Committee hears Senate Bill 200. If passed, it would mean big changes for the Colorado Public Employees Retirement Association (PERA).
"When I got into education, I knew I wasn't going to make that much money," said Karen Cohn, a special-education teacher at Century Middle School. "But, I did know that I would have a pension."
Colorado teachers are marching around the State Capital joining a growing national protest for better pay and work conditions. #9news pic.twitter.com/mEGSgGcvz1
Cohn says at this point, she's 51 years old and it's just not feasible for her to start a new career — which means she's dependent on getting the pension benefits she expected. She was one of the dozens of educators and supporters who packed into the Capitol from across the state. Many of them were using their personal days off to attend and say they left behind lesson plans for their substitutes.
Steve Collins, who follows 9NEWS on Twitter, said what he most wanted to know about the protests was "If they are so concerned about the kids, are they not DOING THEIR jobs today? ....."
9NEWS asked more than a dozen teachers that very question.
Susie Frisbie teaches preschool at Denver Public Schools. She says she and her colleagues wrote up lesson plans for their substitute teachers, and that she came to the Capitol to "protect their rights."
"We're not [teachers] for the money or prestige," Frisbie said. "You cannot pay rent for a one bedroom in Denver on a teachers' salary.
"We're here for our kids too, to make sure our children are educated."
Mary and Ashley, who both work for Englewood Schools and declined to give their last names, said the protests are truly about "everybody."
"We would rather be with our students," said Ashley, a teacher. She says she gave up nine hours of personal time to be downtown.
"We're still here for our kids," said Mary, an administrative assistant who was there in support of PERA as well as the teachers she works with. "To bring in quality educators, we need the funding."
Amy Smith is a teacher at Century Middle School and says that she is protesting for both herself and future teachers. Her 22-year-old daughter is a first-year teacher, and Smith says she can't afford to move out on her own.
"We need to be here to advocate for them," Smith said of future educators.
Nick Peardot is a first-year English teacher at Berthoud High School who says he was able to rally at the Capitol with help from his union. He likened being a teacher to "becoming a father."
He says that when he gets back into the classroom on Tuesday, he'll tell his students that he rallied to show them "their voice matters."
"I'm going to tell them I'm here for them," Peardot said.
Colorado's average teacher salary — $46,155 — ranks 46th in the country. The Associated Press reports that Colorado underfunds its schools by $822 million per year, but that next year, lawmakers are trying to increase per-pupil spending by 6 percent in next year's budget plan.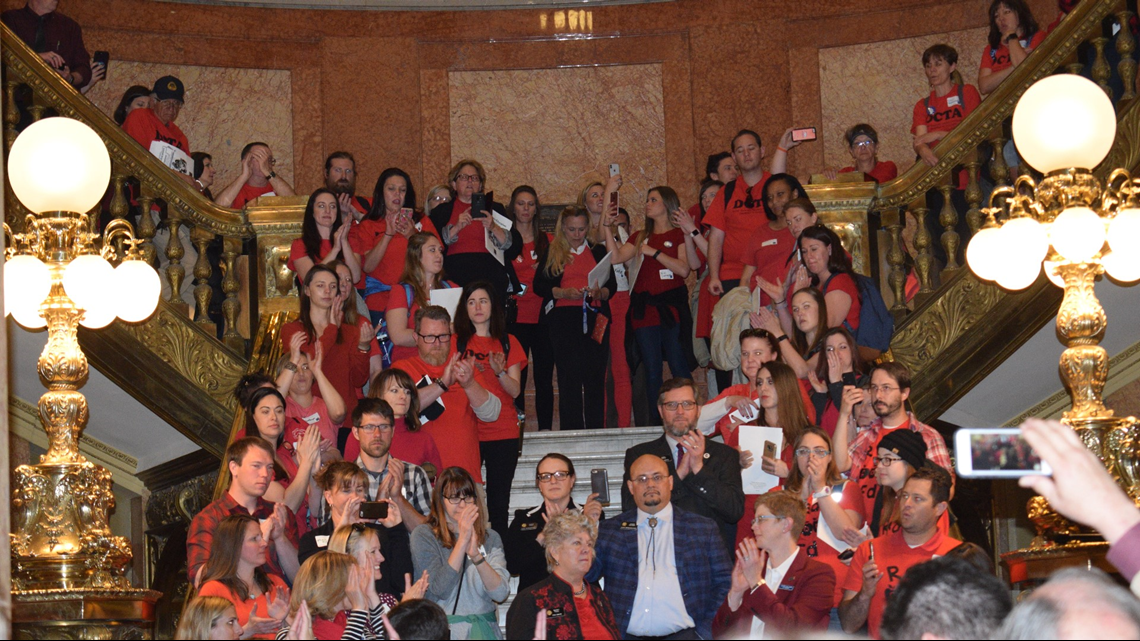 Colorado ranks 40th in spending per student, according to the AP.
Meanwhile, PERA has an unfunded liability estimated at $32 billion to $50 billion — and this is after the state legislature raised employee contributions to the plan in 2010.
Numerous lawmakers spoke during Monday's protest — and drew big cheers from teachers for their offers of support. But, this doesn't change the situation that prompted Colorado teachers to protest in the first place.
Cohn said at this point, numerous Colorado teachers can't afford to keep doing what they do.
"There are a lot of rewards," Cohn said, "they're not monetary, but you better have a rich spouse or a side job."