ENGLEWOOD, Colo. — Emmanuel Sanders doesn't have a choice.
The Broncos didn't sign a receiver from free agency. They didn't select a receiver in the first three "starter" rounds of the draft. The kiddie receiving corps struggled without him down the stretch last season.
The Broncos must have Sanders return healthy and productive from his Achilles injury in 2019.
If he doesn't, Joe Flacco and the passing game could be in trouble.
"It's been feeling good,'' Sanders told a media contingent that included 9NEWS' cameraman Jeremy Chavez during a charity event Tuesday at the Pat Bowlen Fieldhouse. "Still sore every now and then, but I'm happy to get back out there."
"We're not going to put a date on anything. We're going to take it one day at a time and hopefully I'm back out there by (the start of training camp in mid-July). But if I'm not, I'm not going to rush it. I'm going to take my time and make sure I'm 100 percent by the time I get back out there.''
With four games remaining last season and the Broncos coming off three consecutive wins, Sanders' Achilles blew out as he was making a routine cut during a Wednesday practice.
Broncos' hopes of winning out were dashed.
Courtland Sutton and DaeSean Hamilton had solid rookie years, but Sutton averaged just 36.5 receiving yards per game in the season's final quarter without Sanders while Hamilton averaged 45.5 yards. It was first-year receiver Tim Patrick, a No. 5 receiver much of the season, who came on in the final four games with 60.5 yards per game.
Broncos general manager John Elway addressed his team's many other needs this offseason but at receiver he's counting on Sutton, Hamilton and Patrick to make quantum second-year improvements and Sanders to be Emmanuel again.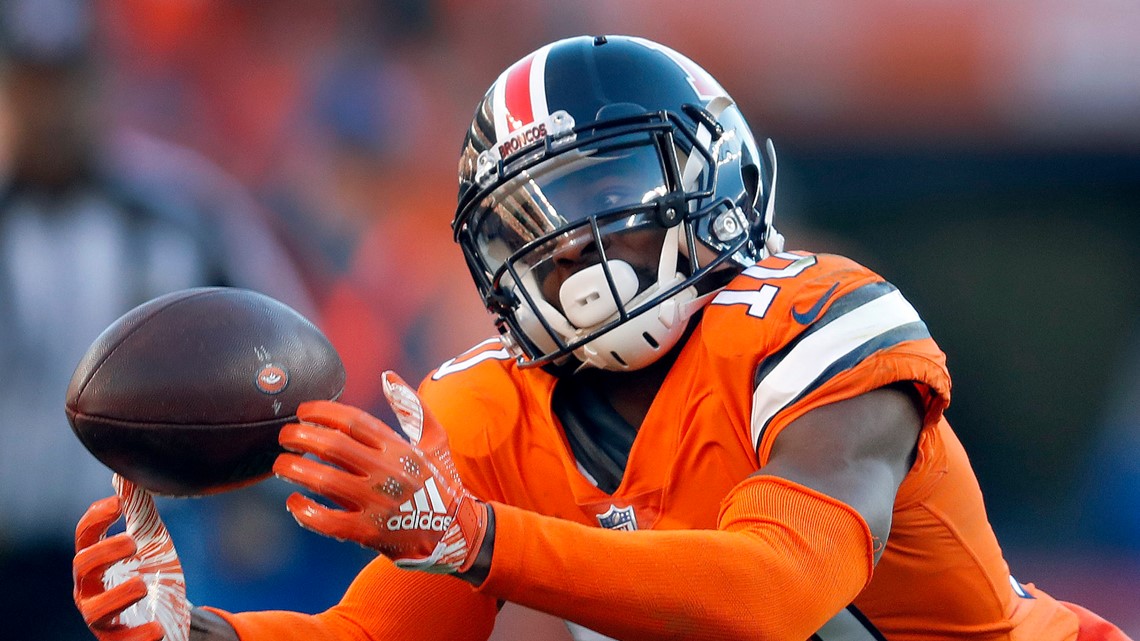 In a three-season stretch from 2014-16, Sanders averaged better than 85 catches and 1,190 yards and he was on pace to better those numbers in 2018 until his Achilles tear.
Flacco, the Broncos' new starting quarterback after a trade from Baltimore, got a new weapon in first-round tight end Noah Fant. The receiver position, though, still keys the passing game.
Sutton in particular shined during the Broncos' veteran minicamp last month, so Sanders' recovery is the next step.
"When I do run full speed, I feel good running,'' Sanders said. "I wouldn't say we're ahead of schedule, I wouldn't say we're behind schedule. I just feel like we're somewhere in between there. We'll see how it goes and once I start running routes, seeing how I feel.''