John Kraswoski knew spine surgery wouldn't be easy. He just didn't expect to go through it twice. The 61-year-old Colorado Springs man needed Transforaminal Lumbar Interbody Fusion.
"It's very intense surgery – typically four to five-hour surgery," he said.
The surgery was scheduled for April 4, 2018, at Porter Adventist Hospital. He said he arrived that day as planned. Hours later, he said he woke up from anesthesia and learned the surgery to fix his spine started – but was aborted before the procedure could be finished.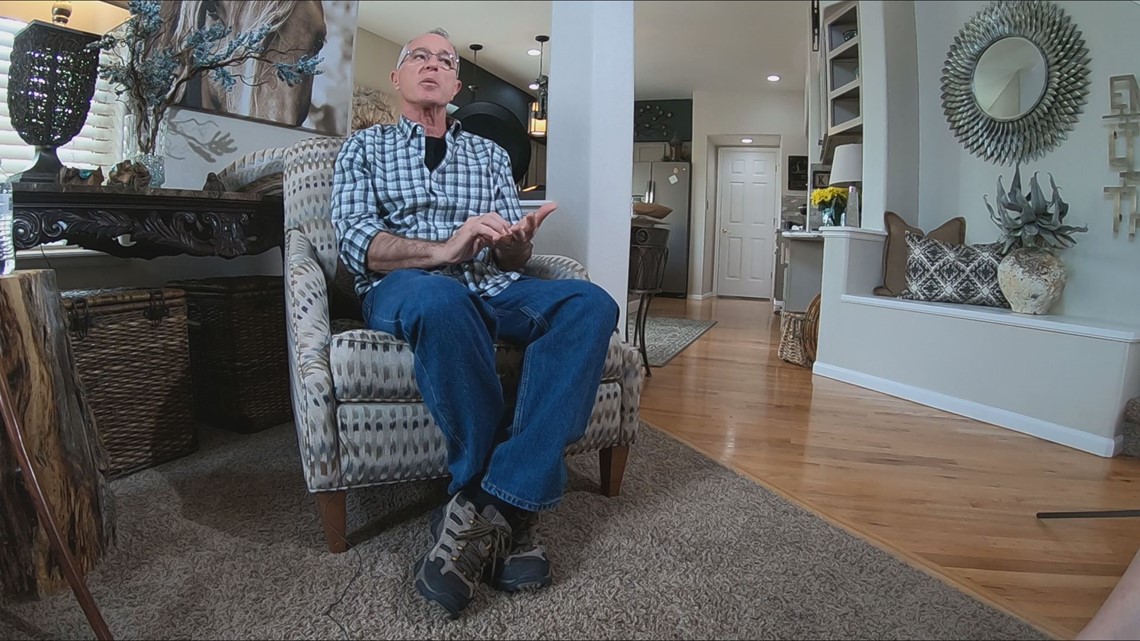 "They called my wife and told her there were some contaminated instruments," he said.
Krasowski said the explanations from the hospital stopped there.
"None of the hospital staff would tell me anything. They were so tight lipped it was incredible," he said.
Krasowski's medical records reveal a little more, explaining his doctor aborted the surgery after the "discovery of contaminant on a number of the instruments." Medical records also say surgical staff discovered a "brown-yellowish, what looked like a pasty material" on one of the instruments.
CDPHE said instruments used in some surgeries were not cleaned adequately. The hospital said it identified a gap in the pre-cleaning process, prior to sterilization.
The hospital sent letters to thousands of orthopedic and spinal surgery patients, who had procedures between July 21, 2016, and February 20, 2018. Those letters said patients could be at risk for hepatitis or HIV and should get a blood test. Health officials said they believe any risk to patients was "very low."
Krasowski was unaware of the investigation when he had surgery on April 4.
The day after his aborted procedure, the state issued new information that more patients could be at risk than previously thought.
Health officials updated the dates in which patients could be at risk of hepatitis or HIV, to include orthopedic and spinal surgeries between summer of 2016 and April 5, 2018.
Krasowski said he believes his doctor was advocating for him - the patient - when the surgery on April 4 was aborted.
"Yeah, he had my best care in mind. No doubt about it," he said.
But Krasowski has several concerns about his experience at the hospital.
"I mean, they knew about this problem and here it shows up again… the day of my surgery, they find more," he said. "What does that tell you? They didn't… something is not right."
"What we want to know is, was this human error?" asked Krasowski's attorney, David Woodruff of Denver Trial Lawyers. "Was it equipment failure. Was it… failure of policies? Or was it something the administration was simply ignoring."
Krasowski gave Porter permission to share his medical information with 9NEWS.
When asked for more information on his case, the hospital issued this statement Thursday:
"Porter Adventist Hospital does not believe it is appropriate to discuss individual patient cases, especially when litigation is pending or threatened. Porter Adventist Hospital would like to reiterate that the residue discovered on the surgical instruments was a result of increased calcium, iron and other minerals within the water. Although completely safe, any increase in minerals when flowing with the equipment can cause some mineral deposit and buildup. Once the residue was discovered, Porter Adventist Hospital immediately and voluntarily paused all surgeries in an abundance of caution. It's important to remember that the water quality issue was completely separate from the gap in the pre-cleaning process prior to sterilization. "
Woodruff said dozens of other patients who had surgeries at Porter Adventist have contacted the law firm in recent weeks after receiving a letter from the hospital about the blood tests.
"That's a scary thing," he said. "That's a scary thing that thousands of people have been exposed to infection and blood-borne diseases like Hepatitis and HIV."
Krasowski is getting blood tests done, too. He said he tested negative for HIV after the surgery and will test for hepatitis soon.
He and his doctor went to another hospital to complete the spinal surgery a few days after the first one was scheduled. He is now recovering at home.