DENVER — One in five women reported mistreatment during their pregnancy and delivery, according to a national survey of more than 2,400 Americans in April, analyzed by the Center for Disease Control and Prevention.
Women said they were ignored, shouted at, had their privacy violated and were forced to undergo treatment they did not want, the CDC said when talking about the results of the survey Tuesday.
"It's really important that the help that's provided is as optimal as possible," said Dr. Wanda D. Barfield, director of the CDC's Division of Reproductive Health. "And if women are uncomfortable because of their experiences, they're unable to share their concerns."
"Women who feel that they've had bad experiences or poor experiences during prenatal care are less likely to seek out further care," Barfield said. "And if someone is high risk or has a pregnancy-related care or concern, it's possible they may not receive the care that they need, and that may, as a result, result in an adverse consequence."
Women of color were more likely to report mistreatment. About one in three Black, Hispanic and multiracial respondents said they faced mistreatment. Barfield said stereotypes or biases fuel these negative experiences.
"We need, as health-care providers, to think about our potential biases that may make people feel that they aren't being treated appropriately," she said.
Barfield said solutions can include implicit bias training and the hiring of a more diverse workforce so patients see more of themselves in their care.
Of the women who answered the survey, 45% said they held back from voicing concerns because they thought their experience was "normal," they were ashamed and did not want to "make a big deal" and thought their medical provider would "think they were being difficult."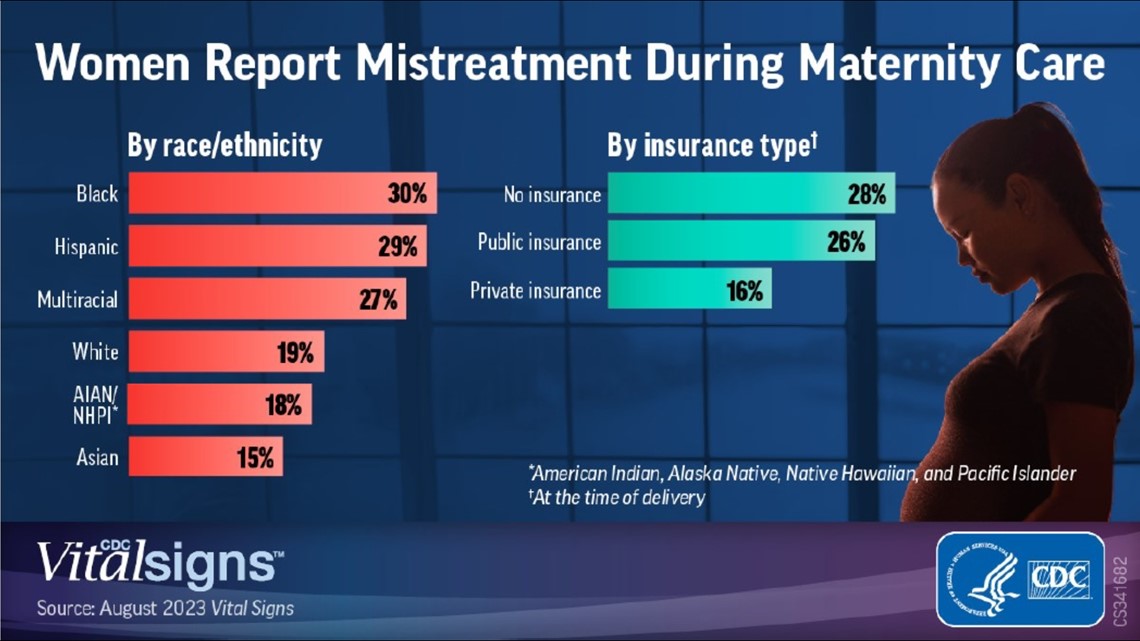 MORE ABOUT THE SURVEY
Colorado-specific data was not available. It is worth noting that 70% of the survey respondents were white and people of color represented a fraction of the responses. Respondents were 11% Black, 10% Hispanic, 5% Asian and 3% multiracial.
We want to hear about your experiences getting maternal care in Colorado. Please reach investigative reporter Zack Newman at 303-548-9044. You can also call or text securely on Signal through that same number. Email: zack.newman@9news.com. Call or text is preferred over email.
More 9NEWS stories by Zack Newman: