MORRISON, Colo. — Bandimere Speedway failed to follow agreed upon court-ordered requirements during the Jet Car Nationals event it hosted on Saturday, Jefferson County Public Health (JCPH) said Sunday morning.
After monitoring the Fourth of July event at the speedway, JCPH said it was disappointed that the organization failed to limit and manage crowd sizes, implement social distancing requirements and adhere to COVID-19 requirements in Colorado Public Health Order 20-28.
According to a statement from JCPH, Bandimere Speedway agreed to "clear, court-ordered requirements" before the event and said it would comply, but instead violated those requirements.
JCPH said it will work with the Jefferson County Attorney's Office to pursue appropriate legal action to address the violation.
"With this pandemic, one of the most risky or most dangerous things we can do is have large gatherings," said Dr. Mark Johnson, JCPH executive director.
Johnson said Bandimere Speedway had agreed to cap the crowd at 4,500 people. The venue holds 23,000, he said.
"We have pictures from the venues and the stands and the places where they were buying food and lining up to buy food," Johnson said. "it is clear that it was packed, that there were many more than the 4,500 and that the physical distancing was not maintained."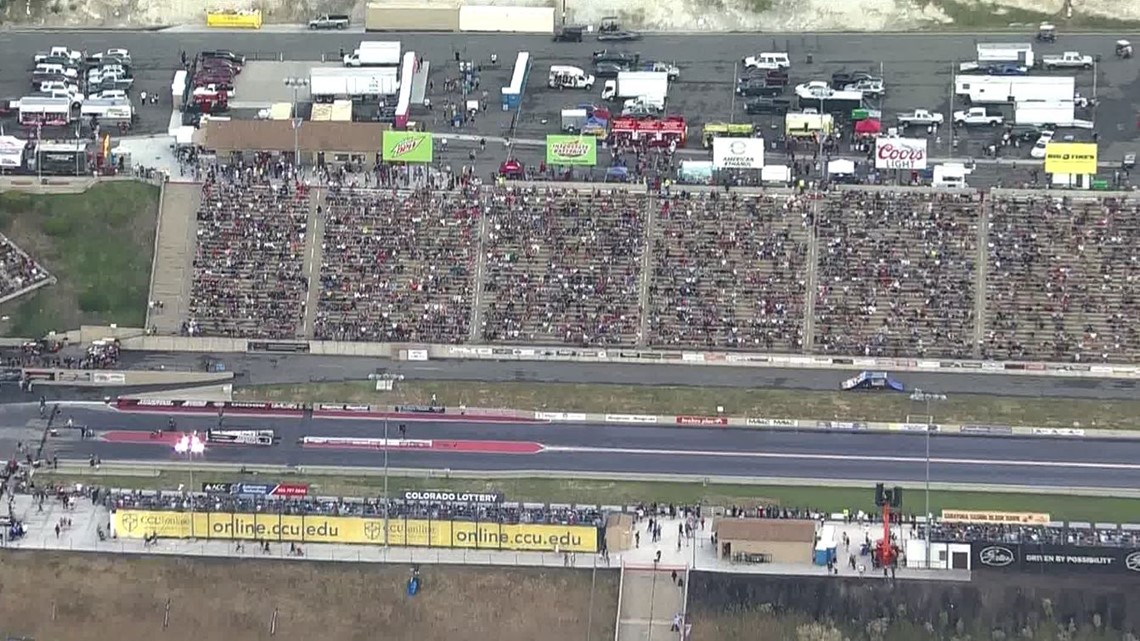 Johnson said he thinks there will be consequences to gathering.
"We feel that probably within five to 10 days, we're going to see an increase in [COVID-19 cases] from people who were at the site," he said.
Late last week, JCPH filed an emergency motion for a temporary restraining order to block the race track from violating county public health orders with the event.
The health department asked Bandimere to submit a compliance plan showing how the event would adhere to the public health order.
"Over the period of time between Friday when the temporary restraining order was granted and when the event took place, we went back and forth about how we did not feel that the plan that they had given us was adequate," Johnson said.
A Facebook post from the speedway late Friday said its July 4 race and firework show would go on with health officials monitoring social distancing guidelines.
"We did have staff members there who were taking pictures and monitoring what was going on," Johnson said. "The Achilles heel in all of this is that we don't really have the enforcement power to make changes on the fly like that."
Johnson said a variance from the state health department allows for a group of 175 people to meet with adequate social distancing in outdoor venues.
"Since [Bandimere Speedway] is an outdoor venue, and they have a huge amount of space, we were able to work with them on designated areas where they could have 175 individuals as long as they were separate from other groups of 175 in various places," Johnson explained.
Johnson said there was evidence the race track violated those requirements.
A spokesperson for the Jefferson County Sheriff's Office said Monday that deputies did not step in to enforce social distancing or limit the crowd size because the judge's order, "did not direct law enforcement to take action in the event of a violation."
The spokesperson said the sheriff's office did not receive any complaints about a violation either.
"The issue is a civil matter and I believe Public Health and the County Attorney's Office are seeking a judicial remedy," the spokesperson said. "Public Health has the ability to enforce its orders through the court system."
The health department planned to meet Monday morning with county attorneys to discuss potential legal action against Bandimere Speedway, Johnson said.
"We want our businesses, who are pillars in our community, to be able to safely operate," Johnson said in a statement sent to 9NEWS. "At the same time, we are dealing with the most significant public health crisis of our lifetime, and cases of the virus are already starting to increase again in Jeffco. We are proud that the large majority of our local businesses are working diligently to keep themselves and others safe. However, when one business does not, it compromises the health and economy of our entire community."
9NEWS has reached out to Bandimere Speedway multiple times since Friday for comment, and reached out again after receiving the latest statement from JCPH.
In a Facebook post Sunday evening, Bandimere Speedway thanked people for supporting the Jet Car Nationals event.
"We can't even begin to describe how much we appreciate the racers, fans, sponsors and our staff members for standing by our side," the post said, in part.