COLORADO, USA — Colorado has changed the way it reports data on deaths from COVID-19 to differentiate those who have died from COVID-19 and those who have died from a possibly different cause but were diagnosed with COVID-19.
Gov. Jared Polis signed an executive order allowing email and mail-in petition-signature gathering for ballot issues.
There are now six confirmed COVID-19 outbreaks at grocery stores in Colorado. The Colorado Department of Public Health (CDPHE) confirmed 67 COVID-19 staff cases in grocery stores throughout Colorado, four probable staff cases and three deaths.
>The video is about the 500th COVID-19 patient discharged by a Westminster hospital.
A post office in Denver where at least two employees have tested positive for COVID-19 is defying an order issued by the Denver Department of Public Health and Environment (DDPHE) to shut down temporarily.
Those are among the coronavirus updates for the state Saturday. More details are below, and we'll continue to post information as it comes in throughout the day.
WHAT TO KNOW RIGHT NOW
21,633 cases, up from 21,232 the day prior.
3,866 hospitalized, up from 3,842 the day prior.
1,192 deaths among those who tested positive for COVID-19, up from 1,150 the day prior.
878 deaths due to COVID-19, the same as the day prior.
On Monday, April 27, Colorado transitioned to a "safer-at-home" order.
Denver began requiring face masks in public places on Wednesday, May 6.
Coloradans can once again camp at many state campgrounds starting Tuesday.
Denver will resume some enforcement of parking meters and posted time limits on June 1.
Great Sand Dunes National Park will begin a phased reopening on June 3.
COVID-19 outbreaks have been identified at multiple Colorado grocery stores.
A Denver post office remains open despite a public health order demanding its closure.
Polis executive orders allows email, mail-in petition-signature gathering
Gov. Jared Polis has signed an executive orders authorizing the creation of temporary rules that allow for email and mail-in gathering of petition signatures for ballot issues.
The order authorizes the Secretary of State's Office to issue rules that allow for signature collection in a manner that protects public health while the COVID-19 disaster emergency declaration is in place, the governor's office said.
"This is a challenging time for Colorado, but we must not sacrifice our democracy and the right of citizens to petition due to the pandemic," Polis said in a statement. "Protecting our democracy, access to the ballot and making sure citizens can qualify ballot measures and can qualify as candidates to run for office during this time is critical."
Northglenn giving away 4,500+ face masks to city residents
Need a face mask? The City of Northglenn has more than 4,500 cotton face masks to hand out to residents from 10 a.m. to noon Saturday at the Northglenn Marketplace, near Interstate 25 and West 104th Avenue.
The giveaway is thanks to Bella+Canvas and a nationwide initiative called Mayors for Masks, which is providing masks to residents of participating cities. Mayor Meredith Leighty and members of the City Council will hand out the masks at the drive-through event.
Coronavirus cases in Colorado
CDPHE on May 15 changed the way it was reporting data in two ways:
The number of deaths among people with COVID-19. This represents the total number of deaths reported among people who have COVID-19, but COVID-19 may not have been the cause of death listed on the death certificate. This information is required by the Centers for Disease Control and Prevention (CDC) and is crucial for public health surveillance, as it provides more information about disease transmission and can help identify risk factors among all deaths across populations.
The number of deaths among people who died from COVID-19: This represents the total number of people whose death was attributed to COVID-19 as indicated on a death certificate. This number is determined by the CDC and is updated daily for dates through the previous Saturday.
In Colorado, CDPHE reports 21,232 people have tested positive for the disease caused by the novel coronavirus, COVID-19, up from 20,838 the day prior.
1,192 deaths among people with COVID-19
878 deaths due to COVID-19
The day prior, 1,150 people had died, 878 from COVID-19
The majority of deaths — 54% — are among people over age 80; 23% of deaths occurred in people between ages 70-79 and 13% were in people ages 60-69.
The graph below shows the total number of people in Colorado who have died after a COVID-19 diagnosis, since the first death happened on March 13.
The median number of new deaths per day is 16 for the first 11 days of May. For the same time period in April, a median of 15 more people died each day.
This graph shows the number of people who died on a specific day.
Date of death may not be available for all deaths. As of Tuesday, CDPHE knew the date of death for 92% of COVID-19-related deaths.
The numbers for each date may change. The totals will rise as we learn of new deaths.
Of those who tested positive for the disease, 3,866 hospitalizations have been reported, up from 3,842 the day prior.
As of 12:02 p.m. on May 16, 517 patients are currently hospitalized with the disease, according to the most recent data from the Colorado Hospital Association. Within the last 24 hours, 36 patients have been transferred or discharged.
This graph below shows the number of people currently hospitalized with a COVID-19 diagnosis and the number of people who have been discharged within 24 hours. This is a key metric because it can be an indicator of whether or not Colorado's hospital system is being overwhelmed by the virus.
Those currently hospitalized dropped 19% from last Monday.
According to CDPHE, 123,442 people have been tested, up from 119,759 the day prior, and 60 counties are reporting cases, the same number as the day before.
This graph below shows the number of tests the state processed in a day. This is another key metric because the state's ability to reopen will depend on the number of tests Colorado can run each day. As testing improves, the number of cases will rise because the more tests that are conducted, the more cases will be found.
Colorado processed a median of 1,851.5 tests a day for the first 10 days of April. Now the median is 3,385 for the first 10 days of May.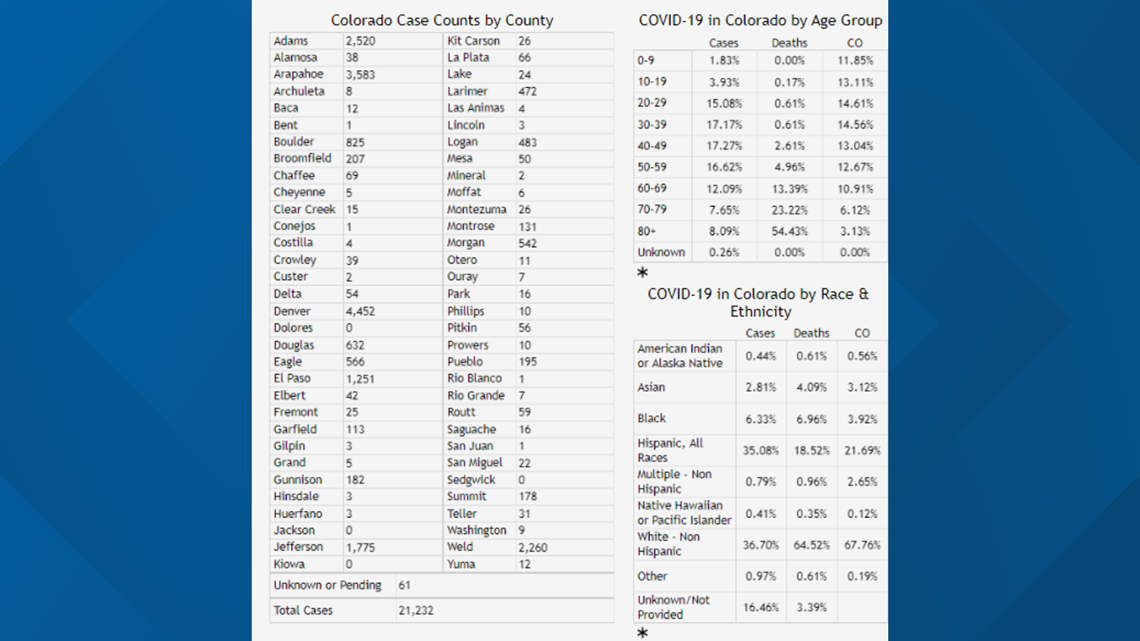 Please note that there may be a lull or spike in reported case data due to how it's reported. CDPHE data changes as labs, hospitals, facilities and local agencies report their own data. For example, a spike in the number of deaths does not necessarily mean that many more people died within 24 hours, but rather is indicative of when the data is entered into the system. New data is released daily at 4 p.m.
COVID-19 is a disease caused by a virus that first appeared in Wuhan, China, in late 2019. Symptoms of COVID-19 can include fever, cough and breathing trouble. Most patients develop only mild symptoms. But some people, usually those with other medical complications, develop more severe symptoms, including pneumonia, which can be fatal.