'The worst-case scenario has passed us': How these breweries survived the COVID pandemic
When COVID-19 closed their taprooms, three Colorado breweries opened their doors to 9NEWS to follow their journeys through the pandemic.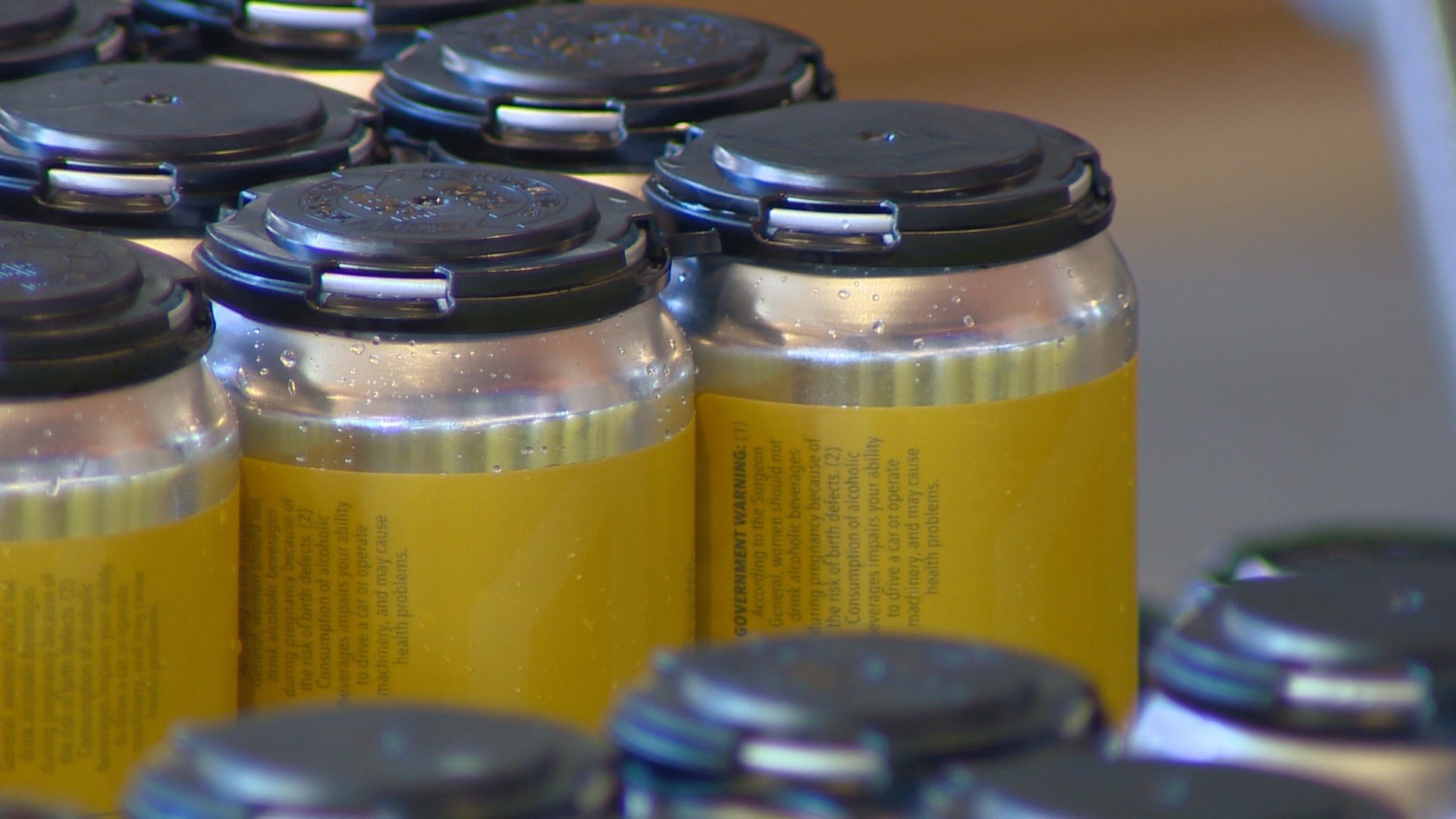 Chapter One
:
Occupied minds and empty taprooms
A pint or two helped dull the pain, but the early days of the COVID-19 pandemic left Colorado brewery owners overwhelmed.
"We all did drink a few beers and go home and cry because, you know, this is hard for everybody," said Charlie Berger. "Everybody's suffering."
Berger, co-founder of Denver Beer Co., sat outside the brewery on Platte Street on a warm morning in May 2020 reflecting on everything that had changed.
"Our taproom business of drinking beers in the beer garden is gone," he said.
On March 17, 2020, Colorado breweries, restaurants and bars closed to indoor dining. COVID-19 occupied brewery owners' minds and emptied their taprooms across the state.
"I don't think anybody kind of foresaw what this would look like," said José Beteta, chief executive officer for Raíces Brewing Company.
Doors to Raíces' taproom closed shortly after they opened in Denver's Sun Valley neighborhood.
"We were almost about to hit our five-month mark," Beteta said.
Starting a new brewery in a city he called "the Mecca of Beer," Beteta expected competition but not COVID-19.
"We want to stay open and we want to conduct business, but at the same time, we don't want to put anybody's life at risk," Beteta said in May.
Over in Edgewater, Grant Babb tried to adjust, too. The co-owner of Joyride Brewing Company was struggling to see the glass half-full after losing so much revenue.
"It's such an emotional experience to go through this right now," Babb said. "Nothing prepares you for this. It's just a complete shutdown of your life, you know."
In 2019, craft breweries poured $3.35 billion into the Colorado economy, according to an estimate from the Boulder-based Brewers Association.
At the start of the pandemic, a Brewers Association survey of Colorado craft breweries found 63.2% feared they wouldn't last more than three months given the current costs, revenues, and level of government aid.
"If you keep having the same costs when your revenue is slashed, that's just difficult to make it through," said Bart Watson, chief economist for the Brewers Association.
The same Brewers Association survey from April 2020 showed Colorado breweries laid off 56.6% of their staff, which included 567 employees.
Watson wished there were different statistics to share in 2020.
"We work to support breweries and watching them see their livelihoods potentially go up in smoke – I mean that was a tough, tough year," he said.
Chapter Two
:
Pivot instead of panic
While some brewery owners panicked, most pivoted. With their taprooms closed, breweries started offering beer to-go.
Joyride Brewery Company brought new meaning to arts and crafts by selling its brews from a makeshift lemonade stand of sorts.
"It looks like my kids built it," Babb said, describing Joyride's beer to-go stand made from scrap wood. "[Customers] walk up and it's like, 'man, this looks like crap. This is awesome!'"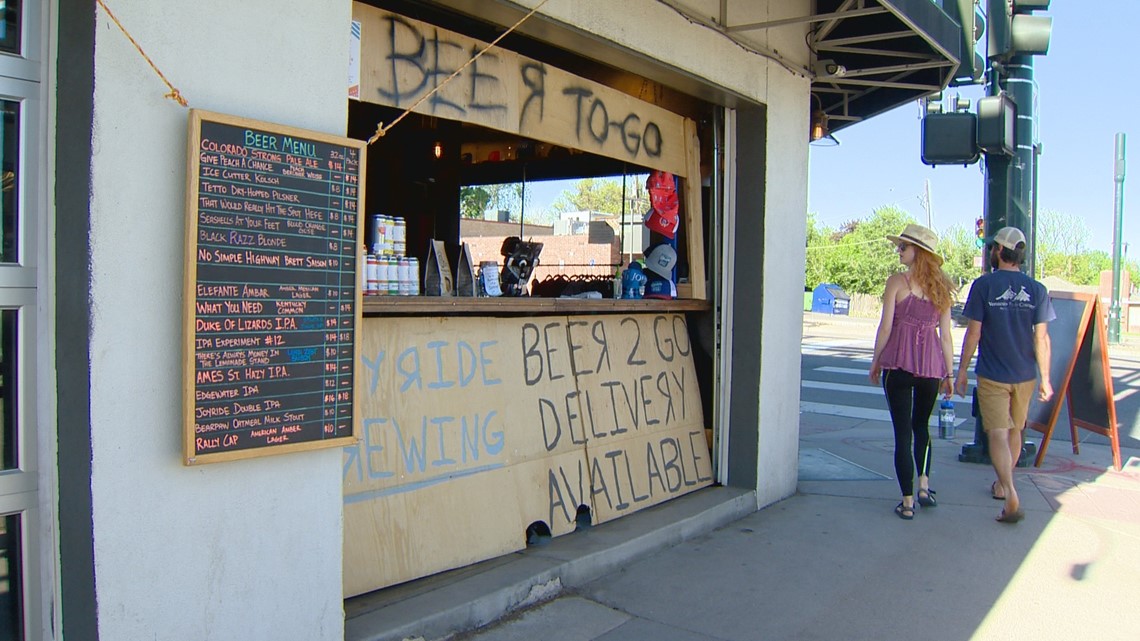 Denver Beer Co. started selling crowlers, 32-ounce cans of beer with names fit for a pandemic.
"We actually started doing a few interesting, fun crowlers including one called 'Zoom Casual,' one called 'Don Exotic,' which is a riff on that silly Tiger King show that was so popular," said Berger. "We have one called '8 o'clock Howl.'"
Raíces Brewing Company welcomed customers to its parking lot for curbside pickup and to-go orders.
"It's a big opportunity for us to kind of tap into that rest of the 90% of the brain that we have and be able to come up with new innovations," Beteta said.
While sales from the parking lot drew in some customers, it felt different from a taproom filled with music and dancing.
"As a Latino and my partners being Latino as well, we are very affectionate people, so making that physical contact – it's something that we miss," Beteta said.
Beteta and business partners, Tamil Maldonado and Martín Vargas sought to open a business rooted in community, culture and beer.
"There was a lot of diversity in our taproom all the time, and we really miss that," said Maldonado.
Maldonado is Beteta's partner in business and in life. The couple married 10 years ago and opened the brewery with Vargas in September 2019.
"It was one of the needs that we felt ourselves of not having a place where we can identify with the space, can celebrate who we are and our identities in a free way and share who we are," Maldonado said.
As of 2018, 2.4% of breweries in the United States had Latino or Hispanic ownership, according to the Brewers Association.
"We wanted to diversify the industry by making it the central point," Beteta said.
Chapter 3
:
Getting creative
After 10 weeks of beer to-go, Colorado breweries welcomed back workers in late May 2020 and reopened at 50% capacity. Outdoor seating and optimism filled up as fast as beer in a glass.
"Industry's going to recover and the economy's going to start building itself back up," said Joyride's Grant Babb.
Confidence brewed more creativity and ways to connect with the community. Joyride expanded its patio space to the street in front of the brewery and started releasing new brews.
"We started up the 'Edgewater Street' series, so every street in Edgewater is going to get a beer named after them," Babb explained.
Coloradans craved more than a product poured from a tap. In the most abnormal of years, Denver Beer Co. delivered the distraction people didn't know they needed: bike-in movie nights.
The parking lot outside the Denver Beer Co. production brewery served as seating for moviegoers who biked over for beer and screenings of "The Goonies" and "The Princess Bride."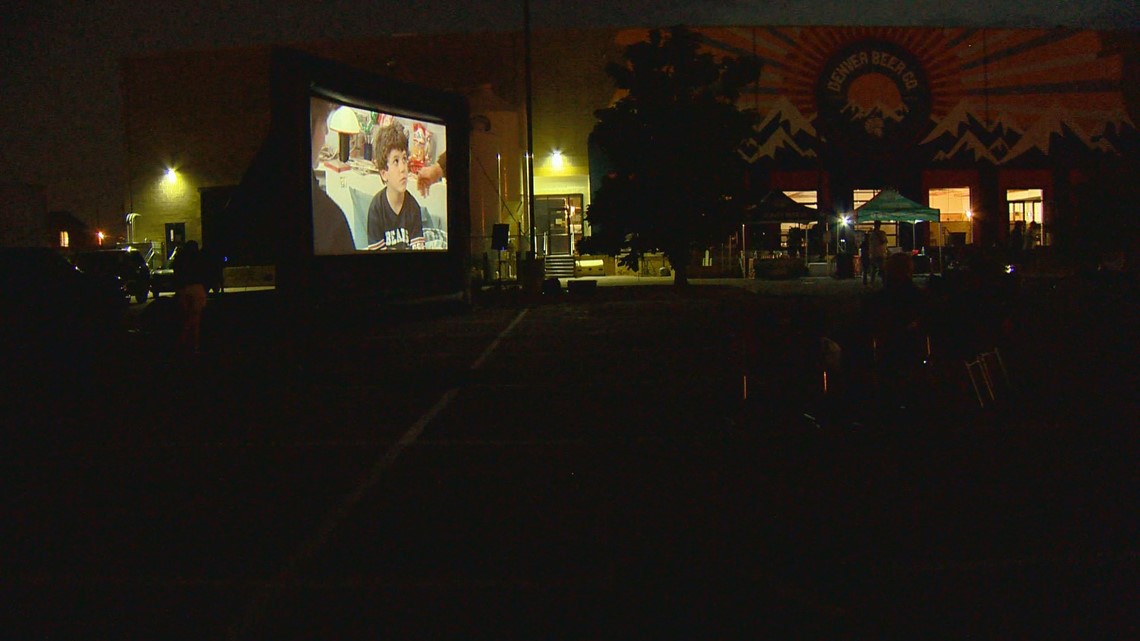 Raíces Brewing Company hosted an outdoor summer concert with opportunities to register to vote and participate in the census.
"This is very exciting for us because we love actually showcasing people and platforms – being a platform for artists and being a platform for community and culture," Maldonado said.
Even when summer days began fading, Colorado breweries connected and engaged with customers.
"Things are working out better than expected," Babb said. "We're past the dark days of what could possibly happen. The worst-case scenario has passed us."
Chapter 4
:
Bracing for another wave
The summer wave of optimism was overcome by another wave of COVID-19 in the fall.
On Nov. 20, 2020, Denver and 19 other counties moved to "Level Red" on Colorado's COVID-19 dial, which closed indoor dining again.
"We're not epidemiologists," said Charlie Berger. "We're brewers and small business people. We're doing our very best given the restrictions that come our way."
Breweries went back to beer to-go and relied on outdoor seating as temperatures dropped. They loaded up on outdoor heaters. Some pitched wedding tents or installed fire pits in anticipation of the inevitable Colorado snow.
"I'm a Caribbean girl," Tamil Maldonado laughed. "Let's start with that! I enjoy [snow] for a couple of hours, and then I need extra layers."
As brewery owners strategized to stay afloat during winter, many experimented with canning and distributing for the first time.
"We saw a lot of breweries pivot to a lot more packaged sales and then selling that in new ways," said Bart Watson. "To-go with some of it, but delivery, direct to consumer, you know, other forms of getting that liquid to the customers who wanted it.
Denver Beer Co. relied heavily on its production brewery which continued to supply beer to grocery and liquor stores.
"Six feet apart is not really the way most people drink beer," Berger said. "Our production brewery through the summer and through quarantine was a lifesaver for us."
Many brewery owners benefited from the Paycheck Protection Program and relied on loans to keep their businesses afloat. Data from the Small Business Administration showed 198 Colorado breweries received PPP funds totaling $27.6 million. Still, some breweries did not survive.
"We've seen a lot of our friends go out of business already and we have a lot of concerns that we might see some of our other friends take it pretty hard this winter," Babb said.
By November 2020, 18 Colorado breweries closed.
"Every time that one closes, it's a heartbreak because that's somebody's dream," Beteta said.
Chapter 5
:
Taking punches
Rolling with the changing restrictions felt more like taking a punch. In 2020, the punches kept coming, but it was the unexpected one that hurt Charlie Berger and Denver Beer Co. the most.
On Nov. 6, Jason Buehler, head brewer at Denver Beer Co., died while climbing in the Maroon Bells near Aspen. Buehler left behind a wife and three young children.
"He was a fantastic father," Berger said. "I know that that family will miss him forever."
Berger said he befriended Buehler in brewery school in 2007. They stayed friends over the years until they became coworkers in 2015. To Berger, Buehler was like carbonation in beer personified.
"He's the bubbles that take it from a beverage, a more of mainstream, dull beverage, to being beer - what it is," he said. "Life. He brought the bubbles to life and brought out all the flavor."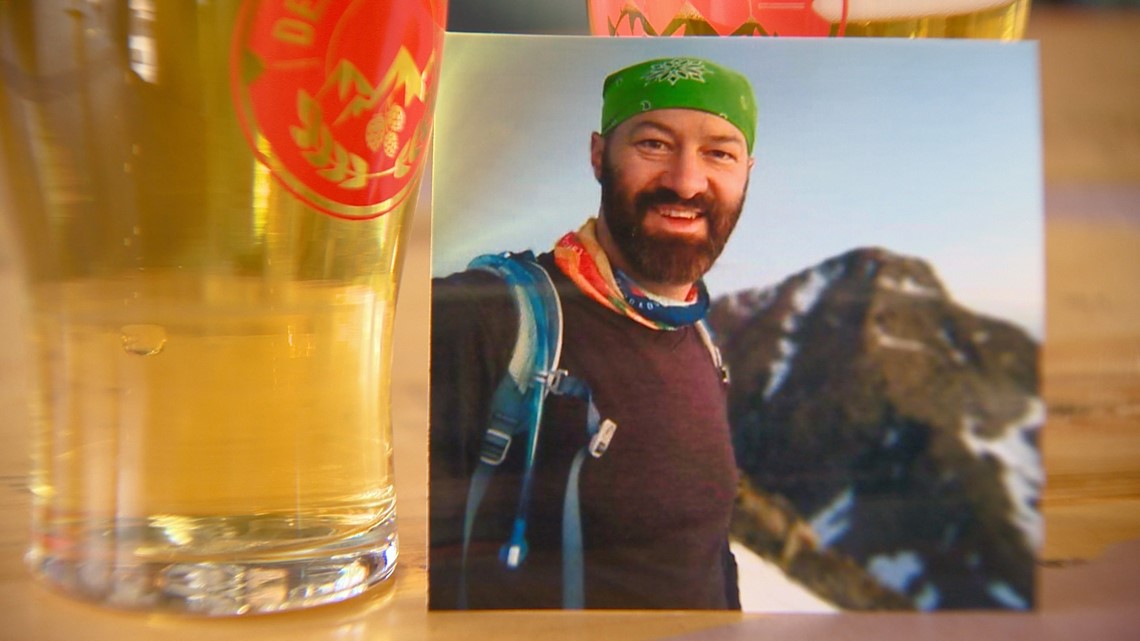 At the start of 2021, the new year brought a new, overwhelming reality to Raíces Brewing Company.
"Yeah, we were both in the same boat," said José Beteta, sitting up in his hospital bed at Denver Health. "It's very real, and it's a shame because, you know, we've been very careful about this whole thing."
In March 2021, Beteta and his wife Tamil Maldonado attended a funeral out of state and came home to positive COVID-19 test results. Both were hospitalized.
"We tried to do as much as we could from the hospital, from our phones, coordinating things from here and just making sure that the bills were paid, that the bases were covered," Beteta said. "Being able to kind of keep on top of those things while you're trying to not die – it was a challenge."
Both Beteta and Maldonado were released from the hospital, but Beteta spent weeks on oxygen. It was just the latest challenge in the most challenging of years.
"Hi, welcome to 2020," Beteta said sarcastically. "There's forest fires. We're taking Kobe Bryant, global pandemic, sprinkle some racial inequality in there. Oh yeah, there's a presidential election, too."
He smashed his hands together as if he'd completed the recipe for 2020.
Chapter 6
:
Resiliency
The Brewers Association tracked a total of 26 Colorado brewery closings in 2020 compared to 19 in 2019. Twenty-six breweries also opened in Colorado last year compared to 41 in 2019.
"I've been surprised by how resilient breweries have been," said Watson. "While there are still challenges ahead, I think we're going to see most breweries make it through."
COVID-19 restrictions eased in the spring of 2021 and Colorado breweries were allowed to fill empty taprooms again, though masking and social distancing did not disappear.
A year after the pandemic shuttered its Platte Street taproom, Denver Beer Co. expanded. A new location on South Downing Street opened on March 17.
"It's pretty special today to feel like we're coming out of what was a hard year," Charlie Berger said. "I was having every emotion possible. Emotions I didn't even know."
Sitting on the new patio of his expanded business, Berger couldn't help but feel hopeful.
"You know, after the 1918 pandemic, they had the roaring 20s, so maybe we'll have the roaring 20s."
In Edgewater, Grant Babb was feeling optimistic again and a bit scraggly.
"I haven't cut my hair or my beard since COVID started," Babb joked. "It's my protest song."
Babb kept his long locks and the lemonade stand at Joyride Brewing Company. While COVID-19 restrictions changed over the year, to-go beer was a reliable constant.
"You know, it's just life's a crazy thing, man," Babb said. "It's a hell of a joyride."
A joyride for Babb was an overwhelming journey for Colorado craft breweries, and it's not over yet.
"In the end, it was people's response and support that kept the breweries going," said José Beteta.
Perhaps, it's proof that beer pairs well with just about anything; even a pandemic.