DENVER — Gov. Jared Polis (D-Colo.) said the state hopes to announce when anyone 65 and older can begin getting the COVID-19 vaccine this week during a Tuesday update on the response to pandemic and vaccination efforts.
The addition of people 65 or older would fall within current guidelines from the Centers for Disease Control and Prevention (CDC).
Polis also responded to reports of people eligible for the vaccine being turned away from pharmacies, saying it should not be happening, and that the state will look into any reported issues.
He stressed that anyone currently eligible for the vaccine should be able to get it from any vaccine provider.
However, Polis did say that due to current supplies, it could take a few weeks until someone eligible for the vaccine is notified of available doses from a provider they signed up with.
Polis also praised a test run of a mass vaccination site at Coors Field on Sunday, and said that the site will provide up to 10,000 vaccine doses a day to eligible recipients once it becomes fully operation this weekend.
He said he is optimistic that the vaccine will be made available to everyone 70 or older by March 1, if not sooner if vaccine supplies improve. That would allow expansion to essential workers including teachers.
Polis said that the state is currently receiving 70,000 to 80,000 a week, which is what current vaccination timelines are based on. He said there is no concern at this point the weekly vaccine shipments will decrease, and is confident weekly dose shipments will increase in the coming weeks.
However, Polis did say that vaccines marked as first doses could instead be used as second doses, if necessary, to avoid delay for anyone who has already received a first dose.
"Vaccines are the path back to the Colorado we know and love, to normalcy," Polis said.
Polis was joined by Dr. Rachel Herlihy, state epidemiologist for the Colorado Department of Public Health and Environment (CDPHE).
She said that COVID-19 cases in the state has been on a steady downward trajectory, especially the past two weeks, following a spike over the holidays.
However, it is currently estimated that one out of every 115 Coloradans is currently infected with the virus.
Also, Herlihy said that U.S. hospitalizations are now trending downward, while mentioning that Colorado's hospitalizations have been trending downward since December.
Overall, Herlihy said that Colorado currently has the 11th lowest COVID-19 transmission rate out of the 50 states.
COVID variant spread
Herlihy also provided updated modeling data to reflect vaccination rates and the possible spread of a COVID variant.
Herlihy provided the modeling below to show how many deaths could take place in Colorado, when adjusting for the vaccination being distributed verses not being distributed, as well as transmission control.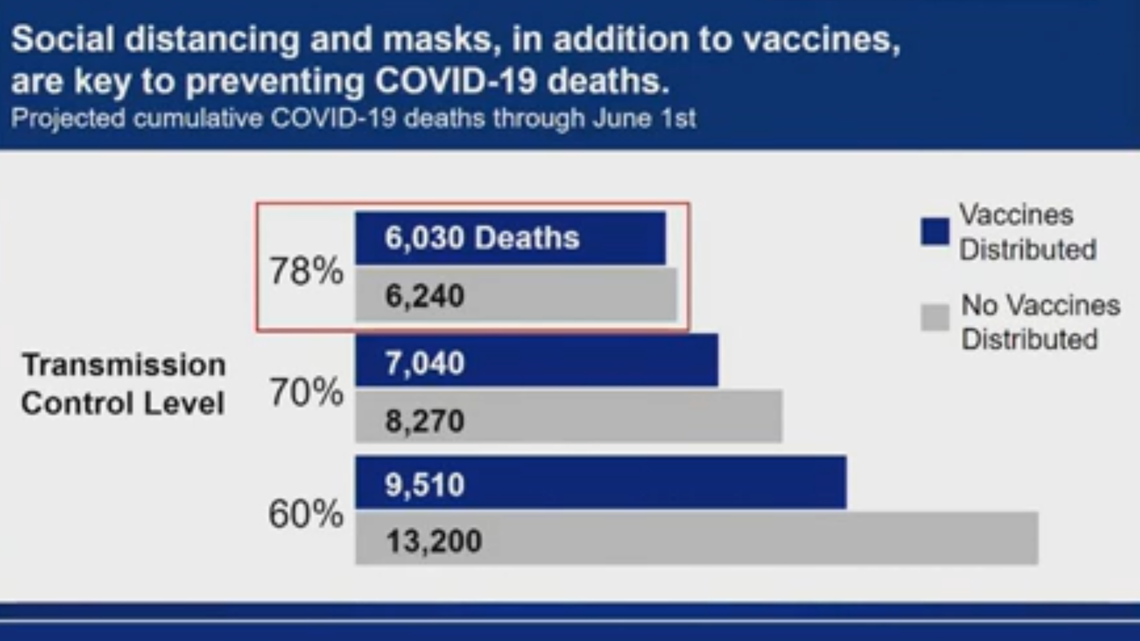 She described transmission control as the effectiveness of all the strategies being used to prevent spread, including mask wearing and social distancing, and said that 78% is the state's current transmission control rate.
The data show that while the continued vaccination of more people will help prevent deaths, a bigger factor on potential deaths through June 1 will be transmission rate, according to Herlihy.
"As we go through the next few months, we are not at a point of herd immunity or population level protection," Dr. Herlihy said. "So while individuals that are vaccinated are protected, we still don't see the benefit of the vaccine for many months to come.
Early data shows that the B117 variant of COVID-19 discovered in the United Kingdom is more contagious, and more limited data suggests it could cause slightly more severe symptoms, Herlihy said.
However, she said it appears vaccines are still effective against that strain.
The graphs below show modeling data through June 1 of different scenarios for possible COVID-19 hospitalizations in Colorado, adjusted for different transmissions rates and the presence of a widespread variant (blue line) verses a variant not being widespread (green line).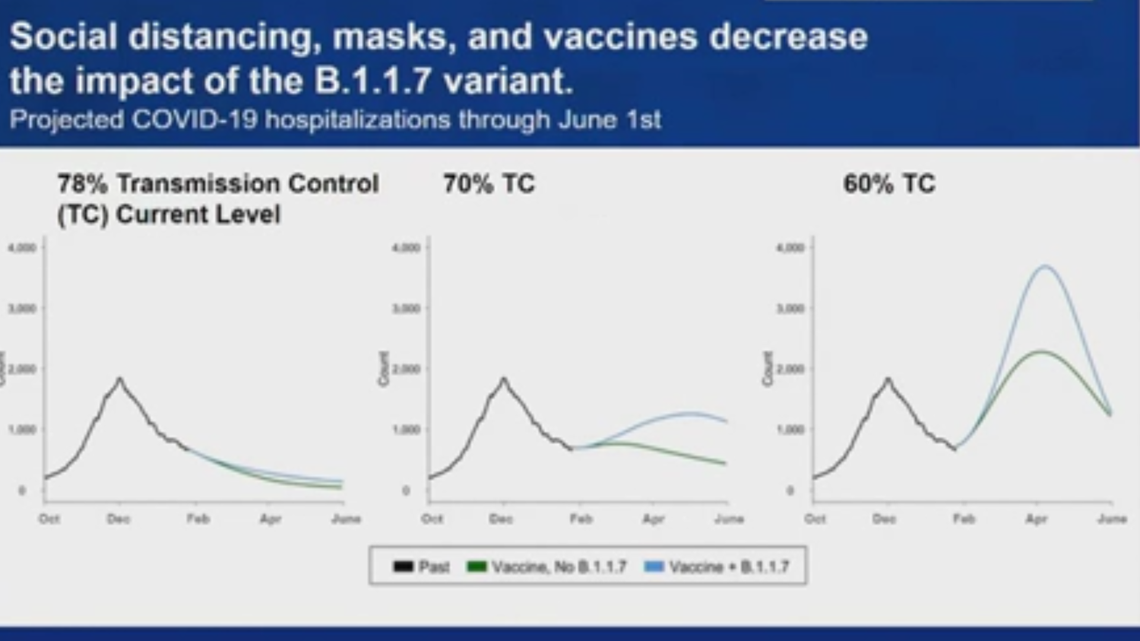 According to the modeling data, Herlihy said that COVID spread should not increase dramatically even if a more contagious variant becomes widespread if current transmission control is maintained.
Equitable vaccine distribution
Polis and other state leaders outlined their plan Friday to make sure that the COVID-19 vaccine is distributed equitably. The state hammered home that the vaccine is free for everyone and is available regardless of a person's immigration status.
"That's important because we need to knock down barriers. You get community immunity when 70% is vaccinated," said Jill Hunsaker Ryan, CDPHE executive director. "Children under 16 cannot be vaccinated, so it's important that every adult who can, does."
Because data show that people of color are less likely to get the vaccine, the state was working with community partners to provide outreach and education in those communities. They were also producing ads in multiple languages and working to provide pop-up clinics in areas where there isn't easy access to a hospital or other medical facility.
As of Friday, Polis said just over 6% of people in Colorado had received at least one dose of the vaccine. Now the focus remains on people over age 70. He said the state was still on track to get 70% of people in that age group vaccinated by the end of February.
On or around March 1, teachers would become eligible to receive the vaccine under the state's plan, Polis said. If more vaccines were received than what is expected in the coming weeks, they could be eligible sooner.
State health officials announced a new hotline Monday to answer COVID-19 vaccine-related questions.
The phone number is 877-268-2926 (CO VAX CO), and the call center was open immediately, 9 a.m. to 10 p.m. Monday through Friday, and 9 a.m. to 5 p.m. Saturday and Sunday, according to CDPHE officials.