COLORADO, USA — Cases of COVID-19, a disease caused by a new strain of coronavirus, began popping up in the United States in January. On March 5, the first case was announced in Colorado.
Each day, we will post a new blog that will track the daily changes in Denver and throughout Colorado as we get them.
WHAT TO KNOW RIGHT NOW
Tuesday, April 21
Numbers update: 486 deaths, more than 2,000 people hospitalized
The Colorado Department of Public Health and Environment released its daily update on the number of cases in Colorado. Here's the latest information:
Cases: 10,447

Hospitalized: 2,003

Counties: 56

People tested: 48,704

Outbreaks: 119

Deaths: 486
Colorado Hospital Association shares state's COVID-19 hospital data
Hospitals around the state have reported their data regarding COVID-19 to the state of Colorado through a partnership with the Colorado Hospital Association (CHA). Learn more about the data.
As of April 20, 82% of hospital facilities were reporting their data to the state. When the data tracking started on April 15, 89% of facilities reported.
The data showed the percentage of hospitals reporting their data climbed to 90% on April 17 and topped out at 92% on April 18.
The CHA took a snapshot of the statewide data on April 21 that showed: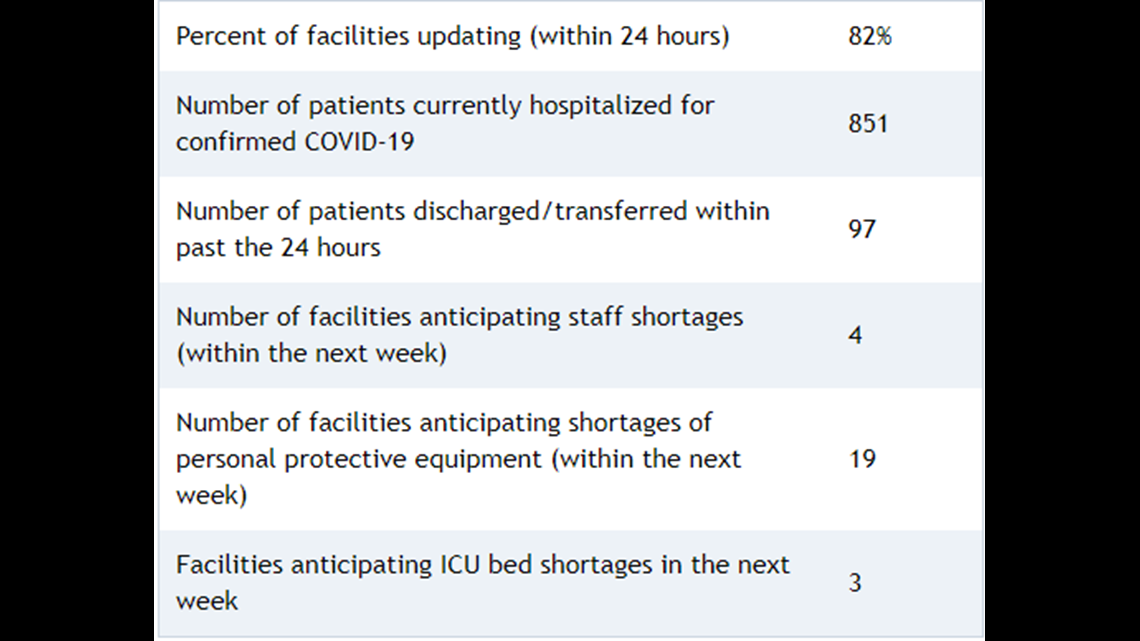 Hospitals were also asked by the state's Unified Command Group to predict any anticipated shortage of staff, personal protective equipment (PPE) or ICU beds in the next week. The state asked about shortages to help inform the state's medical surge plan.
The state said a plan is in place to ensure that patients can receive treatment at other hospitals or alternative care facilities if a hospital becomes overwhelmed due to lack of staff, PPE, ICU beds or ventilators.
4 facilities reported they anticipate staff shortages.
19 facilities anticipate PPE shortages.
3 facilities predicted shortages of ICU beds; down from 5 facilities that predicted shortages back on April 15.
The state also asked hospitals to begin tracking and reporting the number of COVID-19 patients admitted or discharged to and from their facilities.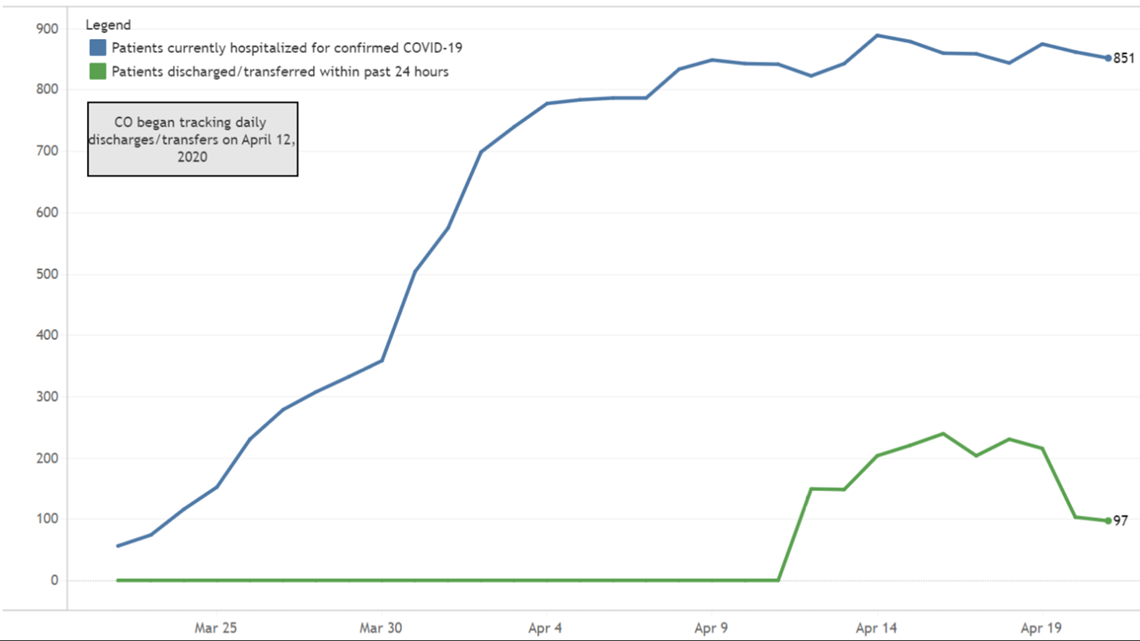 Fire department adapts to emergency calls
COVID-19 changed the way paramedics at agencies like North Metro Fire Rescue answer emergency calls.
"It's an interesting combination of pulling on our hazmat training with our medical training – combining the two of those in a way that I don't think any of us saw...happening," said EMS supervisor Randy Delaney.
North Metro stills sends a crew to each call, but initially, only one paramedic suits up in full protective gear to check on a patient indoors. If the patient's exposure risk is determined to be low, the crew waiting outside is called in to bring in more equipment.
"Then [paramedics] determine whether or not we need to transport the patient to the hospital," Delaney said.
Decontaminating personal protective equipment is necessary, but it makes every call last longer.
"It adds probably about 15-20 minutes of [decontamination] time at the end of just a regular call," Delaney said.
Call volume is down, but some nights are still busy. North Metro Fire tweeted a photo from Sunday night showing three ambulances in a hospital bay and emergency crews spraying down their protective suits.
Centura Health sending local health care workers to help areas hit hard by COVID
Thirty-four caregivers with Centura Health boarded a flight from Denver International Airport (DIA) to New Jersey on Tuesday to help three communities hit hard by COVID-19. The caregivers were assembled from multiple Colorado-based Centura facilities. The three facilities they will help out at are:
Trinitas Regional Medical Center in Elizabeth, New Jersey
St. Joseph's Health, Patterson and Wayne campuses, New Jersey
Saint Peter's Healthcare System in New Brunswick, New Jersey.
The New Jersey region is currently in great need for experienced caregivers to serve temporarily on the frontlines during the pandemic as more than 85,000 positive cases and nearly 7,000 hospitalizations have been reported across the state.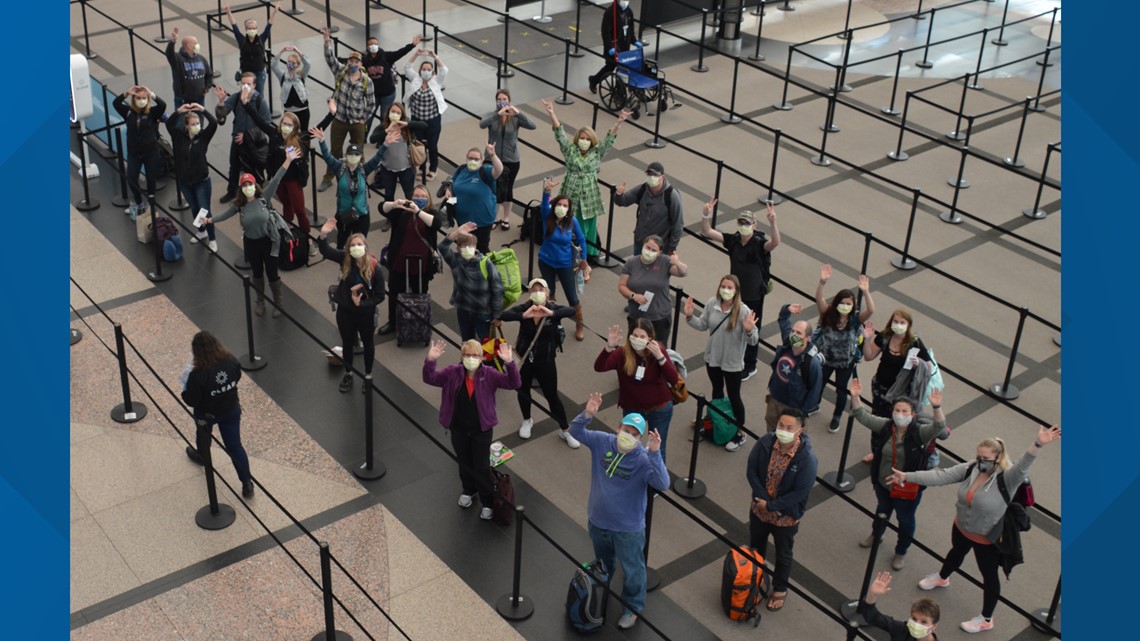 Colorado School of Mines students helping with PPE 3D printing
Students at the Colorado School of Mines are joining on the statewide effort to provide personal protective equiptment (PPE) to local healthcare providers on the front lines of the COVID-19 pandemic.
Two freshman at the school are using 3D printers to make surgical mask extenders to help with the cause. The simple plastic extenders are designed to go around the back of the head, instead of behind the ears to provide a secure yet more comfortable wear, according to the school.
"After just a few hours of wearing the mask normally, the elastic starts to dig in and cut the skin of the ears," said student Samuel Wicklund. "As most nurses and other persons wearing these masks can go up to 12 hours of wearing them, it has been one of the items aside from face shields being heavily requested."
So far, Wicklund has worked on a batch of 225 extenders for medical staff. Next, he plans to make 200-300 more for essential personnel at Buckley Air Force Base.
Another student at the school, Paul Slayback, has been working to print headbands for medical face shields.
"Each band takes about two and a half hours to print, so I think I can reasonably get about eight to nine a day, if all goes smoothly," Slayback said.
Colorado awarded $2 million grant for behavioral health crisis services during COVID-19
The Colorado Department of Human Services Office of Behavioral Health (OBH) has received a $2 million grant by the Substance Abuse and Mental Health Services Administration (SAMHSA) to help with health crisis services during the COVID-19 pandemic.
With the grant, OBH said it will help connect Coloradans impacted by COVID-19 with behavioral healthcare, including children, adolescents and adults who have serious emotional disturbances, serious mental illness or substance abuse disorders.
That includes increasing bed capacity and coordinating transportation for COVID-19-positive patients who leave the hospital for inpatient or residential-level behavioral services. OHB said it will also work alongside existing Colorado programs to increase peer support for frontline healthcare workers.
"With this funding boost, we want individuals who have tested positive for COVID-19 to have behavioral health care available to them," said OBH Director Robert Werthwein. "We are grateful for SAMHSA's quick work on this grant, which will allow us to implement our plan as soon as possible and expand access to treatment during these difficult times."
Polis outlines 'safer-at-home' order allowing many businesses to reopen
Gov. Jared Polis said that the state will transfer to a safer-at-home model with a path forward that maintains 60% to 65% social distancing on April 27 after the stay-at-home order expires.
Polis said many retail stores will open on May 1, and will look like critical retailers do today, with spacing that adheres to the 6-foot rule, one-way aisles, decals on the floor and employees wearing face masks.
Under the safer-at-home model, the general public is:
Encouraged to stay at home unless necessary.
Strongly advised to wear face coverings when out.
No gatherings over 10 people.
Sick people may not go to work.
Avoid unnecessary travel.
Vulnerable populations, including seniors and people with underlying health conditions, should continue to stay at home and avoid going out in public, Polis said.
Coronavirus cases in Colorado
In Colorado, 10,447 people have tested positive for the disease caused by the novel coronavirus, COVID-19, and 486 people have died. Of those who tested positive for the disease, 2,003 have been hospitalized.
There are 851 people that are confirmed to be currently hospitalized from the disease. In the last 24 hours, 97 patients have been either discharged or transferred.
According to CDPHE, 48,704 people have been tested and 56 counties are reporting cases. There have been 119 outbreaks at residential and non-hospital health care facilities.
Denver: 2,004
Arapahoe: 1,649
Weld: 1,180
Jefferson: 1,011

Adams: 996

El Paso: 744

Eagle: 487

Douglas: 384
Boulder: 390
Larimer: 250
Morgan: 180
Gunnison: 121
Broomfield: 106

Pueblo: 92

Summit: 88
Montrose: 80
Garfield: 71
Pitkin: 58

La Plata: 51

Routt: 51

Chaffee: 38

Mesa: 35
Delta: 25

Teller: 25

Elbert: 24

Logan: 23

Kit Carson: 18

San Miguel: 17

Montezuma: 13

Clear Creek: 11
Fremont: 11

Baca: 10

Alamosa: 9

Lake: 8

Archuleta: 7

Rio Grande: 7

Otero: 7

Park: 6

Moffat: 6

Washington: 6

Ouray: 5

Phillips: 5

Grand: 5

Saguache: 3

Costilla: 3

Las Animas: 3

Hinsdale: 3

Lincoln: 3

Yuma: 3

Mineral: 2

Custer: 2
Crowley: 2
Rio Blanco: 1

Huerfano: 1

Unknown or pending:105
COVID-19 is a disease caused by a virus that first appeared in Wuhan, China, in late 2019. Symptoms of COVID-19 can include fever, cough and breathing trouble. Most patients develop only mild symptoms. But some people, usually those with other medical complications, develop more severe symptoms, including pneumonia, which can be fatal.