COLORADO, USA — Gov. Jared Polis (D-Colorado) announced Coloradans age 65-69, as well as educators, will start to receive the vaccine Feb. 8 during a briefing Friday on the state's response to the COVID-19 pandemic. This is known as Phase 1B.2 and includes an estimated 408,100 people.
"We are at the point where we are getting through 70 and up," said Polis. "And we are looking to expand eligibility."
The governor made the announcement during a briefing where he was joined by Colorado National Guard Brig. Gen. Scott Sherman and Scott Bookman, COVID-19 incident commander for the Colorado Department of Public Health and Environment (CDPHE).
The addition of people 65 and older falls within current guidelines from the Centers for Disease Control and Prevention (CDC).
A 16% increase in supply announced by the Biden administration and the fact they've vaccinated about 40% of the population over 70 allowed the state to open up distribution to others, according to Polis. Walgreens and CVS also returned some unused vaccine doses to the state that had been designated for vaccinations at long term care facilities.
Here's a breakdown of the state's vaccine doses:
Week of Jan. 25: 81,000
Week of Feb 1: 101,000
Week of Feb. 8: 90,000
Week of Feb. 15: 90,000
Week of Feb.22: 90,000
In total as of now, the state will receive 452,000 doses between now and March 1, but Sherman said that number is a "conservative estimate" and could increase. With the extra supply, Polis said they're still on track to vaccinate 70% of those over 70 by the end of February while increasing eligibility to others.
"When we succeed in protecting age 70 and up, which we will, the first dose by the end of February, many already starting their second doses, it ends the crisis phase of the pandemic," Polis said. "The pandemic is not over, but no longer, you know deaths reduced by three quarters, hospitalization reduced by 40%, no longer up against the overcrowded hospitals."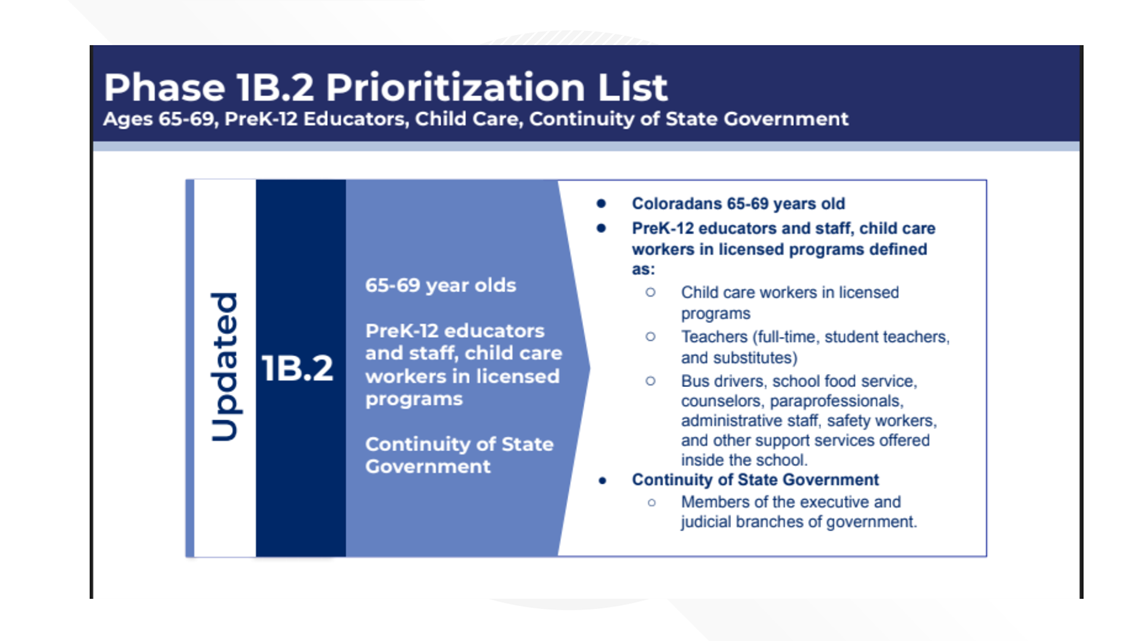 Pre-K to 12 educators including bus drivers, support staff and all licensed care providers will be vaccinated over three weeks starting in Feb. 8, according to Polis. This phase does not include higher education employees. Educators should not contact providers directly and should work with their employer for vaccine distribution.
"We want to thank Gov. Polis for listening to the voices of educators on COVID-19 safety in schools. For the past year, the COVID-19 pandemic has and continues to take a tremendous toll on educators, students, and their families," Amie Baca-Oehlert, president of the Colorado Education Association said in a statement.
"While we believe that all essential workers should be a priority for the COVID-19 vaccine, this is a gigantic step toward our longstanding goal of getting our students back into classrooms, where the best learning takes place."
Those age 65 and older should sign up with a provider. The goal is to vaccinate 55% of Phase 1B.2 by March 5.
Once that happens, Polis said they hope to open up the vaccine to those 60+, frontline essential workers, and those with two or more comorbidities in early March, which is phase 1B.3.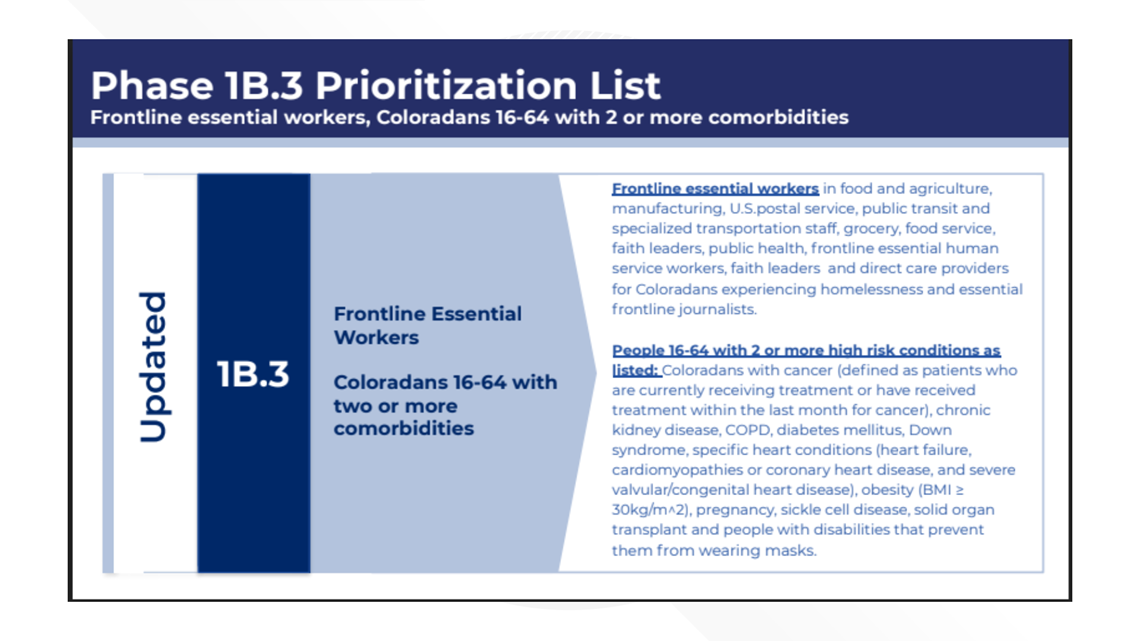 "1B.3 is a large group," said Bookman. "We currently estimate that there are over 1.1 million people in this group."
The state is still working out the details but said frontline workers should work with their employer and not directly with providers. Polis said they're still working on protocols, but said people in Phase 1B.3 will have to provide some form of documentation. He said if they're getting a vaccine through their provider, medical records would likely be sufficient, but they're working out details for those that might be vaccinated elsewhere.
Polis also announced that 90% of healthcare workers in Phase 1A received two doses of the vaccine, which he said was essentially "all who wanted it."
"If you're 70 and up, you're going to get it in the next week or two," Polis said.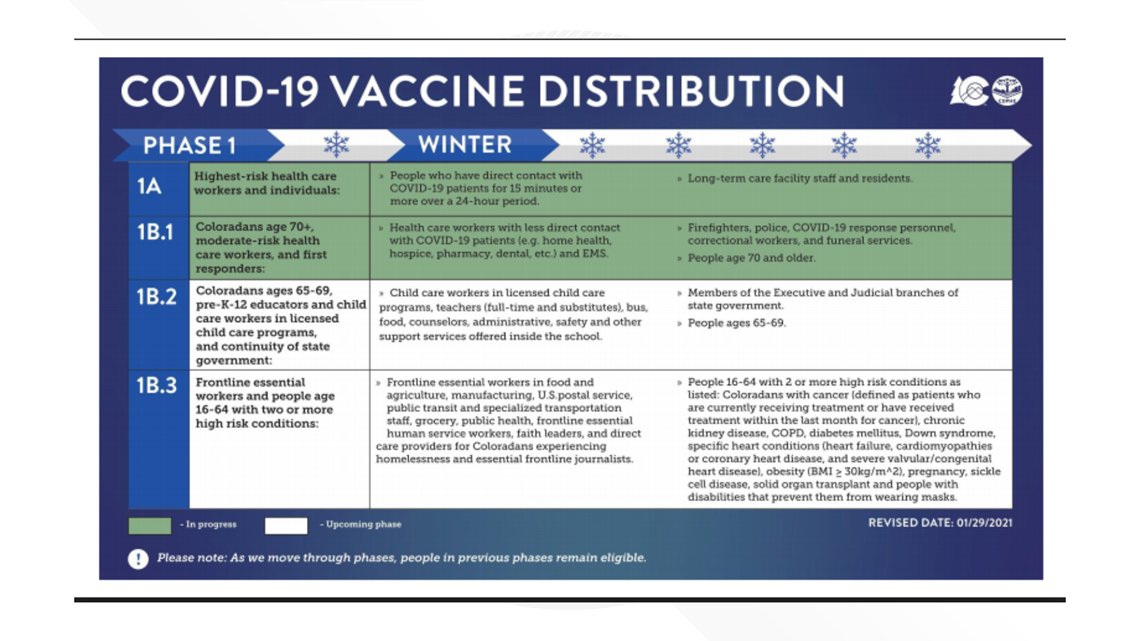 The state receives doses from Pfizer and Moderna. Johnson & Johnson announced Friday that its one-dose vaccine prevents COVID-19 but was less effective against a variant in South Africa.
Polis said on Tuesday there was no concern at this point that the state's vaccine shipments would decrease; however, he said vaccines marked for first doses could instead be used as second doses, if necessary, to avoid a delay for anyone who has already received a first dose.
UCHealth planned to administer doses to 10,000 people this weekend at a drive-through distribution site near Coors Field, and National Jewish Health planned to vaccinate 3,000 people Friday through Sunday in its parking lot. Both events were by appointment only.