COLORADO, USA — Staying on track and preventing a spike in COVID-19 data related to the Christmas and New Year's holidays is the "most rapid" way to reducing restrictions and reopening schools in January, Colorado state and health leaders said Friday.
"We really need Coloradans to step up again just as they did over Thanksgiving to help us contain this virus over the next few weeks so that we don't see that spike and we can continue on the trajectory we've been on," said state epidemiologist Dr. Rachel Herlihy.
If we're successful, we could numbers comparable to where they were last spring in time for schools to reopen in mid-January., according to Herlihy. Looking out in even further she said we could get down to levels we saw over the summer by mid-March.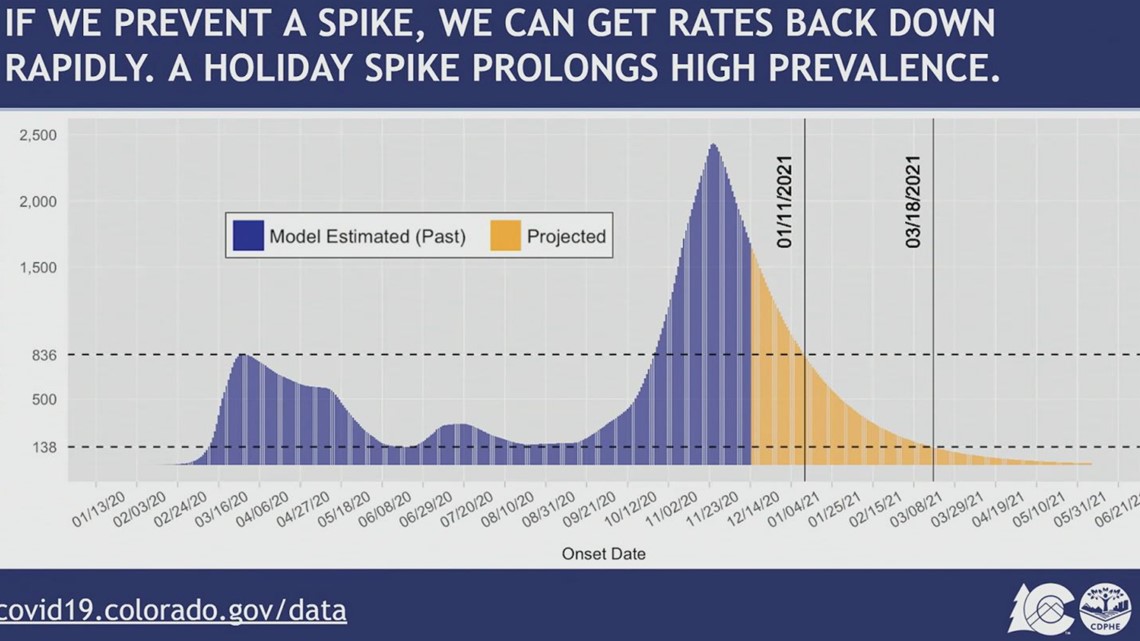 "That's really nearing the time, mid-March is, when we hope to start seeing population-level protection from the vaccine," she said. "So really when we start to see the true impact, the herd immunity potentially from this vaccine."
She also noted that while Colorado is moving in the right direction, we're really bucking the national trend. Spikes have been seen in other areas of the country, and AAA predicts that about 85 million Americans will travel between Dec. 23 and Jan. 3, most of them by car. If true, that would be a drop of nearly one-third from a year ago but still a massive amount of travel in the middle of a pandemic.
"The steady downward trend in Colorado is not commonly seen across the country. It's really better than what's being seen in most states. This is because Colorado's actions prevented a Thanksgiving surge," Herlihy said.

Herlihy spoke during a news conference Friday along with Gov. Jared Polis (D-Colorado) who said each vial of the Pfizer vaccine contains one additional dose.
"Each vial [of the Pfizer vaccine] will essentially have six doses instead of five," Polis said. "That's a 20% increase in the number of vaccines."
Polis said for the state's bookkeeping purposes they would increase the number of doses provided by the federal government by that 20%.
"At this point, we're comfortable moving forward with the assumption that the norm is six doses per vial," he said. "And so the number that the state reports on the Pfizer vaccine will show a different number than what the CDC says they are sending us. We'll show a number that is 20% higher."
He said they would adjust those numbers to accurately reflect any vials that contained fewer than the expected six doses.
Watch the full news conference:
Colorado and other states are getting fewer doses of the Pfizer vaccine in the next shipment than expected through Operation Warp Speed. Polis was asked why the shipment was smaller than expected but didn't give a direct answer but seemed to place blame on the federal government for the delay.
"I really call upon the federal government to get the Pfizer vaccines out," he said. "Pfizer has said they are sitting in a warehouse awaiting shipping instructions. The federal government needs to give those shipping instructions today."
Instead of 67,860 doses, the Dec. 18 shipment will only have 39,780 doses with 25,740 transferred to the CDC Pharmacy Partnership Program to support onsite vaccination of Colorado's skilled nursing facilities and 14,040 assigned to providers.
Polis also said it's unclear if this is a one-week reduction in the number of vaccines or if shipments will be smaller moving forward. He said the smaller delivery won't impact second doses because, for each dose given, a second dose is held back to make sure that people are able to get their second dose on time to achieve the most protection.
Polis said they're still expecting the same amount of the Moderna vaccine to be shipped once it gains emergency use authorization from the Food and Drug Administration (FDA). It's not yet known how many doses each vial of the Moderna vaccine contains.
Earlier this week the state released a checklist related to its Five Star State Certification which aims to help accelerate the reopening of businesses safely.
"I'm proud to announce that the first county has already been approved for Five Star, Summit County," said Polis. "They are beginning site inspections today to help restaurants open this very weekend."
Larimer County is also close to getting approved and Polis said some restaurants there could reopen for in-person dining through the program as early as Wednesday.
Siebert was on the call to discuss mental health practices for the holiday season. Health experts have recommended for weeks that families avoid travel over the holidays and only gather only with their immediate families.
She suggested that people find ways to keep their traditions but perhaps in a modified. For example, if you bake cookies every year, bake them anyway and then share them with neighbors by leaving them on their doorstep. She said doing something good for someone else can also make you feel better.

In a year that has been especially tough, Seibert said it could be helpful to write a letter about what we're grateful or what made the year better to bring focus to some of the good that happened.
"Above all, remember to stay connected. being apart physically does not mean we have to be disconnected from each other," she said.