DENVER — Three Colorado state health officials provided an update on COVID-19 in the state Friday and revealed that most new COVID-19 cases in Colorado are variants of the virus.
The following people spoke and completed a demonstration of the state's COVID-19 data and vaccine dashboard:
Scott Bookman, COVID-19 incident commander, CDPHE
Dr. Rachel Herlihy, state epidemiologist, CDPHE
Rachel Severson, MS, immunization section data analyst, CDPHE
COVID-19 Variants
Variants of the virus continue to be among the top concerns for health leaders in Colorado and elsewhere.
"We are now estimating that more than 70% of our positive cases in Colorado are due to variants of concern," Herlihy said.
The vast majority of those cases are the variant that was first found in the United Kingdom, according to state data.
Many of them are more highly transmissible, but vaccines are still effective against them.
"At this point we have not identified in the U.S. or outside of the U.S. any of these variants of high consequences as CDC calls them, where we would see potential significant impact to vaccine effectiveness. So I think that's the good news," she said.
Breakthrough cases
Cases of COVID-19 that occur after someone has been vaccinated are known as breakthrough cases.
State health leaders said they're working with local county leaders to collect better data on these types of cases.
"The first thing that we are doing is working with our local public health partners to give them better access to their regional or local data when it comes to breakthrough cases," Herlihy said. "In some cases, it ends up being small numbers in our smaller counties and so numbers have to be interpreted carefully."
Eventually, she said they hope to release more of that data publicly, perhaps as part of a dashboard.
Vaccination records
State health leaders said they're looking into creating a portal that will allow people easy access to their vaccination records for COVID-19 and other inoculations.
"It's important for people to have access to these records we want to make it easy for everybody to show proof of their vaccination," Bookman said.
"This entire thing that we're discussing is simply to ensure that people have easy electronic access to their vaccine records, not just for COVID but for all of their immunization records. Just it's the right time to make this easier for people to access and display."
Additionally, 2,870,638 people in Colorado have been vaccinated with at least one dose of the COVID-19 vaccine as of May 20, and 2,414,897 of them have been fully vaccinated.
Both the Pfizer and Moderna vaccines were shown in clinical trials to be about 95% effective and require two doses to achieve immunization. Johnson & Johnson's vaccine was shown to be 86% effective at preventing severe disease and requires one dose.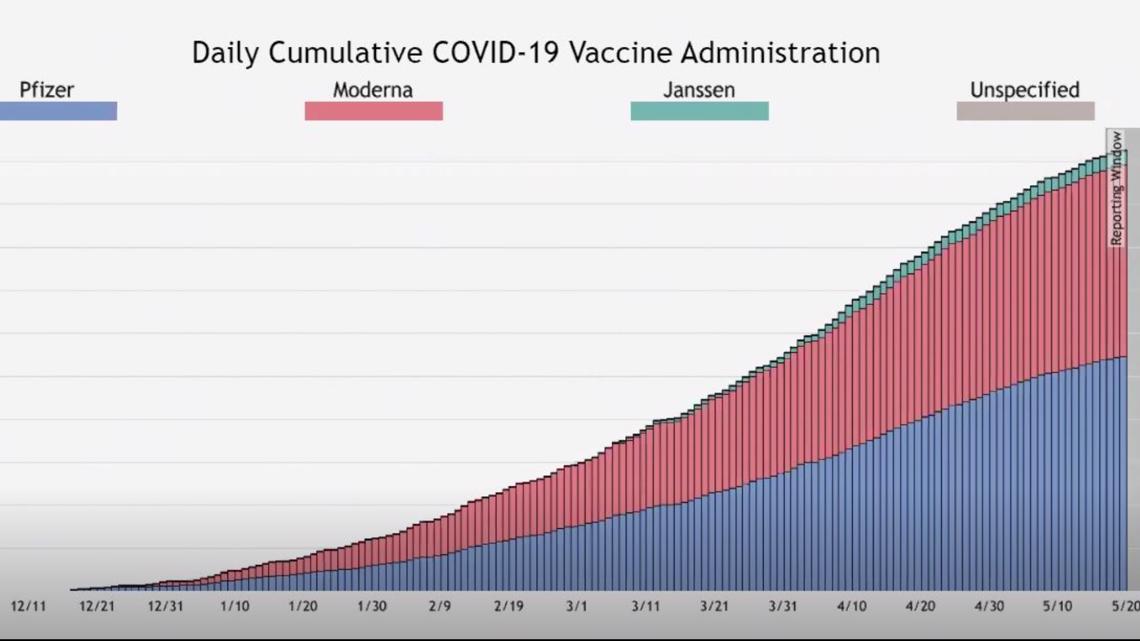 Colorado has lifted nearly all of its COVID-19 restrictions in recent weeks, including the statewide mask mandate to fall in line with Centers of Disease Control and Prevention (CDC) guidance that allows people who are vaccinated to forego masks in most situations.
> Watch the video above for answers to questions about masks in Colorado.
Gov. Jared Polis (D-Colorado) said earlier this week many of those new cases are being driven by young people. The Pfizer vaccine has been approved for everyone over the age of 12, and there is a renewed push to get shots in the arms of younger Coloradans.