COLORADO, USA — As of Thursday morning, more than 587,000 Coloradans have enabled a new phone app aimed at alerting them when they may have been exposed to COVID-19.
The app went live in our state on Sunday and so far 587,615 users have opted in on their smartphones which is about 10% of the Colorado population.
That's according to Sarah Tuneberg, the state of Colorado's lead for COVID-19 testing and containment, who said the number accounts for more than 15% of all smartphone users in the state.
"It's not enough yet, and we are getting there," Tuneberg said Thursday. "We are grateful for the partnership of each Coloradan who has added their phone to the fight against COVID."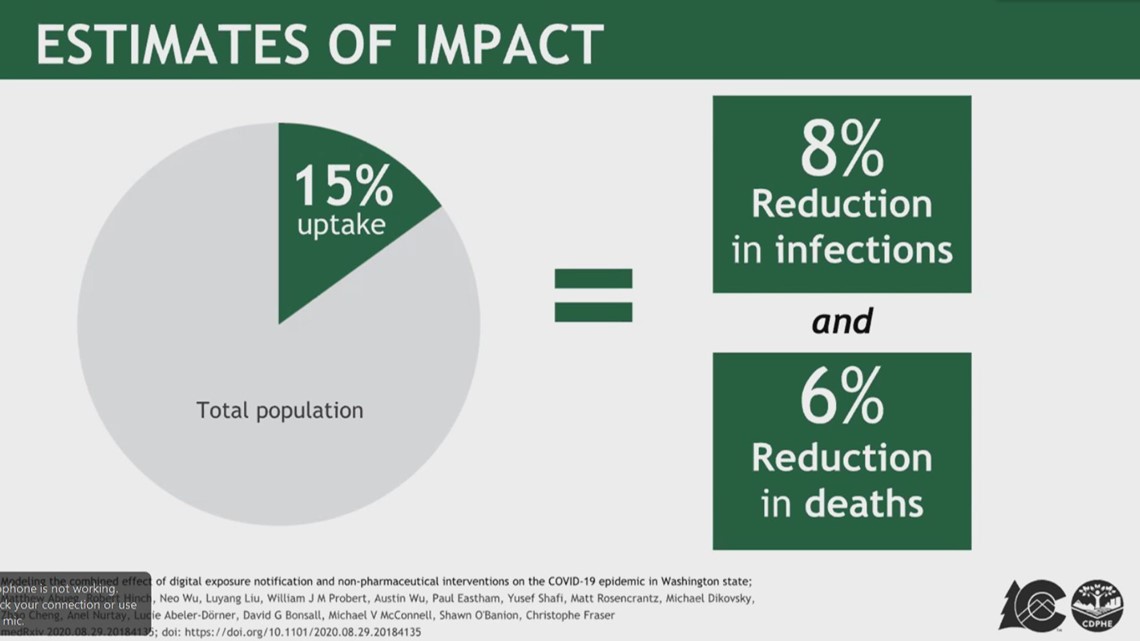 CO Exposure Notifications is a voluntary service developed in partnership with Google and Apple that can alert users if they have been near someone who has been positively diagnosed with the novel coronavirus.
Beginning on Sunday, Oct. 25, Apple and Android users should have received a push notification about the service and how to opt in.
If they did not, users with iPhones can opt in by going to settings on their phones, but must have an iPhone 6S or newer. Tuneburg said the most common issue they've seen from users is that they don't have the latest software updates. She encouraged users who have issues to make sure they're up to date and said that they're working with Apple to make the service available to all users, not just those with newer phones.
The app is available for Android users through a download in the Playstore and can be found at this link. After speaking with Google, Tuneberg said they believe 99% of Android users would be able to get the app. Users can visit Addyouphone.com to watch video tutorials of the setup for both iPhone and Android users.
The Colorado Dept. of Public Health & Environment (CDPHE) said research suggests that even minimal opt-ins to the system will reduce the spread of COVID-19 and save lives. In models developed by Oxford University, researchers have estimated that even if only 15% of the population enables exposure notifications, regions could see a reduction in infections of 8% and deaths by 6%.
Contract tracers will reach out to those who test positive and, during that conversation, they'll be asked whether they've enabled the app and would like to send a notification to alert others. If they say yes, then they're provided with a text message that allows them to send the notification, Tuneberg said.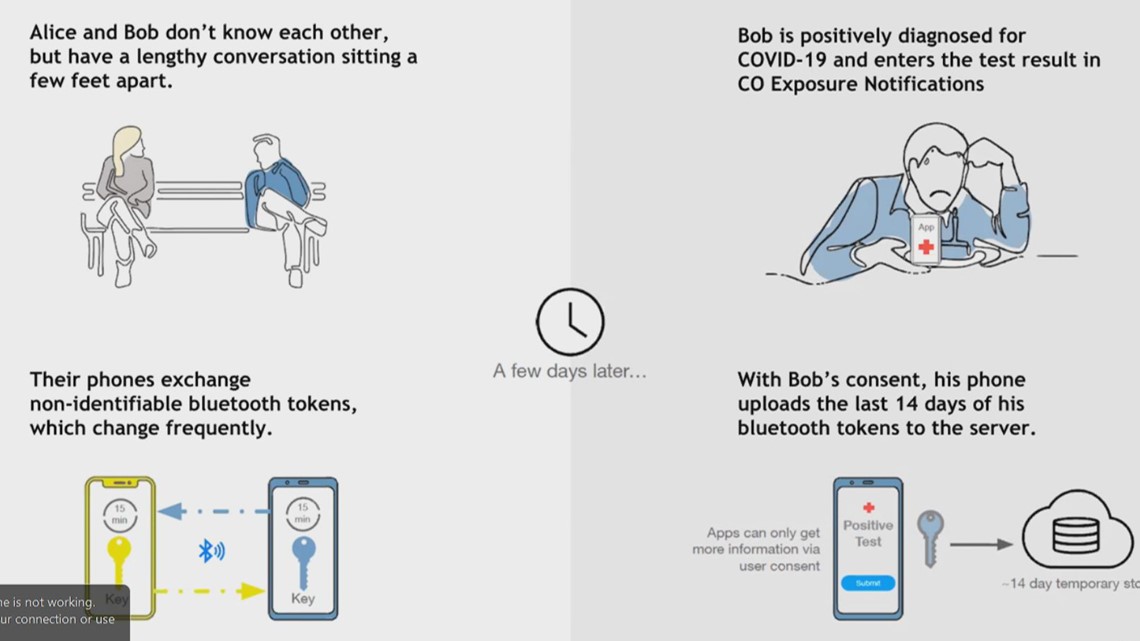 She said they've already had people request that link, but don't have data on whether users followed through with the notifications in part due to the way the state focused on privacy. She said they focused on privacy over data collection because they felt more people would choose to opt-in.
"Given that is really new in Colorado and we're not closely tracking the data, we're opting instead for privacy protection," Tuneberg said. "I don't think we have a clear sense [of what people will do]. I do think though people are empathetic and active in their protection of others during COVID, and so I have hope that the vast majority of Coloradans will take this opportunity to give this gift of exposure notification because that's really what it is."
Users who have opted in and were potentially exposed will receive a text message with the link that will include the date of the potential exposure and next steps such as how and where to get tested. She said they've also taken steps to make sure that people can't send out fake notifications.
"You have to have a positive test and then you get a link to enable the service from a public health professional," she said. "That link is used once, you can't spoof it in that way."
Tuneberg also answered some of additional questions about how the new app works.
(Editor's note: Responses may have been edited for context and clarity)
9NEWS: How many people need to opt-in for the app to be effective?
Tuneberg: Research out of Oxford University indicates that adoption of exposure notifications at any level is beneficial at reducing COVID transmission. But obviously, the more people that opt-in the better. And this nearly 10% of Coloradans in just a few days is a huge win. It is wonderful news and it is a great sign of what is happening in Colorado
Does the app track your location? Do you know where more people are opting in?
Tuneberg: Exposure notifications does not do any tracking. It's part of the privacy protection that we have within this app is that the technology never knows where you are and it never tracks your location. So no, we don't know across the state where people are opting in or not.
What is considered an exposure?
Tuneberg: In Colorado, the parameters for exposure are those that are defined by the CDC. Your phone must be within 6 feet or less of another phone that has the service enabled for 15 minutes or more.
How exactly does is it work?
Tuneberg: The way that the technology works is that these tokens, those random strings of letters and numbers, are exchanged between the phones and they are generated on a regular cadence and sent out no matter what.
If someone tests positive, are notifications automatically sent to everyone exposed?
Tuneberg: It's not automated. So you would have to, as a person who tested positive, you again get an opportunity to opt-in or consent to the service, and you as that individual are the person who says 'yes' essentially to notifying the people's phones you've crossed paths with.
What does the exposure notification look like?
Tuneberg: The notification comes across and it says on this date, you might have been exposed to COVID. And then it links the individual to more information on CDPHE's website on where to get tested, how to safely quarantine and how to get more information.
What do the early numbers tell you about the success of the app?
Tuneberg: We are seeing that Coloradans are adding their phone to the fight against COVID and we want everybody to do that. This is an exceptional win for the state in a time we are seeing cases rising, percent positivity increasing. Today is a very grim milestone in Colorado where we passed more than 100,000 positive COVID cases, and seeing that more than half a million Coloradans added their phone to the fight against COVID is a win and something we really want to celebrate in a time where news is pretty grim.