DENVER — The National Western Complex Hall of Education will serve as an auxiliary shelter to house up to 600 men who are currently experiencing homelessness in an effort to increase social distancing among the city's most vulnerable population, Denver Mayor Michael Hancock announced Tuesday.
Accommodations at the shelter which is set to open April 9 will include three meals a day plus snacks. There will also be showers, restrooms and laundry services, as well as access to WiFi, and public transportation.
It will absorb residents from the Denver Rescue Mission's two current overnight shelters, which will temporarily close beginning Thursday, April 9. Additionally, capacity will also be absorbed from the Crossroads Shelter for men, which will remain open, with a target of serving a lower capacity of up to 300 guests.
Hancock also announced that Gov. Jared Polis (D-Colorado) approved a request to allow 250 members of the Colorado National Guard to serve at shelters.
The activated CONG members are from the Colorado Air National Guard 140th Wing, Buckley Air Force Base, Aurora, Colorado, and the Colorado Army National Guard 1st Battalion 157th Infantry, Colorado Springs, Colorado, and 193rd Military Police Battalion, Denver, and subordinate units across Colorado.
All of these members have been medically screened.
Approximately 30 Soldiers and Airmen are also serving in their full-time roles supporting the CONG operation from Joint Force Headquarters in Centennial, Colorado.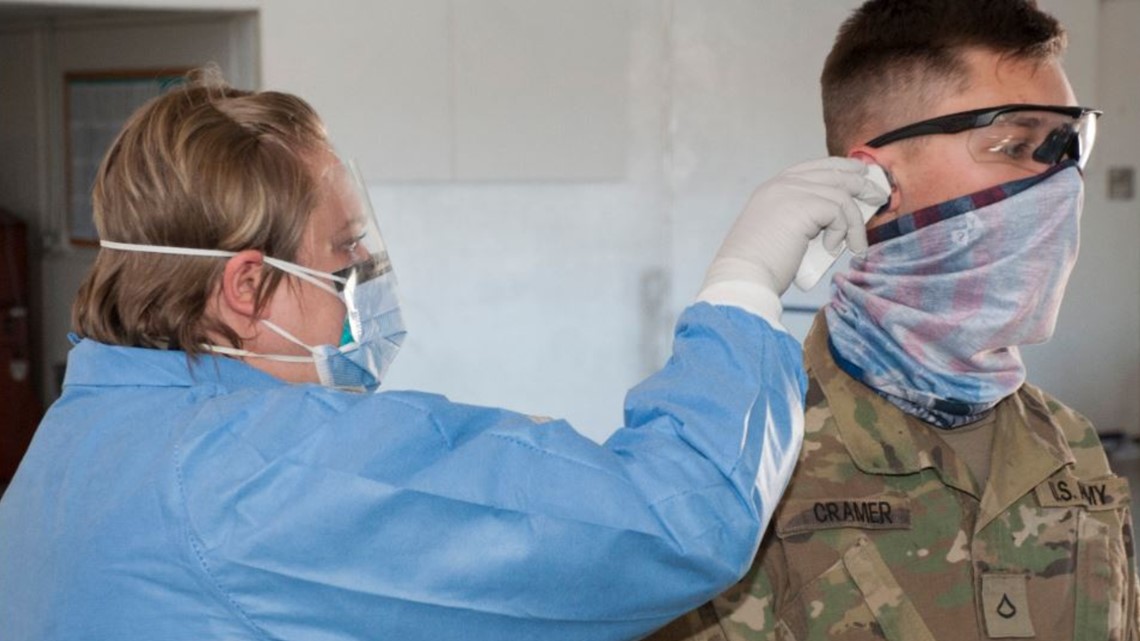 "This, over the past few weeks, has been a very, very difficult thing for us to be working with people experiencing homeless," said Brad Meuli, executive director of the Denver Rescue Mission. "While the rest of the world has been social distancing, we really have been not been able to do that."
Healthcare services will also be available, along with screenings for COVID-19, the disease caused by the novel coronavirus which first appeared in China in late 2019.
The first case of COVID-19 was reported in Colorado just over a month ago on March 5, and since then, it's spread quickly across the state. As of Tuesday morning, there were more than 5,100 cases in 54 of the state's 64 counties. COVID-19 is blamed for at least 150 deaths in the state, according to the Colorado Department of Health and Environment (CDPHE).
Shelter guests showing symptoms of COVID-19 will be transferred to supplemental shelters for care or to isolate if necessary, Hancock said.
He said the city is working to finalize plans for a similar residential facility for women at the Denver Coliseum, but noted the city had recently opened a day shelter for 200 women at a recreation center.
"There has not been an objective greater than to get on the other side of this curve," said Hancock. "We cannot do this without proper shelter and safety for people experiencing homelessness."
The announcement about the shelter came a day after Hancock said the city was working with hotels to provide an additional 3,000 beds.
He said 120 rooms were identified earlier for respite care and said 97 of those rooms were occupied Monday night into Tuesday morning. Hancock said they finalized a contract late Monday for an additional 150 rooms and said it would go to the city council early next week.
Hancock, on Monday, said the Colorado Convention Center would be converted into a 2,000-bed field hospital this month to relieve pressure on the medical system. He also extended the city's stay-at-home order through April 30.
"Given the current data and advice from experts about the spread of COVID-19 in our community and across the nation, this is the right thing to do," said Hancock. "We are hopeful that we will be able to end our stay-at-home [order] sooner."
Following Hancock's announcement, the Colorado Coalition of the Homeless urged Gov. Jared Polis (D-Colorado) to address the needs of those who do not have homes amid the state's stay-at-home order.
The Coalition had the following requests of Polis:
- Approve the deployment of the National Guard to turn the National Western Center and Coliseum into a 24-hour space for those experiencing homelessness to practice proper social distancing.
- Use his executive powers to increase the number of motel rooms available for those at risk.
- If hotels and motels refuse to provide rooms, that Polis use his emergency powers to commandeer these facilities.