DENVER — The City of Denver is asking President-elect Joe Biden to give local governments more access and control for the distribution of the COVID-19 vaccine, Mayor Michael Hancock said during an update Thursday.
Hancock and other mayors sent a letter to Biden asking for the change and said their cities can help the administration meet the goal to vaccinate 100 million people during his first 100 days in office.
"Very few cities are receiving direct allocations, and as a result, the necessary outreach needed to lay the groundwork for your vaccination goals are not being met. Mayors have the ability and expertise to build the local partnerships necessary and fill these gaps, especially when it comes to reaching disadvantaged communities," the letter says.
"We also have our own unique needs as an urban center of our great state," Hancock said. "I've communicated these unique needs to the governor."
Right now the city cannot vaccinate people outside the current state guidelines. In Denver, that mean's vulnerable residents, like those experiencing homelessness, are unable to get the vaccine unless they're over age 70.
"We've asked President-elect Biden once he's in office to provide cities greater control and greater flexibility in obtaining vaccine supply and directing distribution, especially to underserved populations and people who don't have access to a large healthcare system," Hancock said.
He said the goal is not to circumvent the state, but is more about getting the vaccine out to the most vulnerable as quickly and efficiently as possible.
"I'm talking specifically about our neighbors experiencing homelessness, for example, and our communities of color already disproportionately impacted by this deadly pandemic," he said.
Aurora Mayor Mike Coffman also signed the letter sent to Biden. In an e-mailed statement, he explained why:
"The letter expressed hope that cities could work closely with the incoming Biden Administration to meet its goal to vaccinate 100 million Americans in its first 100 days. While it is essential to work with the state's existing plans to distribute the vaccine, unique local challenges remain.
Mayors, city governments and local public health agencies have built trust with their communities and have the on-the-ground expertise to lead the local partnerships necessary to fill gaps and reach disadvantaged communities.
The City of Aurora has a significant population of immigrant and refugee residents who, among others, may have differing levels of access to health care, may have language or other barriers to information, or may be hesitant or fearful to receive the vaccine, which makes local leadership and community connections on this issue so important."
Bob McDonald, executive director of the Denver Department of Public Health and Environment Executive (DDPHE), joined Hancock on Thursday's news conference. He said the city plans to focus on the most vulnerable by bringing the vaccine to them through smaller community events and making it available at locations convenient to them.
>> Watch the full news conference below:
"We will be focusing on those locations that may not have access to close pharmacies, clinics or hospitals," McDonald said.
He said 20 pharmacies have been approved to receive the vaccine and within the coming weeks, there will be a map on the city's website that will allow people to see where they can get a vaccine.
"We don't want a complicated process," McDonald said. "We know many don't have access to or the wherewithal to get online and navigate through patient portals and register. So we're trying to fill in the gap. We want to make those drive-through clinics that will be placed in underserved communities as easy as possible for people to drive through, get their vaccine, and get back on home."
While there will be some "large" vaccination sites in the city, they won't be city-run, according to Hancock, who said the city would work to support those sites as needed.
Hancock also announced that the city and county has been approved for the state's 5 Star Certification program, however, right now businesses can only get precertified for the program because the city's COVID-19 data is still too high.
"They are not allowed to operate in a less restrictive level until we are under that 350 threshold for at least a week. That puts us into the Orange level part of the dial, and then after a week in the Orange level for those businesses that are precertified at that time, then they can move into Yellow level restrictions."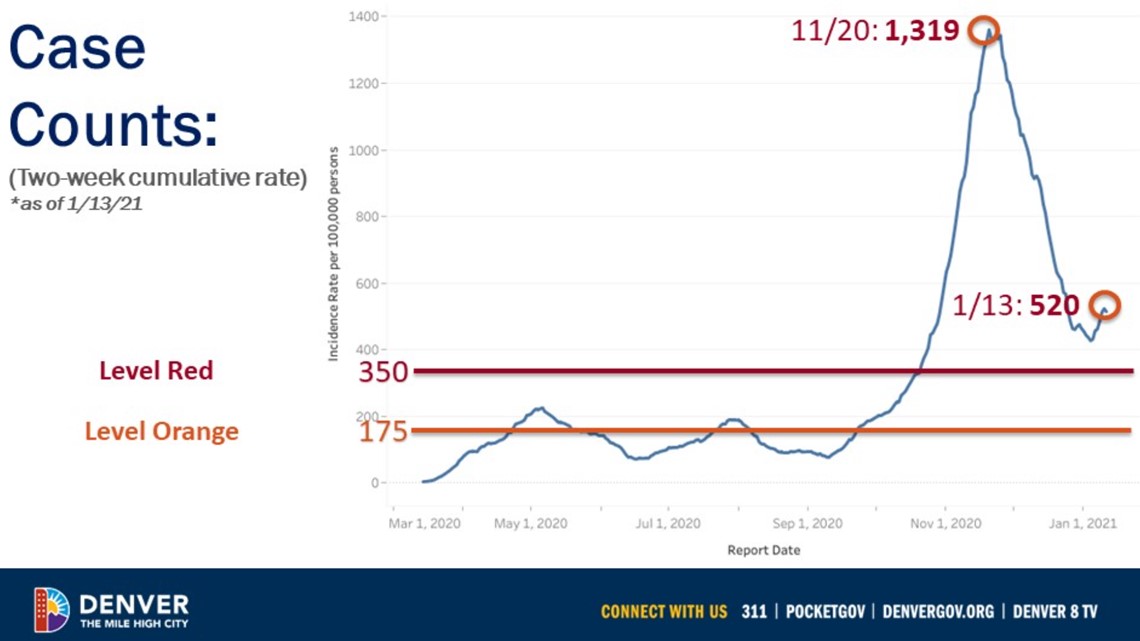 The two-week cumulative rate is currently at 526/100,000 and it needs to be less than 350/100,000 population.
Per State guidelines, business sectors eligible to apply for the 5 Star program are: General Business, Personal Services, Indoor Events, Restaurants and Gyms. Other business sectors that have decreased capacity limits due to public health restrictions may be eligible as well. Businesses will complete an online application and submit a nominal fee as payment.
To ensure a high level of service to the thousands of eligible applicants who may apply, the city has entered into a partnership with VISIT DENVER and H2 Manufacturing Solutions (H2).
Through this partnership, VISIT DENVER is serving as a fiscal agent and support for logistics and H2 is the third-party contractor that will administer the program. H2 was instrumental in developing this safety system and is well-positioned with expertise and systems to oversee the program implementation.
Currently, the state is receiving about 70,000 vaccines per week. There are an estimated 187,000 people in Phase 1A, which includes high-risk healthcare workers and residents and staff at long-term care facilities. Phase 1B includes about 1.3 million people.
"The frustrating thing is that there's not enough vaccines to do it this week, to give everybody 70 and up a vaccine," said Polis. "Not everybody can possibly have that appointment in a week, we could scale that up and do that from an operational perspective, but we don't have the vaccine."
During an update Tuesday morning, Polis said the state is allocating about 70,000 vaccine doses per week and there are more than 500,000 people in Colorado over age 70. He said given the math, it will take to the end of February to get through that age group unless something changes.
Right now, under 5% of the Colorado population has received at least one dose of the vaccine, according to data from DDPHE. Herd immunity can't be reached until at least 70% of the population is vaccinated.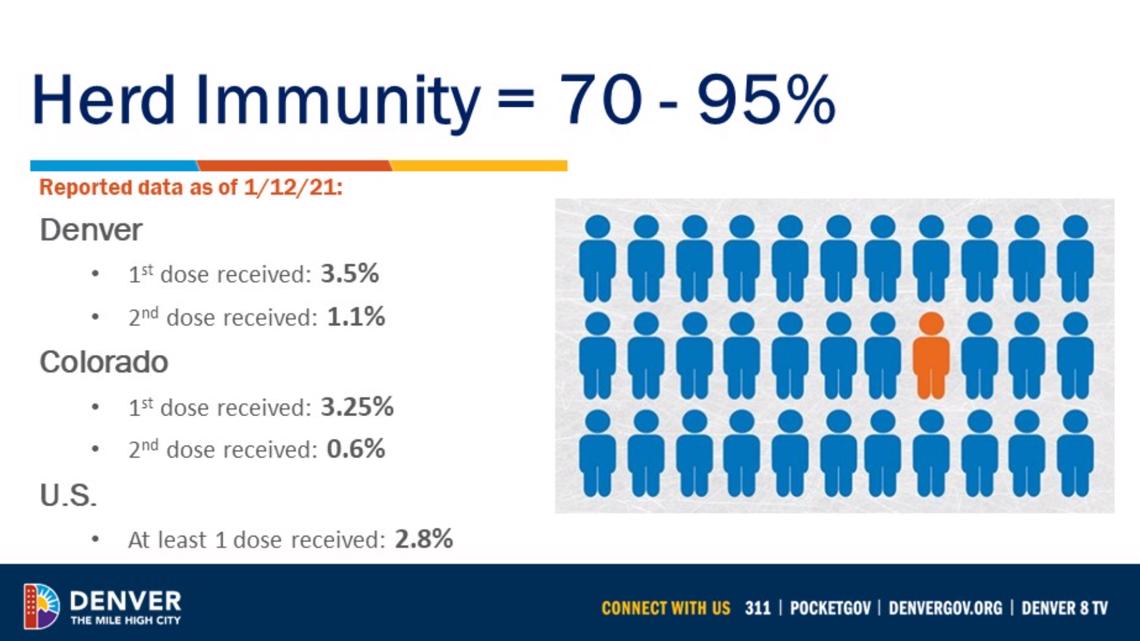 "There is no way that we are getting out of this pandemic unless a high percentage of our population gets vaccinated," said McDonald. "There is absolutely no way of getting back to some sense of normalcy, getting back to the lives we enjoyed before the pandemic unless a large percentage of the population gets vaccinated. And remember children can not get vaccinated yet, all the more reason for those that are eligible to get this vaccine."