DENVER — The City and County of Denver will move from Safer At Home: Level 2 to the more restrictive Safer At Home: Level 3 as cases continue to rise across the state.
Mayor Michael Hancock announced the change, which must be fully enacted by Wednesday afternoon, at a Tuesday news conference. He was joined by Denver Department of Public Health & Environment (DDPHE) Executive Director Bob McDonald.
Safer At Home: Level 3 is more restrictive in several ways, including reducing capacity at places like restaurants, churches, offices, personal services, offices and retail from 50% to 25%. Last call will move to 10 p.m. and liquor stores will remain open.
Schools are limited to hybrid or fully remote, with in-person only as appropriate. Denver Public Schools will not be asked to make any changes to their current plan, McDonald said.
Indoor events have a 25-person cap, while outdoor events have a 75-person cap.
Late Tuesday, the state clarified how gyms can operate under Level 3, allowing facilities to remain open at 25% capacity or 25 people, whichever is fewer.
Cumulative case count
Data shows the two-week, cumulative case count spiked to 385 per 100,000, a number that must be reduced to 175 per 100,000 for two full weeks for the city to move back to the Safer At Home: Level 2 phase.
"All indications are it's going to continue to increase unless we all pull together and do everything we can," McDonald said.
McDonald added that Denver is, "already moving toward a stay-at-home order if we don't get this under control."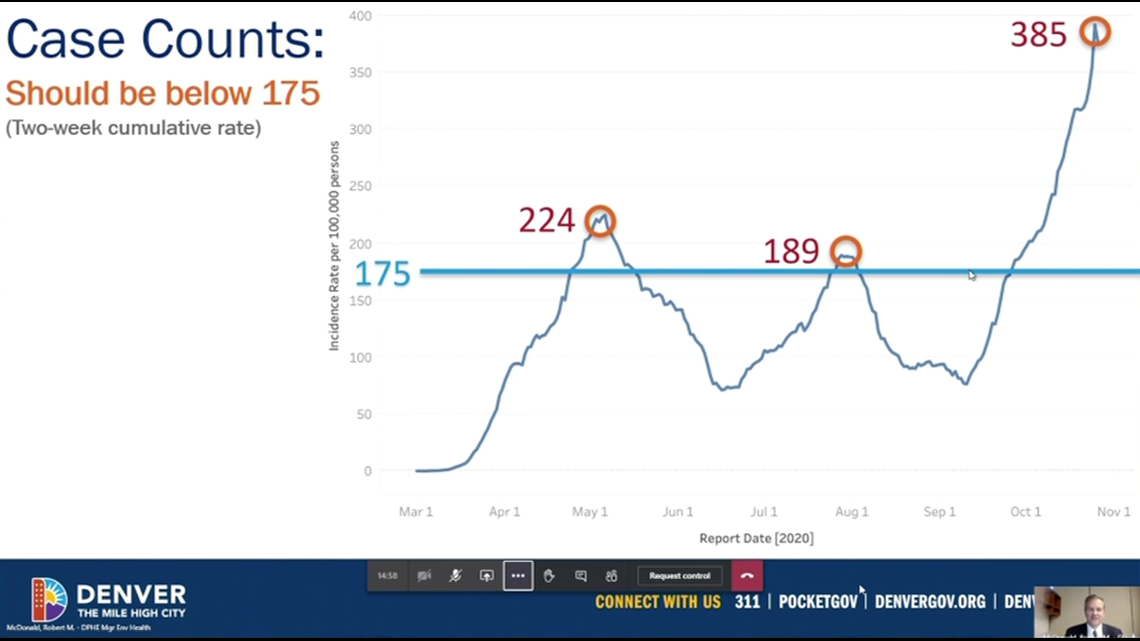 To avoid that, Hancock said anyone living or visiting Denver must continue to adhere to public health orders like wearing a face covering at all times and socially distancing.
"If you contract this virus...you have no way of knowing if you'll have mild symptoms or will be put on a ventilator in an [Intensive Care Unit]," Hancock said. "You can spread it. ... We don't know how it will impact others."
'Positivity rate only goes up if you have more instances of [the] virus'
The news also comes as Colorado's seven-day, moving average positivity rate is 6.4% – above the state's preferred 5% threshold.
Positivity is the number of tests that come back with a COVID-19 result. Above 10% could be an indicator that not enough testing is being done and that only people likely to have COVID are getting tested. The World Health Organization (WHO) in May 2020 recommended that the positivity rate should be even lower, 5%, to contain the virus.
McDonald also addressed confusion around the positivity rate, saying that contrary to what some say, positivity should go down as testing increases, not up as it has been in recent weeks.
"[Our] positivity rate only goes up if you have more instances of [the] virus in our community," McDonald said.
McDonald said while much of the rise in cases is among people in their late 20s and early 30s who may be asymptomatic or have mild symptoms, those people can spread it to others, which may cause hospitalizations to increase as well.
"Hospitalizations are going up with case rates," McDonald said. "Hospital systems could be overwhelmed in the next couple weeks...it could happen that soon. ... This has to stop. Not everyone recovers easily."
People with pre-existing conditions like cancer, asthma, kidney disease, heart conditions, obesity, addiction to smoking, diabetes, blood disorders, recent organ transplant and anyone in an immune-compromised state, are at a higher risk for hospitalization and death, he said.
Both Hancock and McDonald said they believed the situation could reverse and the city could move back to a less-restrictive phase ahead of the holiday season "if we all comply."
Voting
Hancock emphasized repeatedly that the restrictions do not impact voting and encouraged every citizen to return their ballot to a polling center or a 24-hour ballot box ahead of or on Nov. 3.
"This does not impact vote centers," Hancock said. "Vote centers are safe. It is required to wear a mask [and] social distance when you head to vote centers."
COVID-19 dial
Gov. Jared Polis (D-Colorado) in September announced a COVID-19 dial that establishes a restriction framework for counties based on metrics like positivity rate and hospital capacity.
Counties can use the dial as a guide to apply to enter one of five phases that outline restrictions aimed to contain the spread of the novel coronavirus. Counties will move back and forth between levels based on their metrics.
Earlier in October, the City & County of Denver made it a requirement to wear face masks in certain outdoor public settings as well as reduced gathering limits from 10 to five people.
"We are, as a county, brimming on the edge of a crisis that could further endanger individuals' health as well as damage our economy," Hancock said during an Oct. 16 news conference announcing the two new public health orders.
The graphic below shows limits with the COVID-19 dial:
> 9NEWS' Dacia Johnson contributed to this report.