DENVER — Denver city and health leaders said Thursday that their focus is finding a balance between rescue and recovery amid the COVID-19 pandemic.
"Our numbers are in a much more manageable place today. If we keep on this course, we could be in for additional capacity at local businesses soon," said Denver Mayor Michael Hancock at an afternoon news conference. "But let me caution, if we let our guard down because we think we're over the hump or because of the fatigue, we could easily see those numbers shoot back up."
Currently, Denver is under the Yellow Level on the state's COVID-19 dial with a seven-day case average of 102 per 100,000 and that number has ticked up slightly in recent days, according to McDonald.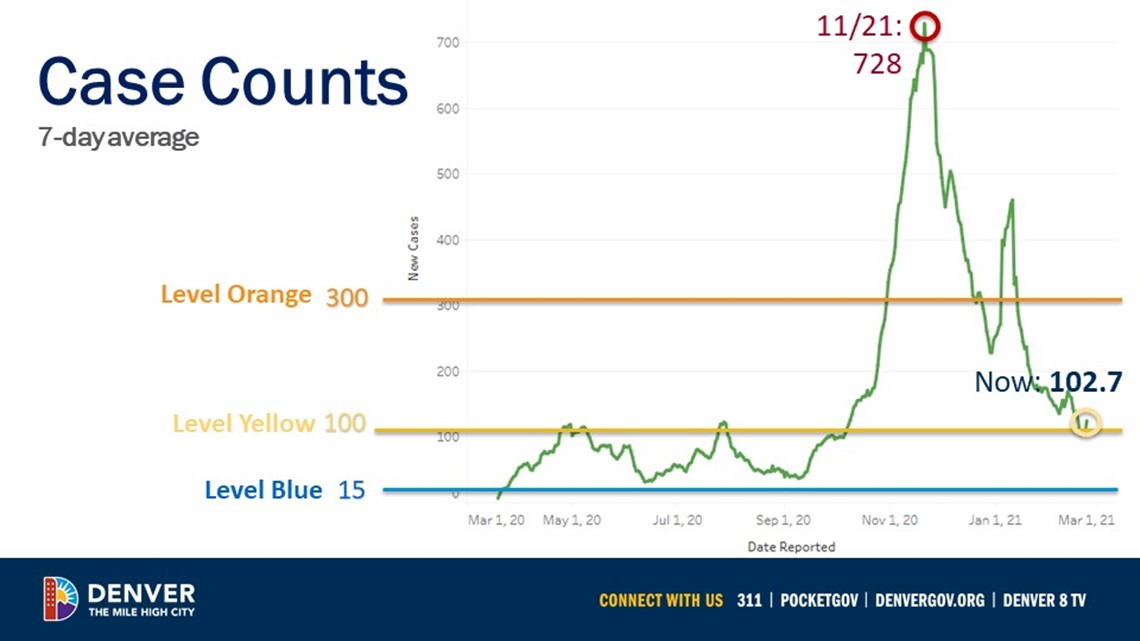 "If it was just a matter of keeping cases down, that would be easy, let's keep everything closed," said McDonald. "But we are battling two pandemics here, the virus and the impacts that we can see from harsh public health measures. We know the more we keep things locked up, the more we stress the economy, the more people lose their jobs; they struggle to pay rent, to buy food."
To move to the Blue Level, the city needs to get below 100 cases per 100,000, and it must remain there for at least seven days. McDonald said he supports "thoughtful plans" for variances as long as the numbers are staying down.
"If variances are approved, and we start to see numbers tick up again, we're going to respond quickly with rescinding those," he said.
Denver has been approved for the state's Five Star program, which allows businesses to operate at restrictions that are one level above, however, the state has said that they need to reach the goal of 70% of people over 70 vaccinated before anyone can move to the blue level through the program. The state has set a goal to meet that threshold by the end of February.
Educators, child-care workers and people 65 and older are also currently eligible to receive the vaccine. Essential workers are next in line.
Fixed community vaccination sites
Denver plans to open six fixed community vaccination sites, up from the four that were announced previously.
All of them will be by appointment only. There are two that are already open and the others will open the week of March 7. They include:
Montbello Recreation Center-open now
Swansea Project Angel Heart-open now
Barnum Recreation Center
MLK Recreation Center
Bear Valley Library
Montbello High School
In addition to fixed sites, the city also looking at ways to bring vaccines to people who may be homebound.
"We are now looking at a mobile unit that can go, just like our testing center did, go to those that can't get out of their house, those that might be a little bit more immobile," said McDonald. "There's some challenges with that, but I am confident we are going to be able to pull that off just like we did with our mobile testing unit.
City leaders said in Denver, 99,156 people have received one dose and 53,826 people have received two doses of the vaccine.