DENVER —
While Coloradans are encouraged to get outdoors under the newly amended "Safer at Home in the Vast, Great Outdoors" public health order, health officials said they should do so close to home while keeping the coronavirus top of mind.
The order, which is in place until July 1, eases some restrictions put into place to slow the spread of COVID-19, and it also encourages Coloradans to get outside – as long as they can maintain proper social distancing.
It allows for pools and playgrounds to open with restrictions. A set opening date has not been set and the state was taking feedback until noon Wednesday on drafted guidelines related to their reopening. Final versions will be released Thursday, June 4.
During a briefing Wednesday morning, Dan Gibbs, the executive director of the Colorado Department of Natural Resources urged folks to recreate locally as their first option.
He said traveling farther increased the potential for an unplanned emergency. He also said if you do travel to check ahead of time for local restrictions that might be in place that could differ from your home location. He said to make to pack things like food and don't assume that everything will be open wherever you go.
Even if outdoors, you should maintain social distancing when possible and wear masks when it's likely you'll encounter others, such as on more crowded trails or paths. They also put together a list of recreation resources. Gibbs said they were exploring options such as one-way trails and perhaps designating certain trails for runners or cyclists.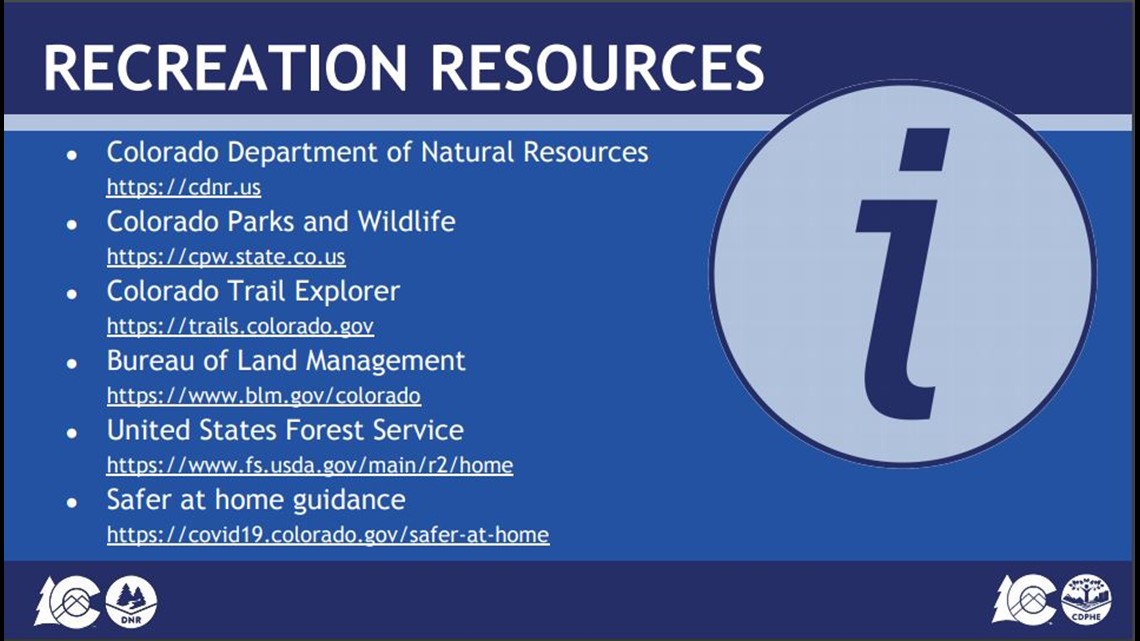 Sarah Tuneberg, the COVID-19 Innovation Response Team Lead, said that the state has now been testing 7,000 to 8,000 people per day and they encourage everyone to get tested if they're symptomatic. She said it's important people to know they've tested positive so that they can isolate to avoid spreading the virus further.
She also said state officials were "deeply involved" in the planning for schools to open this fall.
CDPHE is also releasing draft guidance on houses of worship, outdoor recreation, personal recreation, and updates to the child care and personal services guidance.
Under the draft guidelines:
Pools will be able to reopen up to 50% capacity up to 50 people.
Personal training groups of four or less can continue.
Recreators in groups of 10 people per room indoors at a time, permitted that people can maintain six feet apart from one another, are permitted, unless there is an approved county-variance for expanded capacity.
Organized youth or adult recreational sports leagues in groups of up to 25 people (outside)