NEW YORK — Dr. Gabriel Lockhart, lung specialist & critical care intensivist at National Jewish Health, volunteered to assist at a New York hospital.
New York has been one of the hardest-hit states in the country, with tens of thousands of confirmed cases — a number that continues to grow each day. The Centers for Disease Control & Prevention posts daily updates here.
Lockhart will treat New York patients through at least Monday, April 6. 9NEWS is sharing his blog posts. The first entry can be found in full below.
(Editor's note: Dr. Lockhart's blog is being shared in full in its original format.)
>The video above is when we spoke with Lockhart prior to his departure
Wednesday, April 8, 1:48 a.m. MT
Apologies on my delayed report from the frontlines. Admittedly, the days had worn long and my physical, emotional, and mental stamina had begun to run dry. Coming back to the hotel from work, my routine had been to immediately shower because I felt #coveredincovid. While showering and decompressing from the day, I started noticing I was still hearing the ICU alarms, bells, and whistles going off (PTSD much?). I truly am glad I volunteered to aid in the war of attrition, and I'd make the same choice 100 times out of 100 if I went back in time. However, the constant pressure weighing on the heart of an intensivist leading a team through the thick of uncertainty can prove overwhelming.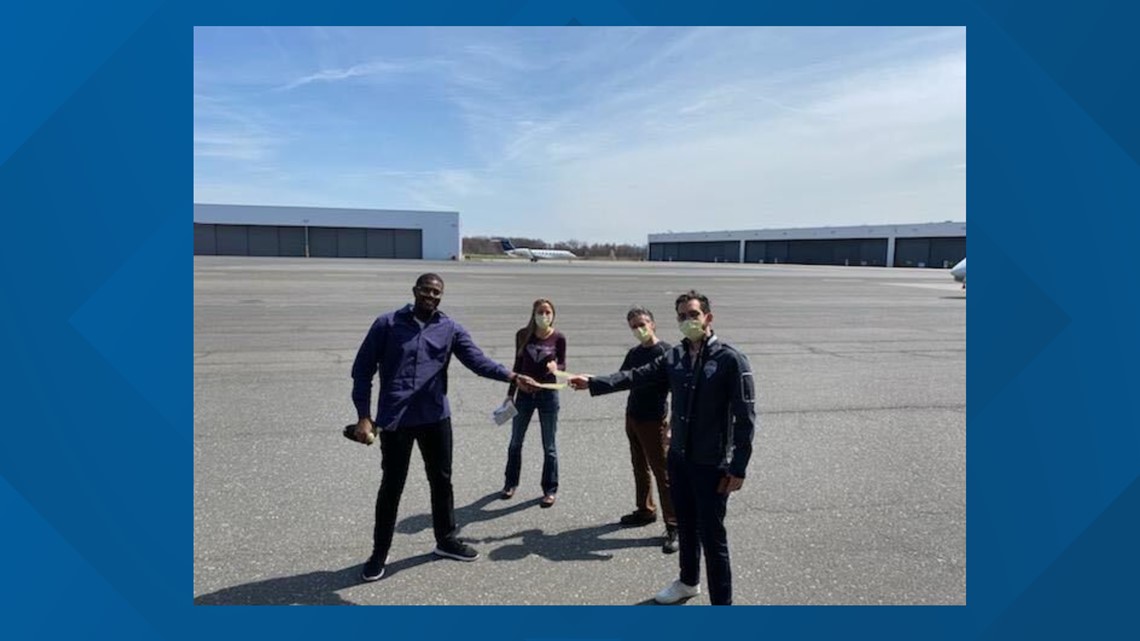 I'm finishing up a 15-day work stretch, with the last week taking place in New York (I'm a glutton for punishment, I know). As I reflect on the week's events and prepare for departure back home, I'm left asking myself, "How does my team keep going on? How do they wake up too early every morning, pick themselves up after a terrible day and keep coming into this crime scene?"
I, of course, didn't know the team before this week, but I imagine the now tired eyes from this battered group started off their academic year as hopeful, enthusiastic and eager. I'm proud of the way they have conducted themselves, because individuals of lesser character would have folded long ago.
This experience has truly been beneficial for me, and I hope the feeling was mutual for the Mt. Sinai faculty, residents/fellows and nursing. Teaching and learning about all things pulmonary/critical care are what I geek out on, and it's why I chose to work for National Jewish despite other more financially lucrative offers. This week, in between emergencies and putting out small fires, I spent the days providing impromptu lectures for the residents that were specific to our patients, as I tried my hardest to spark interest and convince at least one to become a budding pulmonologist (I may have failed though – TBD). But the sharing of information and group discussion extends beyond that simple format. A literal pow wow of the chiefs, specifically the pulmonary and critical care division chiefs of all the New York hospitals, took place virtually this week to share information and come together in unison against COVID.
My division chief back in Denver was privy to the meeting and able to listen in, sharing with my team her summary. This is a beautiful act to see, as far too often the sharing of knowledge within academia and medical practice is systemically built to be hindered via several levels of barricades (ask me some other time what I think an ideal healthcare system in America would look like).
Progress is being made in our understanding of COVID. There's still much about the disease that baffles my mind, particularly its unclear pathophysiology and unprecedented clinical course. Let me be clear, we have not yet found a "miracle drug" for patients sick enough to be in the ICU despite infuriatingly premature, boisterous statements thrown about on Twitter that are citing poor data and irresponsibly taken out of context. However, I'm more hopeful today about our management of the disease than I was a week ago. I sleep easier tonight knowing that we in the science and medical community are progressing forward in finding viable treatment options, along with vaccines en route. This creeping sensation of optimism is something I haven't felt in a while, and until today, I had not noticed that I was missing it.
I even heard from friends back at home that COVID-infected patients are being liberated from their ventilator machines with Journey's "Don't Stop Believin'" being played on the overhead speakers for the whole hospital to appreciate each time. How awesome is that!
I would be remiss if I didn't mention the incredible bravery of the nursing staff at Mt. Sinai. Much appreciation is given to physicians by patients and their families, but it is the nursing staff that spends far more face-to-face time with the patients. While physicians typically manage between 10 - 20 patients in a day at the hospital, nurses take care of 1-2 usually in the ICU, and 3-6 (or more) outside of the ICU. This group has been especially short-staffed and tasked to run in and out of rooms donning layers of PPE, risking exposure and illness as reports of COVID-related deaths amongst nursing have been on the rise. Good physicians identify good nurses early on and rely heavily on their input, working synergistically to make each other's lives easier while being advocates for their patients. That is the secret ingredient to a quality hospital environment that provides the best patient care and encourages buy-in from the staff.
I learned this lesson early on from my Puerto Rican mother, a now-retired physician. She especially drove home the point that, "If mama ain't happy, then nobody's happy." A lesson which absolutely applies to doctor-nurse relationships and, conveniently enough, my actual mom. So consider it lesson-learned. On my first day taking over the service at Mt. Sinai I announced to the nursing staff that I wanted to make a change: I did not want our team to finish discussing any patient without the assigned nurse having her or his voice heard regarding their thoughts/questions/concerns about their respective patient; a change I believe was well-received.
As my time in New York comes to an end, three truths are evident: 1) I have no regrets about coming to New York to fight alongside brilliant and brave individuals and would do it again if given the opportunity. 2) One day we'll all wake up, and it will be July. The sun will be shining, folks will be heading into work, and life will go on with some sense of normalcy. We have reason for optimism today. And, 3) If mama ain't happy, nobody's happy.
Thanks, everyone, stay well!
- Dr. Gabriel Lockhart
Lung Specialist & Critical Care Intensivist
National Jewish Health