COLORADO, USA — The state updated its COVID-19 dial system to allow for more swift movement between the colors at the local level and as a result, many counties will move to yellow or blue this weekend.
Dial 2.0, as it's called, will go into effect on Saturday at 9 a.m. and will now use a seven-day instead of a 14-day metric for disease incidence, level of testing and hospitalizations. To move to a less restrictive level, counties will have to meet all metrics for that level for one week. Once CDPHE has confirmed the requirement was met, counties can move levels.
"It's a tool that really allows Colorado to tailor our response at a county level, recognizing that conditions will vary locally," said Jill Hunsaker Ryan, executive director of the Colorado Department of Public Health and Environment (CDPHE).
Most counties have been in Level Red or Orange for weeks, and the change will allow more of them to operate in Yellow, according to Hunsaker Ryan. There will be tighter metrics for community testing at the Yellow and Orange levels, which is measured as percent positivity. That will make it more difficult to move from Red to Orange or Orange to Yellow without sufficient testing occurring, according to Hunsaker Ryan.
The map below shows where most counties will likely be on the new dial beginning on Saturday.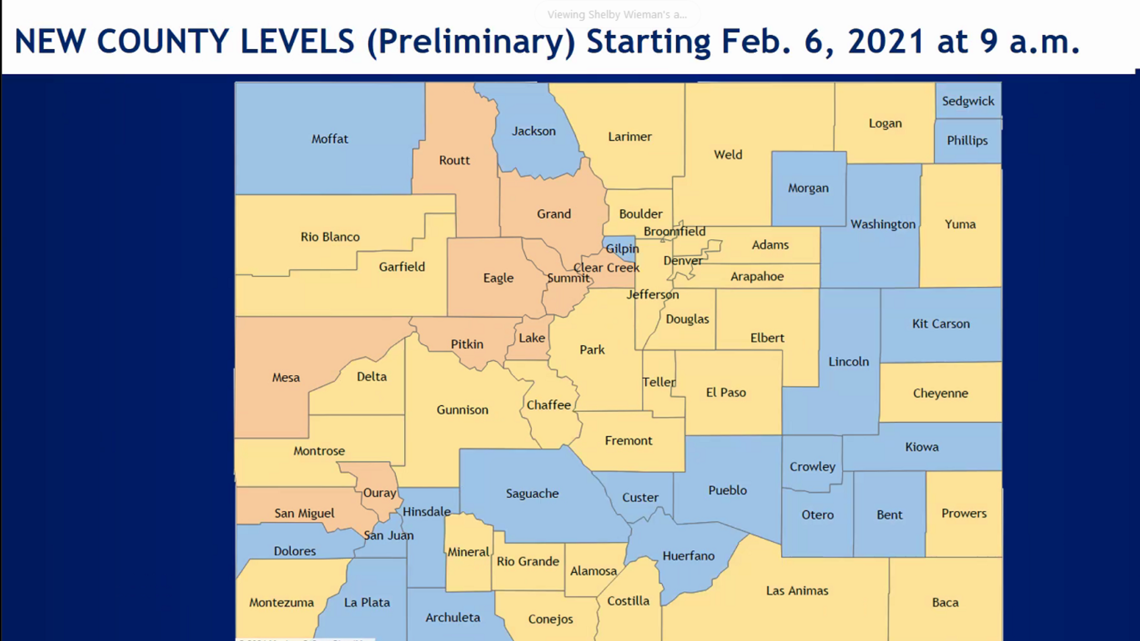 At the Yellow Level, capacity levels are 50% or 150 people — that's up from 100. Capacity limits for Orange are just 25%.
Counties that are moved into that Yellow Level and have been approved for the 5 Star Program will only be allowed to operate in the Blue Level once 70% of people over 70 have been vaccinated with at least one dose in the state.
That is still expected to happen by the end of the month. Those who are 65-69, as well as educators, become eligible on Monday, but are unlikely to get that shot right away. Polis said they should be able to get it by the end of March.
CDPHE said the state met with several groups including local public health agencies, county commissioners, mayors and city managers to discuss potential changes to the dial with the goal of making it more responsive to local conditions.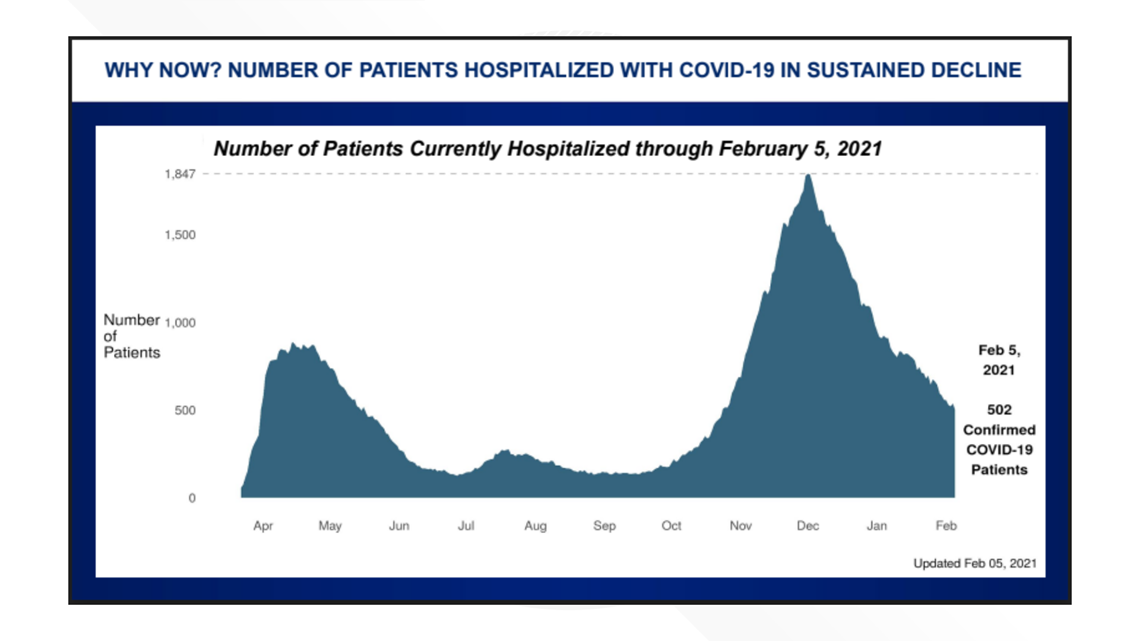 The move was made now because the state has been on a steady downward trend with the positivity rate below 5% which is the recommendation from the World Health Organization (WHO). Colorado is also well below the peak for COVID-19 related hospitalizations in the state, which reached 1,847 in December. On Friday, that number was 502.
The governor last held an update on Tuesday, where he said that about 50 pharmacies across the state would be getting an additional 5,000 -10,000 vaccine doses each week. He said it was made possible after the Biden administration announced that it would ship directly to pharmacies.
Polis said Friday that many of the selected pharmacies are in rural areas where residents have less hospital access and might have to drive a long time or distance to get to a medical facility.
Polis said more than a 1/2 million Coloradans have received at least one dose of the vaccine. and said that over a quarter-million people who are over 70 have received the COVID-19 vaccine. He said he's confident that anyone in that group who wants to get vaccinated would be able to do so by the end of the month.