DENVER — Two Coloradans in their 40s have died of COVID-19 as confirmed cases in the state top 2,600, according to the governor's office.
Colorado Gov. Jared Polis (D-Colorado) had initially said a resident under the age of 40 had died from the new coronavrius, but later corrected that to say the two deaths were people in their 40s.
In the Monday afternoon news conference, Polis also urged Coloradans not to panic, saying that 80% to 85% of people who get COVID-19 will not require medical attention.
Polis repeatedly asked Coloradans to stay at home unless absolutely necessary to seek medical care. He asked that anyone with flu or COVID-19 symptoms self-isolate until several days after those symptoms have completely resolved.
"Coloradans need to be successful at staying home is the bottom line," Polis said.
Colorado issued a statewide stay-at-home order last week in an effort to slow the spread of the pandemic, lasting until at least April 11. State health officials said that as of Monday, 51 people have died and 2,627 people have tested positive for COVID-19 in Colorado.
Polis started the news conference by thanking President Donald Trump for approving a disaster declaration for Colorado over the weekend. The declaration assures additional federal assistance for the outbreak.
Polis then thanked the Army Corp of Engineers who are in Colorado working to build and expand hospital capacity and the Colorado National Guard who have been tasked with expanding COVID-19 testing throughout the state.
The governor also talked about the progress Colorado has made in regards to collecting Personal Protective Equipment (PPE) for healthcare staff. Specifically, he thanked Home Depot for donating 5,000 pairs of gloves to the state. He reiterated the ongoing need for masks, gloves, gowns and face shields in coming weeks and months.
Polis said last week he hopes that the stay-at-home order he issued will reduce social interactions in the state by 80%, reducing the projected death toll from tens of thousands into possibly the hundreds.
In Monday's update, Polis said Colorado is already starting to see the impact from social distancing measures like closing bars, restaurants and schools, along with banning gatherings of large groups.
He pointed to the fact that the average doubling time for cases in the state is now approaching five days on average, instead of cases doubling every other day like they had been toward the beginning of the pandemic in Colorado.
Using data from the Colorado Department of Transportation (CDOT), Polis also noted a 60% reduction of cars on the state's roadways compared to four weeks ago.
The governor said Colorado likely won't see the impact from the reduced workforce order and state-wide stay-at-home order for at least another week.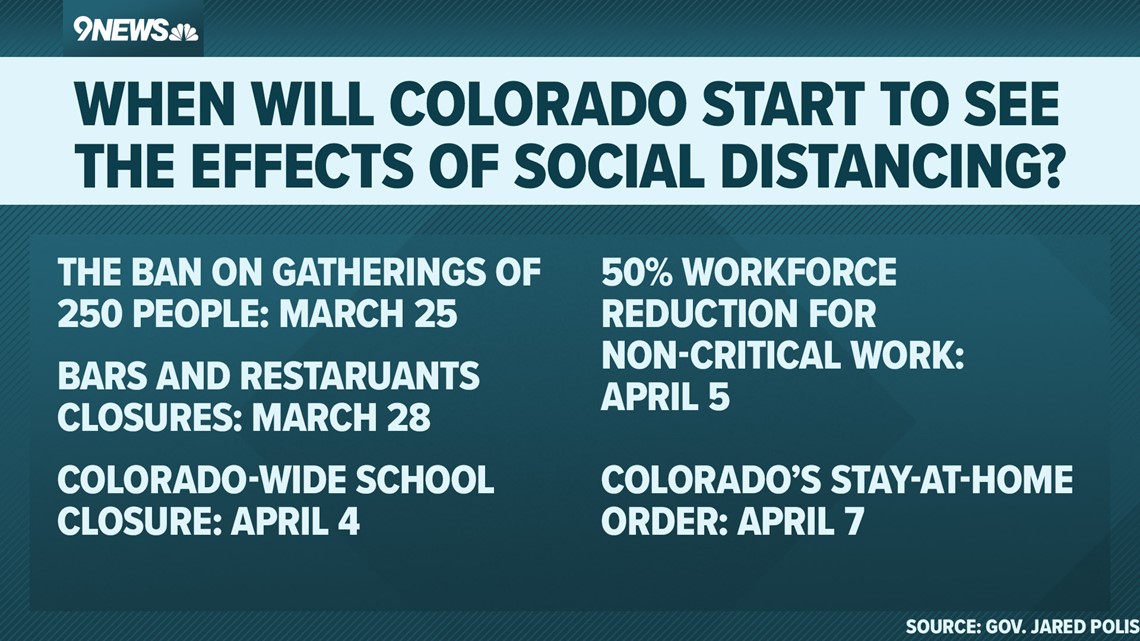 Since the first presumptive positive case of the disease caused by the novel coronavirus was reported in Colorado on March 5, the state has shut down restaurants and bars, ordered that businesses cut their in-person work forces by 50%, and barred gatherings of more than 10 people.
COVID-19 is a disease caused by a virus that first appeared in Wuhan, China, in late 2019. Symptoms of COVID-19 can include fever, cough and breathing difficulty. Most patients develop only mild symptoms. But some people, usually those with other medical complications, develop more severe symptoms, including pneumonia, which can be fatal.