DENVER — Gov. Jared Polis (D-Colorado) presented a stark picture of what he believes the data shows could happen if Coloradans do not practice social distancing to slow the spread of the novel coronavirus.
In a data-rich presentation given during a news conference on Friday afternoon, the governor argued that some worst-case scenario models show as many as 33,200 Coloradans could die of COVID-19-related causes if no action is taken.
Polis said he hopes that the stay-at-home order he issued on Wednesday will reduce social interactions in the state by 80% -- reducing the projected death toll from tens of thousands into possibly the hundreds.0
"Treat this like you would a tornado, or a flood, or a wildfire, or a hurricane," Polis said.
The stay-at-home order was the latest in a progressively escalating series of measures aimed at slowing the spread of COVID-19. Since the first presumptive positive case of the novel coronavirus was reported in Colorado on March 5, the state has shut down restaurants and bars, ordered that businesses cut their in-person workforces by 50%, and barred gatherings of more than 10 people.
According to Polis, the efficacy of those measures has not yet shown up in the state's data, but it is projected to in the coming weeks. In particular, he said the stay-at-home order's impact should be quantifiable by April 7.
FULL NEWS CONFERENCE: Watch Polis' full Friday news conference below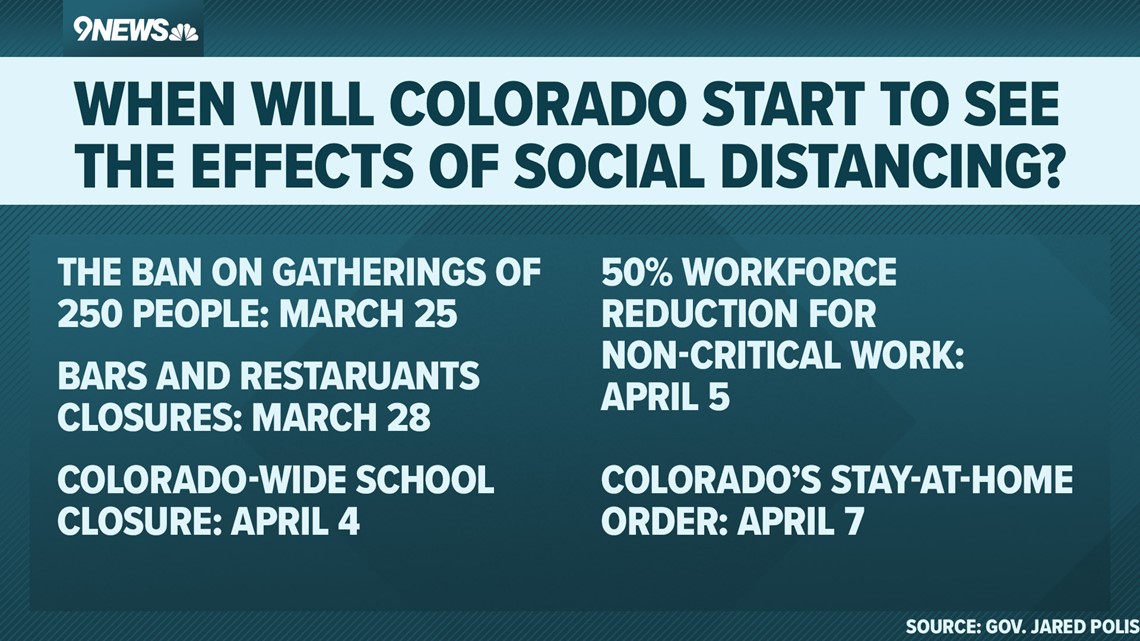 As it stands, that order lasts until April 11, but Polis said it could be extended.
"Colorado hasn't seen the worst of this, the U.S. hasn't seen the worst of this, and the world hasn't seen the worst of this," Polis said.
Epidemiologists have said the goal of social distancing is to slow the spread of a pandemic to ease its impact on hospitals. Nevertheless, Polis said as it stands, Colorado has 900 ventilators. The state will likely need 7,000.
Polis said he is also working to add 5,000 ICU beds to Colorado's capacity by the end of the summer, and is in conversations to bring more ventilators to the state to treat sick COVID-19 patients.
"I'd rather have an extra ventilator than one too few," Polis said.
The governor also acknowledged the economic impact of the pandemic, one so severe that it forced Congress to pass a $2.2 trillion stimulus package to provide $1,200 checks to millions of Americans.
The state has seen record applications for unemployment, and Polis said his goal is to follow South Korea's model for responding to COVID-19. He said this requires mass testing and localized response to clusters of COVID-19 cases, something that allows economies to begin to return to normal.
"[South Korea] is generally functioning as an economy in the way America is not right now," Polis said.
At its core, Polis said addressing the COVID-19 pandemic falls into the hands of society as a whole rather than the government. Ahead of a spring weekend, Polis told Colorado residents it would be "really dumb" to drive far from home to recreate in the mountains, an area that has been the epicenter of the state's pandemic.
"This pandemic is not a vacation," Polis said. "Our mountains and canyons have been here for hundreds of years, and they've they will be here for hundreds of thousands of years."
Denver Mayor Michael Hancock issued the city's stay-at-home order in part because of crowds he observed at area parks last weekend.
As of this writing, Colorado state parks remain open, though campgrounds are closed.
"This is not a competition to see what you can get away with," Polis said. "The contest is to see who can best comply with the spirit of this."