CDPHE Chief Medical Officer Dr. Eric France said that more than half of eligible Coloradans have received at least one vaccine dose, and 37% are considered fully immune.
According to recent data, CDPHE estimates the vaccinated population is roughly 93% less likely to be counted as a positive COVID case.
However, there is still cause for concern as hospitalizations increase at a dramatic rate. France said they have increased more than 75% over the past three weeks, with the majority of cases coming from the unvaccinated population between the ages of 40 and 60.
"I think it's a disappointment to see cases going up and hospitalizations going up knowing that this is happening among the unvaccinated," Dr. France said. "At a time when we have the supply and we have a very effective vaccine at our fingers."
France also said that the state moving toward a slowdown of vaccinations in the state due to hesitancy among some remaining unvaccinated populations.
In an effort to encourage more Coloradans on the fence about getting vaccinated, and to make it easier for those who do not want to go out of their way to get vaccinated, France said enrollment of vaccine providers is now expanding to general physicians.
France said that as Colorado reaches this stage of vaccinations, it is important for trusted family doctors to be able to answer any questions their patients may have.
Sherman said Colorado is averaging more than 60,000 doses administered daily Monday through Saturday.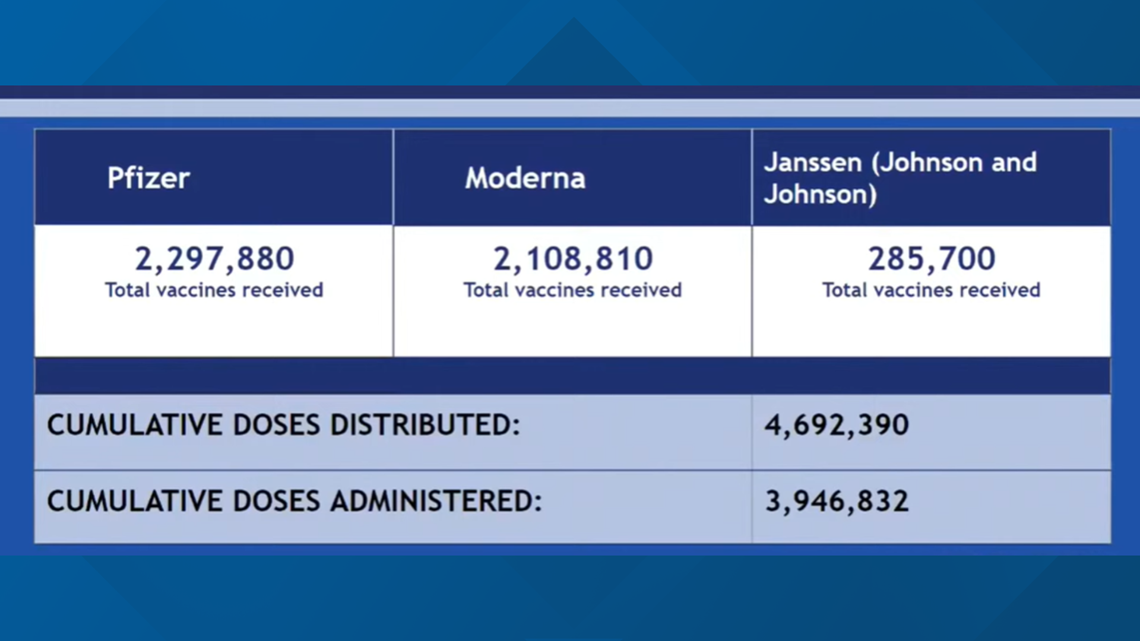 COVID vaccination demographic disparities and community outreach in Colorado
Deputy Director of Immunization Brandy Emily said CDPHE is focusing on a data-driven approach to identify and address vaccine inequity.
Colorado's Hispanic and Black populations have been lagging behind the non-Hispanic white and Asian-American populations when it comes to getting COVID vaccinations.
Hispanics make up nearly 22% of the state's population, but only 8.6% have been immunized with at least on dose.
Similarly, nearly 4% of the state's population is Black, but only 2.5% have received at least one dose.
Meanwhile, the state's non-Hispanic white population represents 67.8%, but 70.7% who have received at least one dose fall into that demographic.
Also, Asian-Americans make up 3.1%, and 2.9% have been vaccinated with at least one dose.


Emily said CDPHE focuses on analyzing Colorado's 1,249 census tracts when compiling data and determining where to focus efforts.
Using BIPOC (Black, Indigenous, and people of color) and Poverty rates based on Social Vulnerability Index from 2018 census estimates, CDPHE determined the identified Equity Census Tracts (ECTs) were among the hardest hit areas.
In these areas, 42% of all cases and 48% of all deaths occurred, including 61% of all BIPOC cases and 65% of all BIPOC deaths.
At first, CDPHE focused on 426 of these ECTs when the vaccine was available to the states older population, and then expanded to 460 when younger populations became eligible.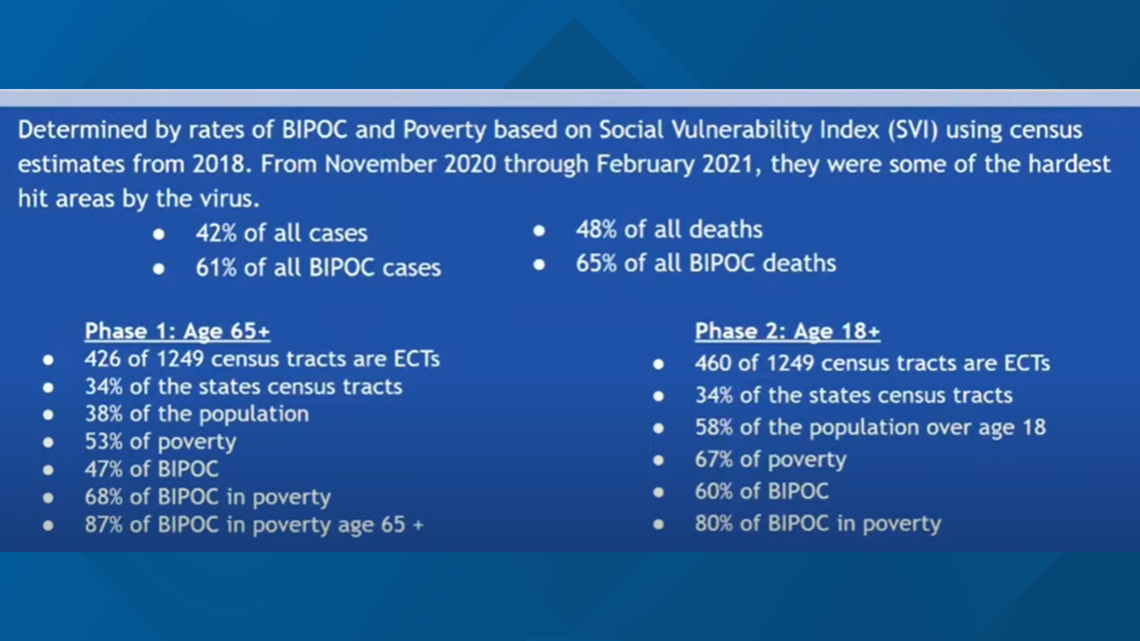 The Vaccine Equity Program gets 15% of the vaccine that comes into Colorado, specifically set aside for these underserved areas and demographics.
The program focuses its outreach on the following efforts:
Community-based organizations
Federally-qualified health centers
Community "pop-up" & recurring vaccine clinics
Base layer of vaccines doses smaller providers can expect each week
Mobile vaccine clinics
Outbound call center
Vaccine hesitancy education
So far, the program has distributed 266,023 doses through 660 popups, and 11,400 doses through reoccurring clinics.
Maisha Fields is the lead for the community outreach efforts. She said their goal to reach in a variety of ways to eliminate any barriers someone may have.
"The mobile vaccine bus and having walk-up appointments are going to be critical to increasing the number of Latinos who are going to be vaccinated," she said.
"We're going to their communities. We're going to their leaders and we're making sure we're getting shots in the arms in the people that are the hardest to serve."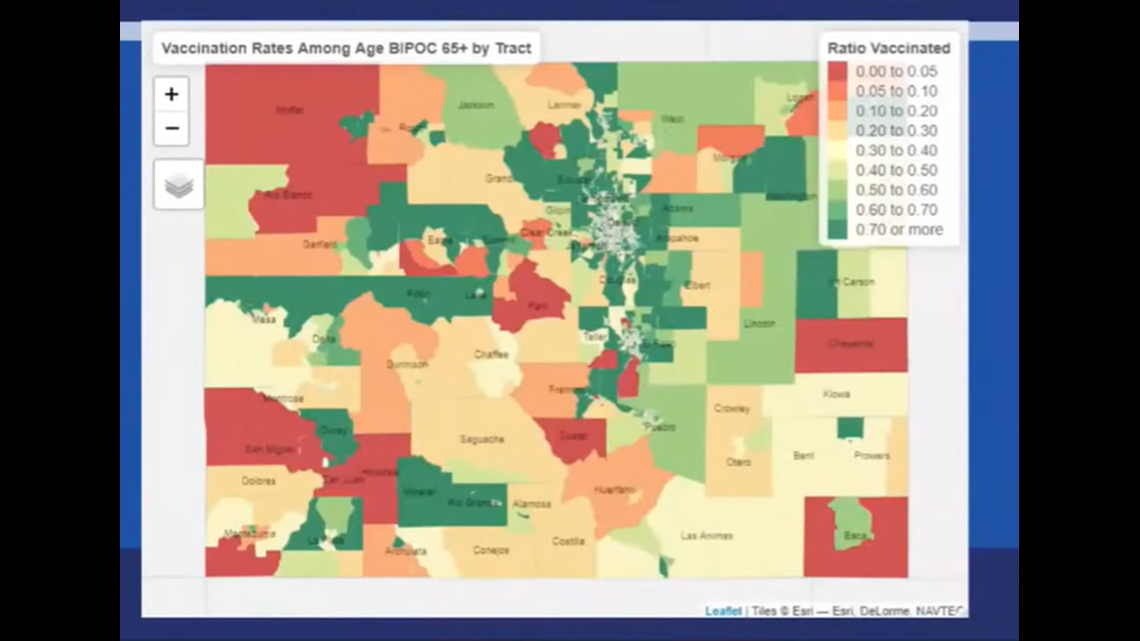 Get a COVID vaccine in Colorado without an appointment
You can now walk or drive up without an appointment to most of the state's mass vaccination sites.
Advance appointments are still recommended because sites are limited by supply, but the state said it's making every effort to vaccinate anyone who shows up.
Vaccines are available without an appointment at the following sites:
COVID vaccine supplies no longer "limiting factor"
For the first time since the pandemic began, the supply of vaccines is beginning to outpace the number of people signing up for appointments.
More than 40% of eligible adults in Colorado have received at least one dose of the vaccine, and 25% are fully vaccinated. With open vaccine appointments beginning to go unfilled, the challenge is now convincing the remaining group of people in the state who haven't gotten a vaccine that it's time to get it.
"I would definitely say that supply is no longer the limiting factor for us," said System Director of Pharmacy Services for SCL Health Jennifer Davis. "The limiting factor is getting people to the places where they can get the vaccine and making sure everyone is excited about getting the vaccine.
"Because so many people have already been vaccinated, we do have open appointments really widely across the state."
> Top stories from 9NEWS curated daily just for you! Sign up for the 9NEWSLETTER right now to get can't-miss stories, Next and Broncos content, weather and more delivered right to your inbox.