CDPHE Chief Medical Officer Dr. Eric France said despite some public perception, the Johnson & Johnson vaccine is not "a second-tier vaccine."
"It's been very effective about what's important...protecting against disease," he said, adding that it has other advantages in that it only requires a single dose and does not need to be transported cold.
The U.S. Food and Drug Administration (FDA) granted Emergency Use Authorization of the vaccine from Janssen Pharmaceuticals — which is owned by Johnson & Johnson — last week. The Johnson & Johnson vaccine requires a single dose and is about 85% effective against overall disease, deaths and in preventing hospitalizations. It is also compatible with standard vaccine storage and distribution channels. Both the Moderna and Pfizer vaccines, which require two doses and have an efficacy rate of 94-95%, must be shipped frozen and stored at colder temperatures.
France was joined at a Thursday update on the state's COVID response, which was largely focused on looking back at the pandemic since it began, by:
Jill Hunsaker Ryan, CDPHE executive director
Dr. Rachel Herlihy, state epidemiologist
Scott Bookman, incident commander
Jason Vahling, director, Broomfield Public Health
COVID vaccine distribution across Colorado
Gov. Jared Polis (D) said on Tuesday that 70.7% of Coloradans age 70 and up have been vaccinated as of Feb. 28, meaning the state is 101% to its previous goal of vaccinating 70% of residents age 70 and up.
France said Thursday of the 1,181,200 total doses administered, 28.7% have gone to people ages 70-79, and 12.9% have gone to those over age 80.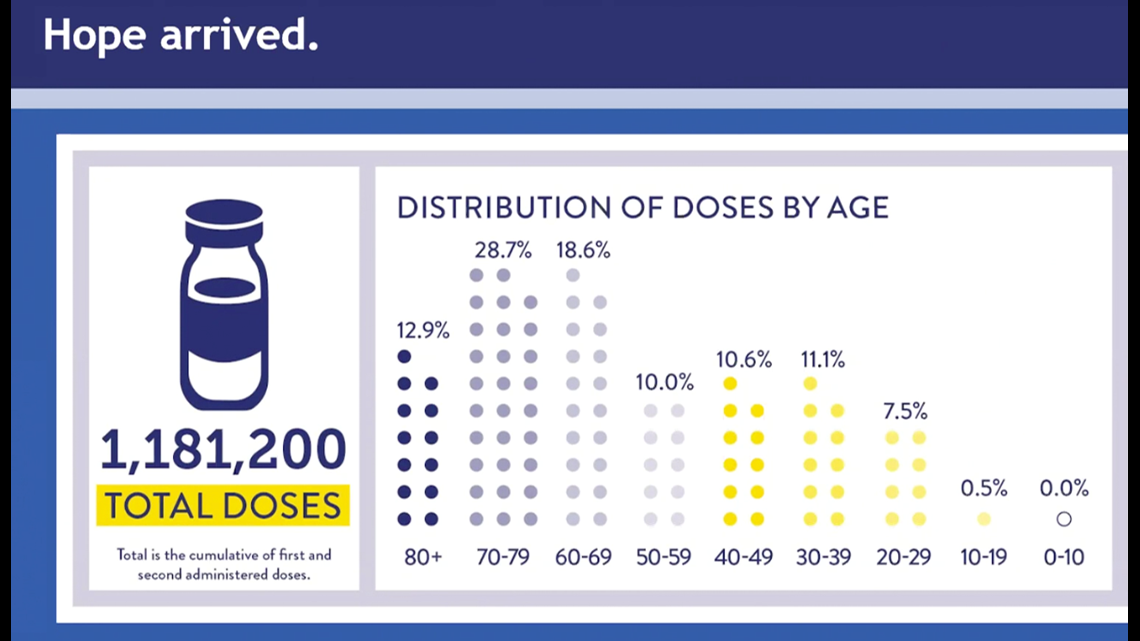 Additionally, more than 135,000 long-term care facility staff and residents have been vaccinated, France highlighted.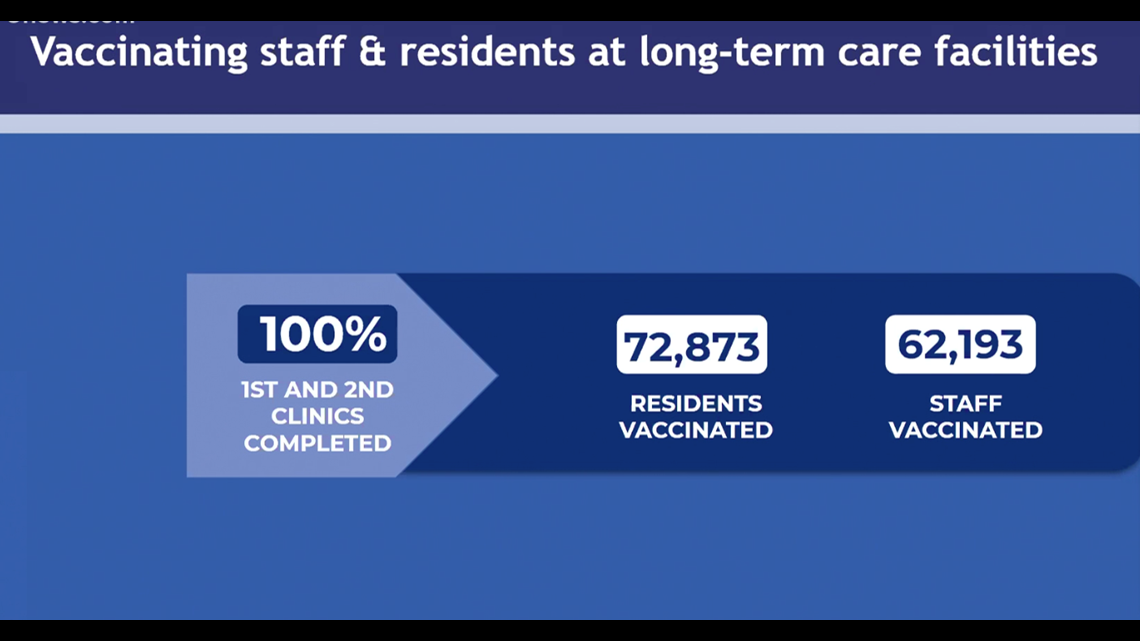 "We're starting to see a clear impact from these vaccinations" at long-term care facilities, Herlihy said.
Changes to the phases of distribution were also recently announced, including new information about Phase 1B.3 and 1B.4.
Polis announced last week that those 60+ will be eligible for the COVID-19 vaccine on Friday, March 5, along with some frontline essential workers, such as grocery store employees, as the state nears its goal of vaccinating 70% of those 70 and older.
Phase 1B.3 includes about 958,000 people who will become eligible to receive the vaccine on March 5.
To find contact information for providers across Colorado:
COVID case counts and death trends
Herlihy said since the pandemic began last March, Colorado's cumulative death counts never exceeded national trends.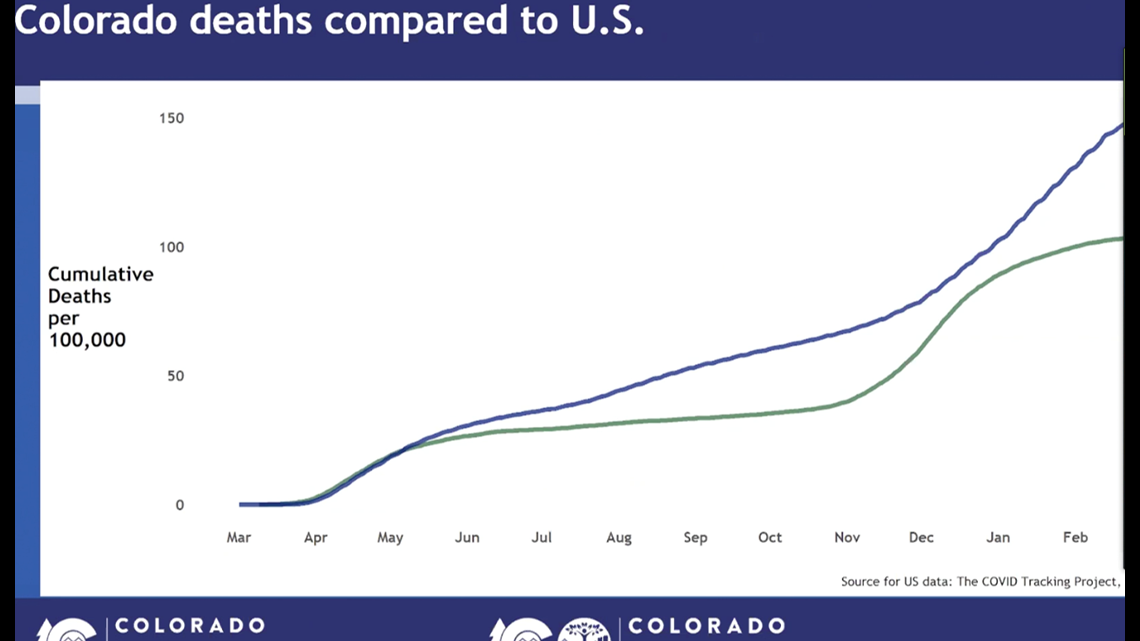 She also highlighted overall case numbers — which stand at a cumulative 431,670 in the state as of March 4 — as never exceeding national trends.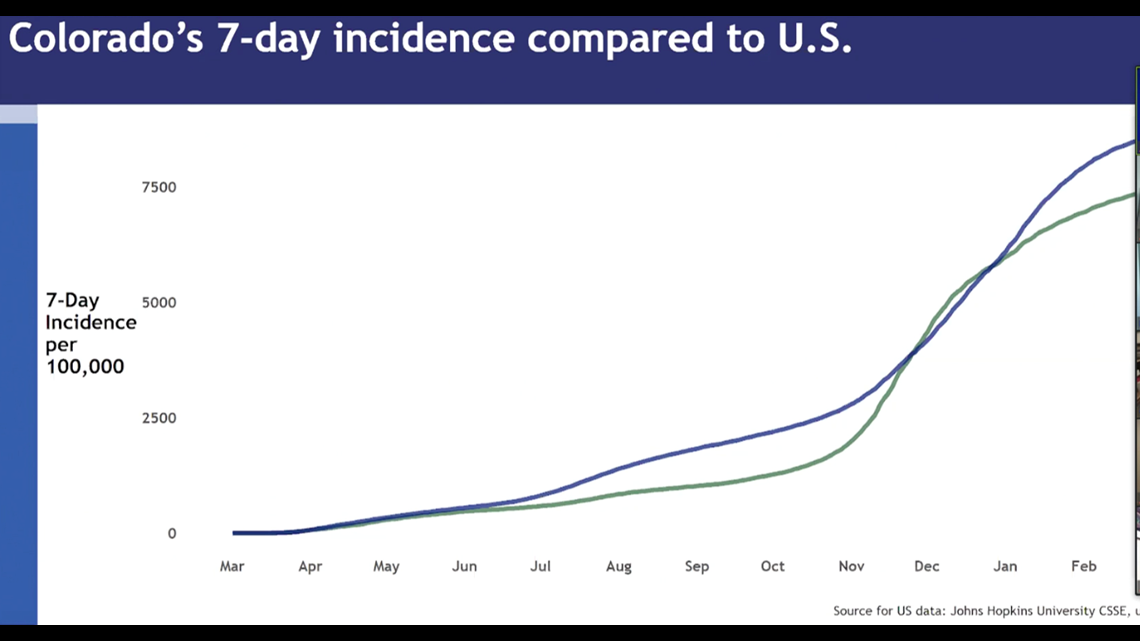 "We're certainly not out of the woods yet," Herlihy said, adding that variants may play a role in changing the trends. "...But we've certainly come a long way."
COVID variants in Colorado
Health experts continue to monitor COVID-19 variants in the state.
Colorado was the first state in the country to report a case of the B.1.1.7 variant first detected in the United Kingdom.
CDPHE is also investigating several cases of the variant initially detected in California: B.1.427/B.1.429. There are currently 114 confirmed variant cases and 72 under investigation in the state, according to the state's dashboard. In an email to 9NEWS, CDPHE said:
"The state lab screens all of the positive tests it analyzes for variants, and screens batches of positive tests from private labs. Eventually, the lab plans to screen 5% of all positive tests in Colorado for the variant. Right now, it is screening about 3%."
A look at Colorado's response to the pandemic since it began
Ryan highlighted the steps the state and CDPHE have taken to combat COVID-19 since it arrived in the state in early 2020. They included:
Being awarded $1.165 billion in mostly federal funds.
Adding 1,616 full-time employees, contractors and volunteers in the past 12 months.
State labs now operate three, 24/7 shifts with employees processing an average of 46,000 tests per week (from 800)
Setting up free testing at 121 sites across the state
Issuing 64 public health orders
"We massively scaled up on a dime," Ryan said.
Ryan also highlighted the state's response to three waves of COVID-19, particularly in November, when the state implemented the COVID-19 dial that allowed counties to implement specific restrictions based on case counts there.
"People listened to advice not to interact with other households" over the holidays, Ryan said. "We see success because of it.."
Since November, Colorado's case count and hospitalizations have mostly trended downward.
"This was really a challenging year for everybody," Vahling said. "...I was truly inspired...by [the] willingness of Colorado residents to come together to keep our community safe. .. They stepped up and followed public health guidelines to slow the spread...that's why Colorado had so much success."
As of March 4, there are 431,670 cumulative cases and 5,954 deaths due to COVID-19. More than 2.5 million Coloradans have been tested.