WARNER ROBINS, Ga. — The Warner Robins American Little League says an individual associated with the league has been diagnosed with COVID-19.
President Patrick Chiappetta confirmed the case in a notice sent to all league members.
"The safety and well-being of all of our participants is always our paramount concern, and now, more than ever," the notice said.
In the notice, Chiappetta says they would not be sharing any further details about the person.
But the league did say the individual participated in a couple of games before activities were suspended.
Those games were on March 9 from 6-10 p.m. and March 10 from 6-8 p.m.
The league asks anyone who participated in those games to follow guidelines from the Centers for Disease Control and Prevention.
"We are thinking of this individual battling coronavirus, as well as everyone in our WRALL family at this difficult time," Chiappetta said in the notice.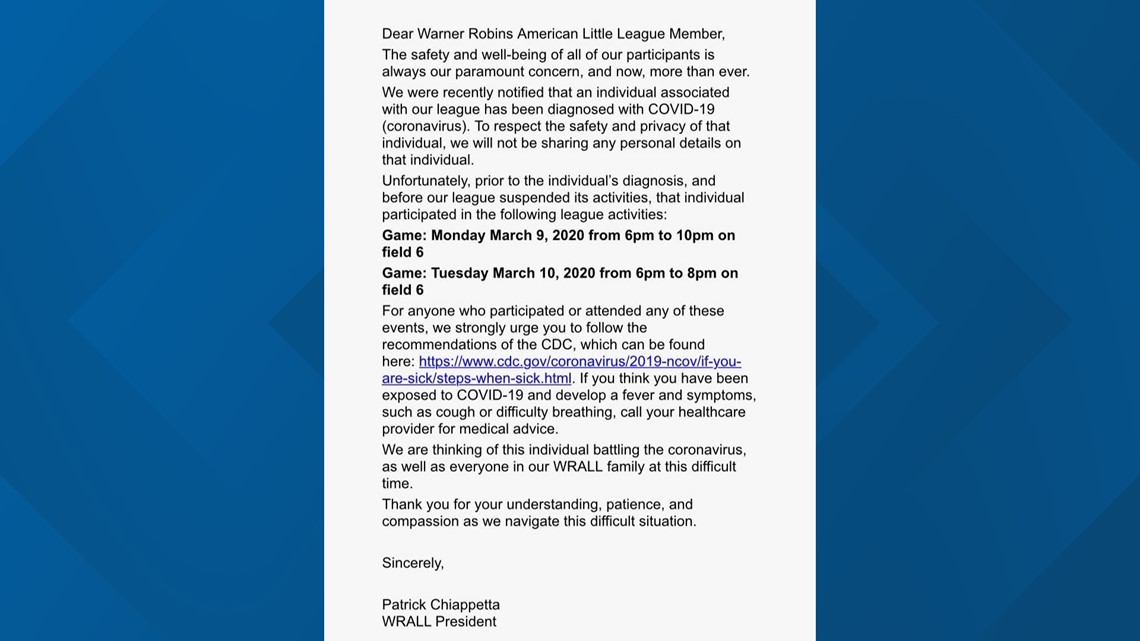 MORE CORONAVIRUS COVERAGE
FACTS NOT FEAR | At 13WMAZ, we're focusing our news coverage on the facts and not the fear around the coronavirus. To see our full coverage, visit our site section here: www.13wmaz.com/Coronavirus.