BOULDER, Colo. — Following several weeks of a steady increase in the number of COVID-19 cases, Boulder County Health issued a new public health order (PHO) requiring residents in a specific age group to halt gatherings.
The order, which takes effect at 4 p.m. Thursday, applies to those between 18 and 22 years old. It will remain in effect for 14 days and is currently set to expire on Oct. 8 unless amended or extended.
The order was later amended to allow "gatherings of more than two persons within the city of Boulder that include any person or persons between the ages of 18 and 22 years."
"Two persons gathered together must follow all public health laws and orders concerning Face Coverings and must comply with Social Distancing Requirements whenever possible," the order says.
In addition to banning gatherings for that age group, residents at 36 properties are under stay-at-home orders.
"The 36 properties that were included include addresses with documented public health violations as well as off-campus group homes that public health has determined represent a significant source of COVID-19 transmission in Boulder County both among residents and visitors," said Boulder County assistant attorney Kate Haywood.
Cases of the novel coronavirus have been rising for nearly three weeks in Boulder County. As of Wednesday, county health officials said there have 1392 confirmed or probable cases of COVID-19 among CU students in that specific age group since Aug. 24.
"We know that the biggest challenges for us is coming from off-campus collegiate group homes," said Jeff Zayach, Boulder County Public Health executive director. "Specifically, social gatherings of the 18-22 year-olds. That is representing the majority of, and is a significant source of COVID-19 transmission in Boulder County right now."
Last week CU announced that it would enforce a 14-day quarantine for students. The university also announced a temporary switch to remote learning.
Those efforts have worked to some extent to reduce gatherings but didn't have as much impact as officials had hoped.
"We are still seeing evidence of gatherings in violation of health orders," said Zayach.
He said that's part of the reason for the new measure prohibiting gatherings among that age group.
"This age group is generating the majority of the challenges right now and this age group can absolutely be a part of the solution," said Zayach. "It's going to take everyone taking responsibility for that individual behavior so that we don't force our community into a place where we have to issue other orders. Or we have to put our county in a position where we damage the economy."
The order includes two key provisions:
Anyone aged 18 to 22 years old anywhere in the City of Boulder may not participate in any gatherings of any size, whether indoors, outdoors, on or off campus, or with individuals of any age.
Residents of 36 addresses identified in the Order who have repeatedly engaged in activities that violate public health orders or who live in congregate living situations must stay at their residence at all times (i.e. Stay-At-Home Order).
"So 18 to 22 year-olds, as long as they are alone and not subject to stay at home requirements, they can go to any business," said Haywood. That would include places such as bars or nightclubs, she said.
Those under the stay-at-home order must stay at their home residence for at least 14 days except for certain essential activities, which include:
To seek medical care, including COVID-19 testing.
To obtain necessary supplies using curbside pickup or contactless delivery only. Necessary supplies include food, pet supply, medical supplies, and products necessary to maintain the safety, sanitation, and essential operation of a residence.
To engage in outdoor activity exercise (e.g. walking, hiking, biking, running, etc.) alone, and able to maintain at least six (6) feet distance from all other persons at all times.
The Order prohibits residents of the identified properties from:
Dining outside of the residence, whether at a business or at another residence.
Using any mode of public transportation or rideshare (e.g. bus, plane, taxi, train, Uber, Lyft, etc.).
Allowing anyone who does not live at the property to enter unless they are an essential visitor (e.g. service provider).
Leaving the property to move to another location, unless specific requirements are met.
Congregating in any common areas at the residence.
Participating in any form of outdoor activity exercise with another person.
Traveling further than walking distance of their residence when outdoors for exercise or work (with exceptions for financial hardship).
The PHO also requires that residents under the Stay-at-Home portion of the order always wear a face-covering whenever outside their residence; maintain social distancing of at least six feet from all other people outside the household; and avoid contact with all others as much as possible.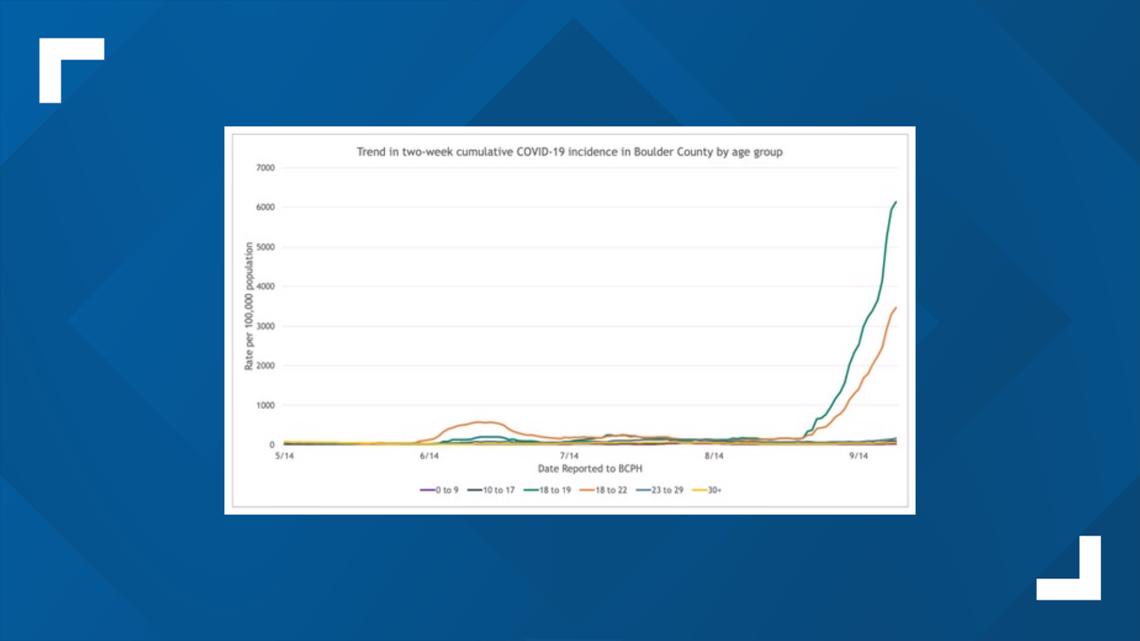 While there has been little evidence of spread of the virus beyond the 18-22 age group, the continued increase in new cases in the city of Boulder prompted the PHO to help prevent the spread to other community members, health officials said.
The PHO prohibits all indoor and outdoor gatherings involving or among 18-22-year-old individuals within the City of Boulder, regardless of where they live or whether they are currently enrolled at CU.
Officials said enforcement would include patrols of "high risk" areas but deferred to the police for any additional details about what enforcement might look like.
CU Chancellor Phil DiStefano said Thursday the university would offer students the opportunity to continue with remote instruction of the remainder of the semester if it is their preference. He said he didn't believe it was a good idea at this point in time to send students home because it could put other communities at risk.
"From a safety standpoint of students going back to their communities. I would not recommend at this time that we ask all students to leave," said DiStefano. "However, we will have to reassess that in the next two weeks."
He also noted that sending students home wouldn't necessarily fix the problem, since many students would remain in their off-campus housing. He is, however, confident that if the orders are followed they will see positive results.
"We knew we would get the spike, the students, for the most have been accountable and responsive, wearing masks, social distancing, and I believe we'll see a bending of the curve," he said.
The governor's office released the following statement Thursday on the health order.
"Governor Polis knows that the better students do avoiding gatherings, the sooner they can get back to in-person learning and the sooner they can resume their regular activities. We know this isn't the school year that any of us imagined, but urgent action is needed to prevent further spread in the community."