DENVER — Erika Vaske said she always wanted to be a nurse.
"A lot of my inspiration came from my mom, who has been a nurse's aid for over 35 years," she said.
But Vaske's path to nursing wasn't a straight line. First, she spent several years in the Army.
"I was an Aviation Officer, I flew Army Apache helicopters," she explained. "I had the opportunity to go to some pretty neat places, see some cool stuff, lead some soldiers and work with really great leaders."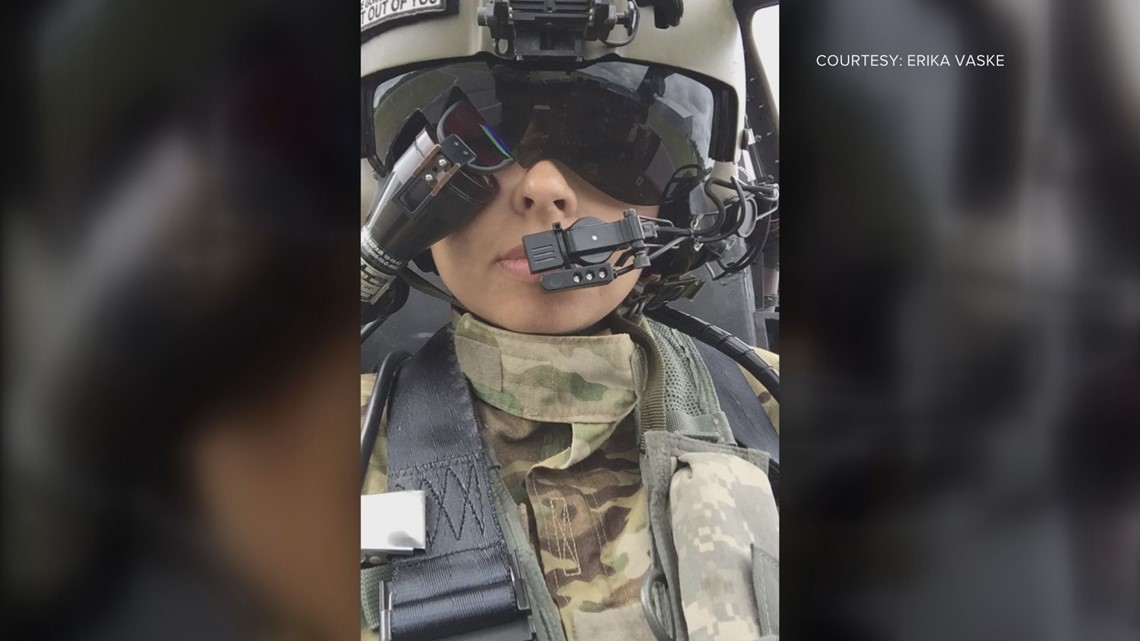 Three years ago, Vaske said she left the Army and began to pursue that long-considered nursing career. She enrolled in the University of Colorado College of Nursing.
This spring, she will complete her studies.
"In two weeks here I'll graduate with a [Bachelor of Science in nursing]," she said Wednesday, with a smile.
Vaske, along with other current nursing students, will enter the workforce in the middle of a pandemic.
"I think, as new nurses, it's going to be really important for us to be sponges, to learn alongside those very experienced nurses," she said. "It's going to be important for us to be resilient, and to remember that we're here to provide compassionate care to our patients especially during such a scary time."
Colorado needs more nurses, and there has been a shortage for several years. Back in 2011, the National League for Nursing said Colorado's shortage was twice the national average, at 11%, and would continue to grow.
Demand for nurses continues, especially during this pandemic.
"We are still seeing that… need. I think now more than ever," said Laura Rosenthal, who has worked as a Registered Nurse for 20 years, and in Colorado as a Nurse Practitioner for 14 years.
Rosenthal serves as the Vice President of the Colorado Nurses Association, is the Colorado State Representative to the American Association of Nurse Practitioners, and a volunteer for the American Red Cross.
She is also an Assistant Dean for the Doctor of Nursing Practice (DNP) program at the University of Colorado College of Nursing.
"I think one of the biggest concerns these nurses need to have is, what kind of support are these nurses going to get from their employer?" she said. "I think it's a dynamic, very changing environment right now. One of the key pieces of advice I gave them is to make sure they have a voice and stand up for themselves and make sure they're safe."
"COVID-19 is unlike anything I've seen in my 20 years as an experienced nurse," she told the audience. "It is not an old people disease, nor a sick people disease."
"In the past six weeks, I've treated patients as young as 25, and as old as 99. I treated a previously healthy 32-year-old male in ICU struggling to breathe, pregnant women, fathers of young children, and entire families are hospitalized and ill, a husband who had never spent a night away from his wife - and was now battling life and death, on his own, in the ICU."
In her speech, she appealed to Coloradans to continue social distancing, wearing face coverings, washing hands and taking other precautions to protect themselves and their community.
"As the weather warms and we transition to the safer-at-home phase, now is the most crucial time for the continued diligence," Rosenthal said.
"We want to be out there enjoying all the amazing things Colorado has to offer, but please take caution and do it slowly and with great precaution. Remember that 30%-50% of people may continue to shed viruses and not have any symptoms. Many are positive and do not have cough or fever. There is still potential [for] rapid disease spread if we are not alert to our surroundings. I ask for your continued commitment to staying at home as much as possible."
As Vaske, the nursing student, prepares to join the nursing workforce – she said she is hoping to work in critical care.
"My experiences in ICU showed me that's where I will thrive, and that's the plan," she said.
She and Rosenthal both said they appreciate the community's celebration of front line workers right now.
"It's really nice seeing the community celebrating all the front line healthcare workers," Vaske said. "But as people start to get tired of staying home, it's important to realize there are still people out there treating these patients and possibly getting exposed. As hard as it is, we have to stay the course."