DENVER — The Colorado Department of Transportation (CDOT) and Colorado State Patrol (CSP) are issuing a reminder about proper seat belt use by pregnant people.
Car Seats Colorado, a partnership between CDOT and CSP, said too many pregnant people are incorrectly using motor vehicle seat belts, a tool that could protect both themselves and their unborn children during collisions.
Analysis of 1,712 prenatal seat belt checks by the UCHealth EMS/Hudson Center for Prenatal Vehicle Safety found only 32% of pregnant vehicle occupants were using seat belts correctly.
"Seat belts are our first line of defense in a vehicle in the event of a crash," said Darrell Lingk, director of the Highway Safety Office at CDOT. "However, their effectiveness hinges on being worn correctly, which can be complex given the unique physical changes that occur during pregnancy."
Motor vehicle collisions are a leading cause of fetal injury and death in the United States, according to the National Highway Traffic Safety Administration (NHTSA). However, proper seat belt use reduces adverse fetal outcomes by 84%, according to academic peer-reviewed research.
According to UCHealth, many pregnant people unknowingly use their seat belt incorrectly. These include the lap belt riding up over the belly, a gap between the clavicle and shoulder belt, and having their belly/chest too close to the steering wheel.
Seat belt fit and vehicle seat positioning for pregnant vehicle occupants recommended by NHTSA and the American College of Obstetricians and Gynecologists:
Seat Belt Fit
Lap belt placed low under the curve of the belly and resting on the hips.

Shoulder belt to the side of the belly and diagonally across the center of the chest.

Shoulder belt crossing the middle of the clavicle, resting on the shoulder.
Vehicle Seat Adjustment
Seat back upright, or as upright as the pregnant person can tolerate.

Seat adjusted back so the belly does not press against the steering wheel and there is at least 10 inches of space between the center of the steering wheel and the chest.

Seat also close enough so the pregnant driver can press the brake pedal to the floor.
Steering Wheel
Tilted so the airbag is directed towards the chest, not the belly or face.

Steering column distance adjusted so driver can comfortably reach the top of the steering wheel while providing space for airbag deployment.
"Expectant parents hold a unique responsibility to protect not just themselves but also their unborn children," said Trooper Kent Trimbach, Car Seats Colorado child passenger safety coordinator. "Many pregnant people may not realize that the way they wear their seat belt could impact their baby's safety so dramatically. By raising awareness and providing clear guidance, our goal is to empower parents-to-be to ensure their safety and the safety of their vulnerable cargo."
"Maternal and fetal mortality are only part of the picture," said Community Outreach Captain for UCHealth Emergency Medical Services Gregory Colton, who champions the issue. "For prenatal patients, motor vehicle crashes lead to higher rates of premature rupture of membranes, placental abruption, premature birth, and low birth weight."
To learn more about car seat, booster seat and seat belt usage and to find more seat-check resources in Colorado, visit CarSeatsColorado.com.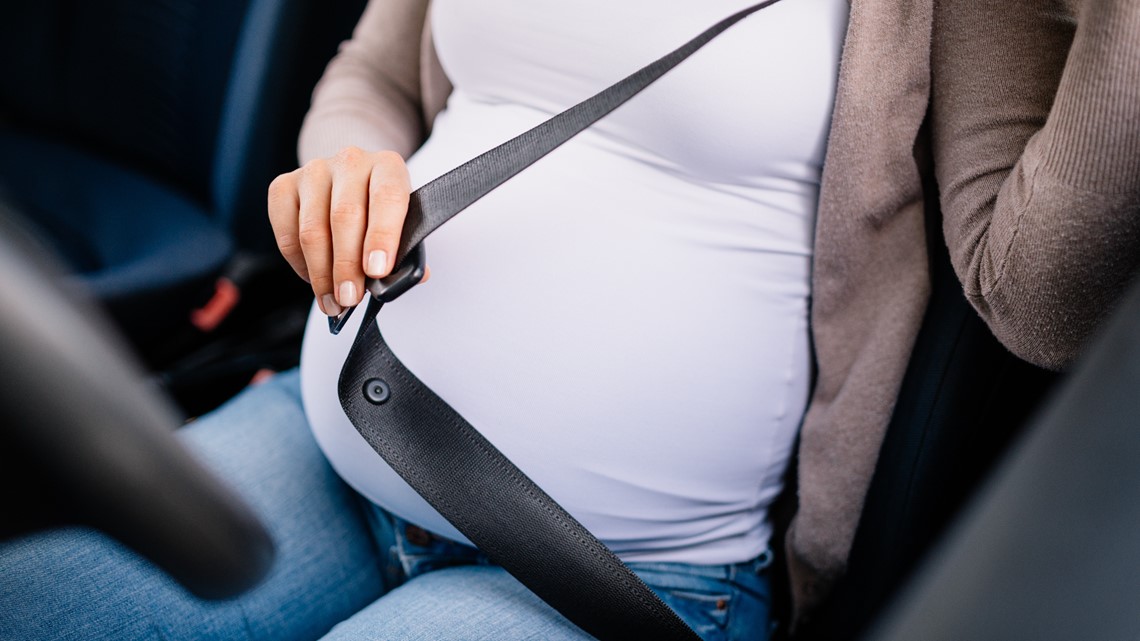 9NEWS+
9NEWS+ has multiple live daily shows including 9NEWS Mornings, Next with Kyle Clark and 9NEWS+ Daily, an original streaming program. 9NEWS+ is where you can watch live breaking news, weather updates, and press conferences. You can also replay recent newscasts and find videos on demand of our top stories, local politics, investigations and Colorado specific features.