AURORA, Colo. — Some moments are more memorable than others, and the brain has a way of remembering the bad ones.
"I think I shook your hand and then I threw up in a trash can in this office because my stomach hurt," said Neriah England, remembering the first time she met her doctor, Dr. James Stephen, a neurosurgeon at the Chiari Institute in The Medical Center of Aurora.
On Wednesday, the two were in that very same exam room a year and a half after England's life-changing surgery.
England, 21, remembers the headaches when she was 10, some powerful enough to put her in the ER.
"At one point in high school my nervous system shut down and I was throwing up from a migraine, and I lost my vision, and I thought I was gonna die," she said.
The symptoms would change to impact her entire body, and in college, she had severe stomach issues and numbing in her hands.
Doctor after doctor could not figure out what was causing her symptoms.
"And I had doctors saying, oh, like 'drink more water,'" England said. "And I was like, 'I am drinking water!'"
Eventually, England was referred to the Chiari Institute, and imaging of her brain showed she had Chiari malformation.
Stephen said it's a rare neuro deformity of the skull that extends down into the spinal cord and causes pressure to build up in the back of the head.
England said she always felt like she had a brick at the back of her neck.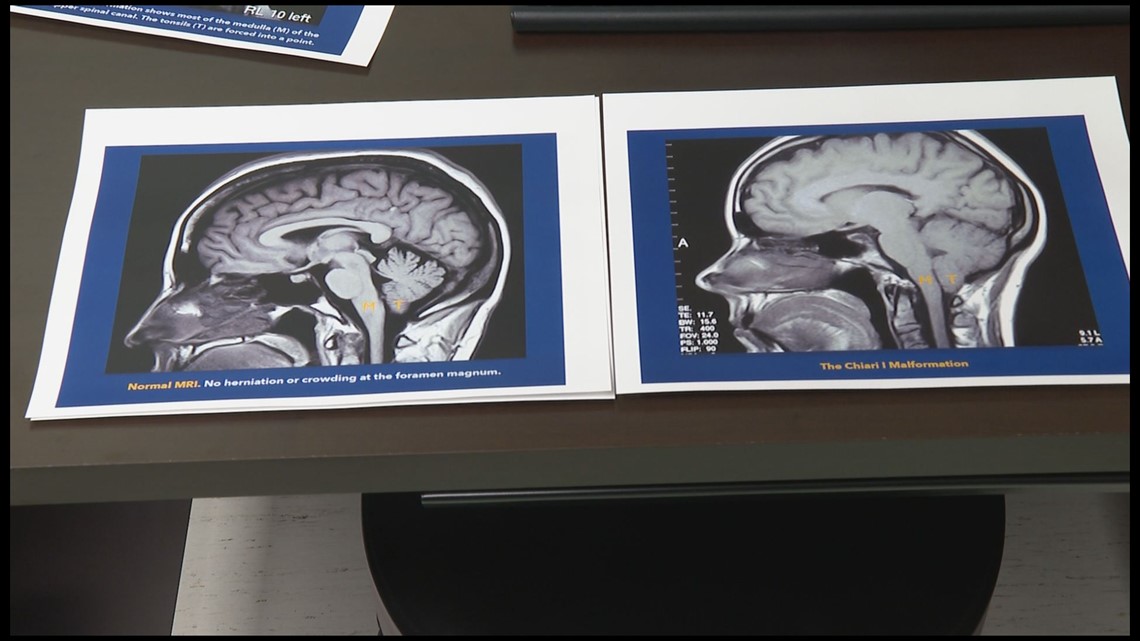 "I think it's crazy that my brain could be messed up like that and just that I could go so long without knowing it," England said.
The malformation is so rare, Stephen said, that many doctors outside of the neuro field aren't aware of it.
"Patients say like, 'Oh, this doctor told me it's in my head,'" he said. "Well it is in your head, that's true, but it's not in the way that oftentimes they sort of feel that people aren't taking their symptoms seriously.'"
Just as bad as the pain were the times when England said people belittled it.
"People start to get annoyed and you start to feel like you're not really believed at all, because you have something that you don't even know is wrong with you," she said. "And people are like 'everyone gets a headache,' so then you're like, I'm a baby because I'm dealing with this poorly."
Once she met with Stephen, that pain was validated, and after she had surgery on her skull, the chronic pain is gone.
"By removing some of the skull and opening up the covering of the brain and just allowing more space for those brain structures to live, she's made a remarkable recovery," Stephen said.
"Just to be able to have that validation of I'm not weak," England said. "I actually was kicking this brain malformation's butt for a long time."