It's not clear what remains in store for a bronze sculpture created in a Boulder, Colo. art studio, but the artist behind it knows it's almost certainly saved at least one life.
As it travels the country in the months and years to come, Anita Miller hopes her work will spark a conversation as to how to help other struggling veterans.
"I don't know if this will feel very familiar to many veterans," Miller said. "I hope so, so they will know they're not alone."
It's a hope that owes its birth to a phone conversation and a promise made more than two years ago.
Anita Miller knew the man on the other end of the line was hurting.
"The day I called him, he said, was the day he was going to, was going to end it," the Boulder artist recalls.
She then told him she had a plan, a plan that involved her working on, and ultimately completing, a sculpture dedicated to him and his vision.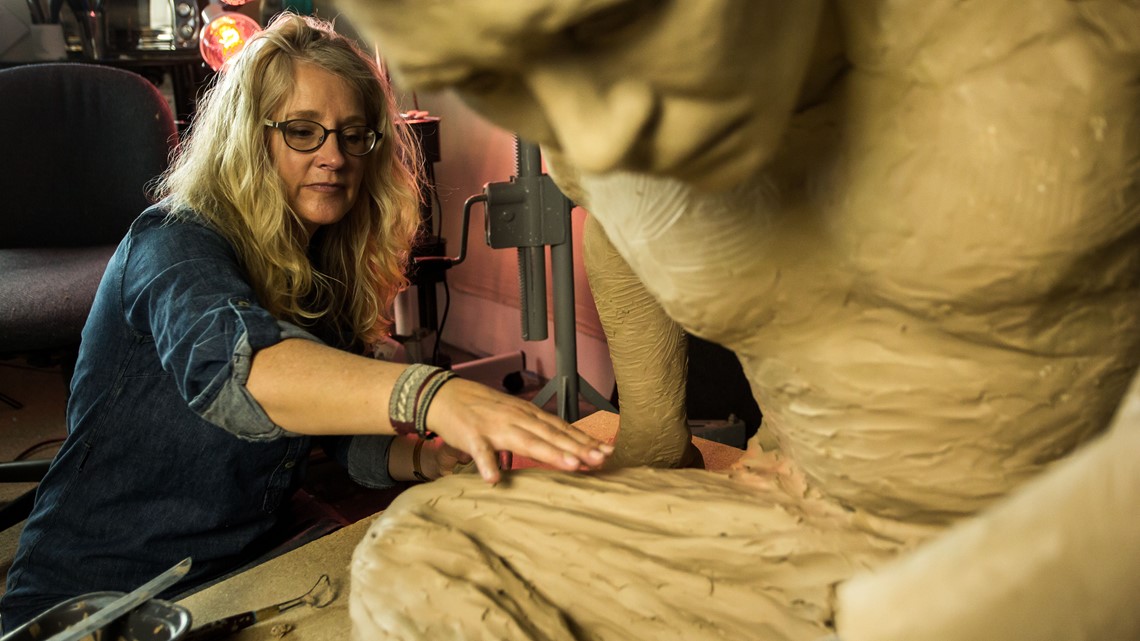 "I made him promise that he wouldn't hurt himself so that when this [sculpture] moves around, he can be a man people can turn to. He said he had to think about it, and he called me back a couple of days later. He said he'd thought about it, and he said he was willing to step forward and be that man," Miller recalled.
More than two years later, the man on the other end of the line fulfilled his promise when "Silent Battle" was unveiled in Lewiston, Idaho.
This is his story and Anita's story.
In the end, in a country where as many as 20 veterans kill themselves daily, it's an American story.
Click on each of the faces above to learn more about that soldier. Don't see the graphic? Click here.
More than a decade ago, Miller had a vision not of a sculpture, but of the faces of the men of Lima Company, 3rd Battalion, 25th Marines.
Once nicknamed Lucky Lima, in 2005, the reserve unit based in Columbus, Ohio, lost 23 men as it took part in Operation Iraqi Freedom. Most of the casualties came from two improvised explosive device attacks.
Living in Ohio at the time, Miller awoke one night with a vision of life-sized portraits of the fallen standing in the Ohio Statehouse Rotunda.
She made a point of trying to speak with the families of each one of the 23.
"The families started coming by [my studio] one by one. The more they came, the more they began to feel the son's presence in the studio," said Miller.
Three years later, Miller's vision came to life in Columbus. "Eyes of Freedom" has toured the country ever since, with Mike Strahle as its director.
Strahle served alongside many of the 23.
"I mean, these are my guys. What better job could I have? If the roles were reversed, they'd do the same for me," said Strahle.
As "Eyes of Freedom" wound its way through northern Minnesota, Strahle and his staff noticed a visitor whose own eyes suggested an inner conflict. He tried to walk out.
Strahle escorted him back in.
"He was struggling with life, struggling without his veteran community," recalled Strahle.
The more Strahle learned, the more he realized the exhibit had a hole.
Dedicated to the men who died in the war, it also needed something to address the battle that some veterans had taken home from the war.
Strahle contacted Miller who then contacted the visitor.
In 2016, "Silent Battle" was underway.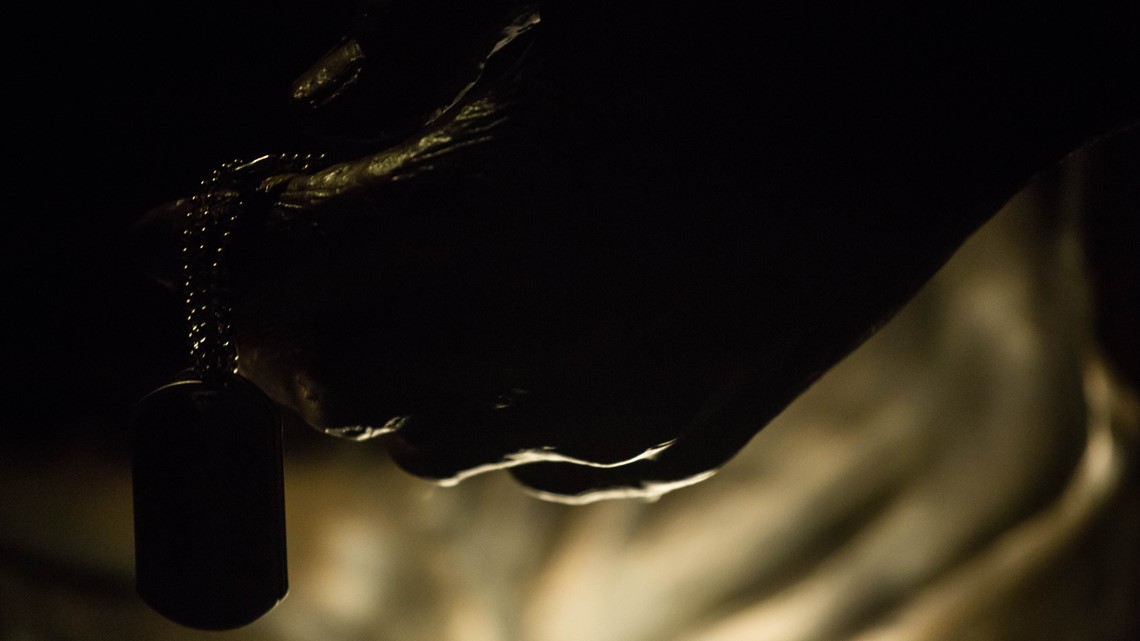 If you or someone you know is struggling with depression and/or suicidal thoughts, you should know there is help.
The Veterans Crisis Line is 1-800-273-8255. Press 1 when prompted.
You can also send a text message to 838255 or chat online.
Warning signs of suicide, according to ReportingonSuicide.org include:
Talking about wanting to die
Looking for ways to kill oneself
Talking about feeling hopeless or having no purpose
Talking about feeling trapped or having unbearable pain
Talking about being a burden to others
Increasing use of alcohol or drugs
Acting anxious, agitated or reckless
Sleeping too little or too much
Withdrawing or feeling isolated
Showing rage or talking about seeking revenge
Displaying extreme mood swings
If someone you know exhibits warning signs of suicide, experts urge you to not leave the person alone and consider taking the person to an emergency room or to seek help from a mental health professional.
Not all veterans are suicidal. In fact, a clear majority of them are doing just fine, but that does little to help the small percentage who feel alone.
Veterans continue to kill themselves at a rate higher than the national average. Last year, in its most exhaustive study to date, the Veterans Administration concluded as many as 20 veterans a day kill themselves.
On this Memorial Day, we stop to remember those who died in combat.
And, we believe, we should also stop to remember lives inexorably changed by their time serving our country.
Lives like the one lived by Ian Curtis of Lewiston, Idaho.
We met Ian Curtis' family near the end of shooting "The Promise."
Lewiston was selected as the place to unveil "Silent Battle," in part, because of its recent struggles with veteran suicide.
Ian Curtis took his life in 2014.
The night the town celebrated the debut of "Silent Battle," Ian Curtis' mother and widow sat quietly in the crowd.
As Anita Miller introduced her sculpture, she urged people in attendance to come up and touch "Silent Battle."
"Put your hands on him," she said.
Minutes later, Gail Gallagher approached the battle-scarred sculpture with Ian's widow Elayna Curtis.
"When Anita talked, she said, come up. It's a magnet. Energize it. And so, I embraced it for my son. I wanted to have that love matter," said Gallagher.
"Let this matter," she added. "Take it forward, so that it's not all for nothing you know." #LetThisMatter