Boulder artist Anita Miller hoped her sculpture would help start a conversation and let veterans know that they don't have to fight a silent battle alone.
"I don't know if this will feel very familiar to many veterans," Miller said. "I hope so, so they will know they're not alone."
The sculpture, called "Silent Battle" was inspired by the vision of one veteran who was struggling with thoughts of suicide and depression.
"I made him promise that he wouldn't hurt himself so that when this [sculpture] moves around, he can be a man people can turn to. He said he had to think about it, and he called me back a couple of days later. He said he'd thought about it, and he said he was willing to step forward and be that man," Miller recalled.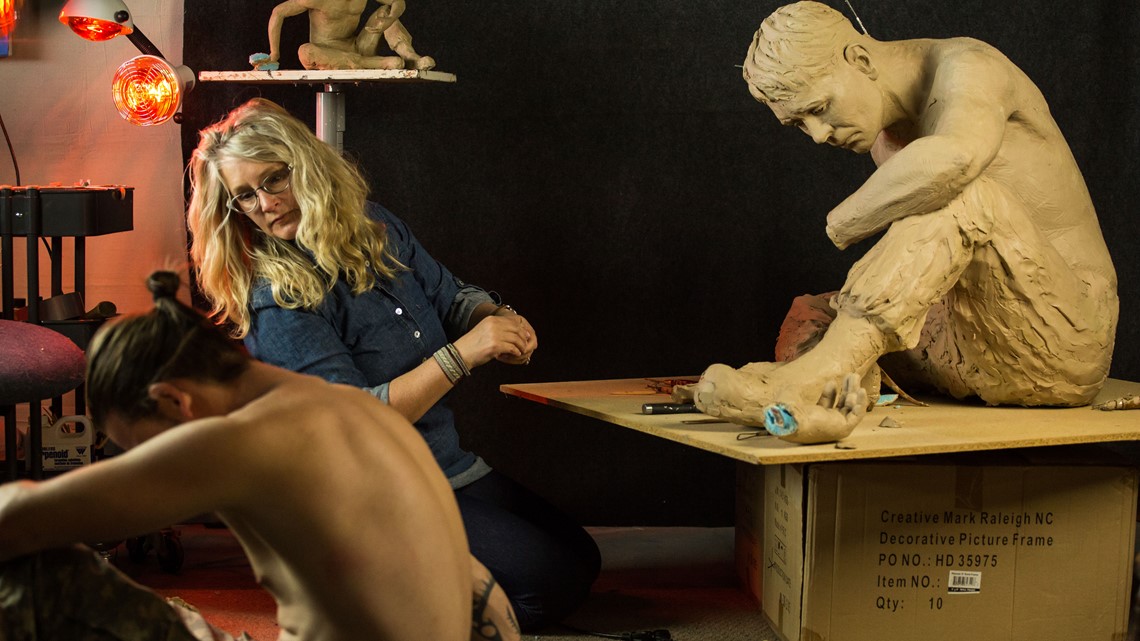 The artwork is designed to start a conversation about mental health, depression and suicide among veterans. If you're a veteran, a family member or friend, there are resources to help you or your loved ones who may be struggling.
The Veterans Crisis Line is 1-800-273-8255. Press 1 when prompted.
You can also send a text message to 838255 or chat online.
In 2016, the Department of Veterans Affairs released the results of a multi-year study into veteran suicide. On average, 20 veterans die from suicide each day.
According to the VA study, more than half of all veterans who died by suicide in 2014 were 50-years-old or older, but the rate of suicide among 18-29 year-olds has increased dramatically since September 11, 2001.
Further, the rate of suicide among women veterans was 2.5 times higher than that of U.S. civilian women. The Department of Veterans Affairs has dedicated numerous resources to uncovering and understanding suicide among veterans to identify risk factors and develop treatments.
Warning signs of suicide, according to ReportingonSuicide.org include:
Talking about wanting to die
Looking for ways to kill oneself
Talking about feeling hopeless or having no purpose
Talking about feeling trapped or having unbearable pain
Talking about being a burden to others
Increasing use of alcohol or drugs
Acting anxious, agitated or reckless
Sleeping too little or too much
Withdrawing or feeling isolated
Showing rage or talking about seeking revenge
Displaying extreme mood swings
If someone you know exhibits warning signs of suicide, experts urge you to not leave the person alone and consider taking the person to an emergency room or to seek help from a mental health professional.
Carl LoFaro, manager of the Veteran and Military Family Services at the Jefferson Center for Mental Health said it's important for people to talk about thoughts of suicide.
"The one thing people can do is ask the question, ask it directly and with confidence and be prepared to hear either answer," LoFaro said. "You asking that question gives someone permission to talk about what's going on inside of them – you give someone the opportunity to talk about something that is bothering them without judgment, that could save a life."
Resources for Veterans in Colorado
Colorado Crisis Services Hotline 1-844-493-TALK
If you are in crisis or need help dealing with one, call this toll-free number 1-844-493-TALK (8255) or text TALK to 38255 to speak to a trained professional. When you call Colorado Crisis Services, you will be connected to a crisis counselor or trained professional with a master's or doctoral degree.
Jefferson Center for Mental Health
The Veteran and Military Family Services team provide outpatient counseling for veterans and their family members outside the VA. You can reach them at 303-425-0300.
The Steven A. Cohen Military Family Clinic at University of Colorado Anschutz Medical Campus
Contact (303) 724-4255. Services are available to veterans and family regardless of discharge status, role while in uniform, combat experience, ability to pay or insurance.
The Rocky Mountain MIRECC for Suicide Prevention
The Rocky Mountain MIRECC is a Veterans Affairs research center housed in Denver. The center develops clinical treatments and education materials to prevent veteran suicide.