KUSA – A large plume of smoke was visible across the Denver metro area Tuesday afternoon after a fire broke out at a recycling facility in unincorporated Adams County.
STORY | Smoke, flames still visible morning after recycling plant fire
Given the size of the blaze, many 9NEWS viewers had questions about its impact on air quality – especially as smoke from this fire mixes with the pollutants coming from fires across Colorado.
Here's what we learned from Dr. Anthony Gerber, a pulmonologist at National Jewish Health.
PHOTOS | Smoke from recycling fire northeast of downtown visible for miles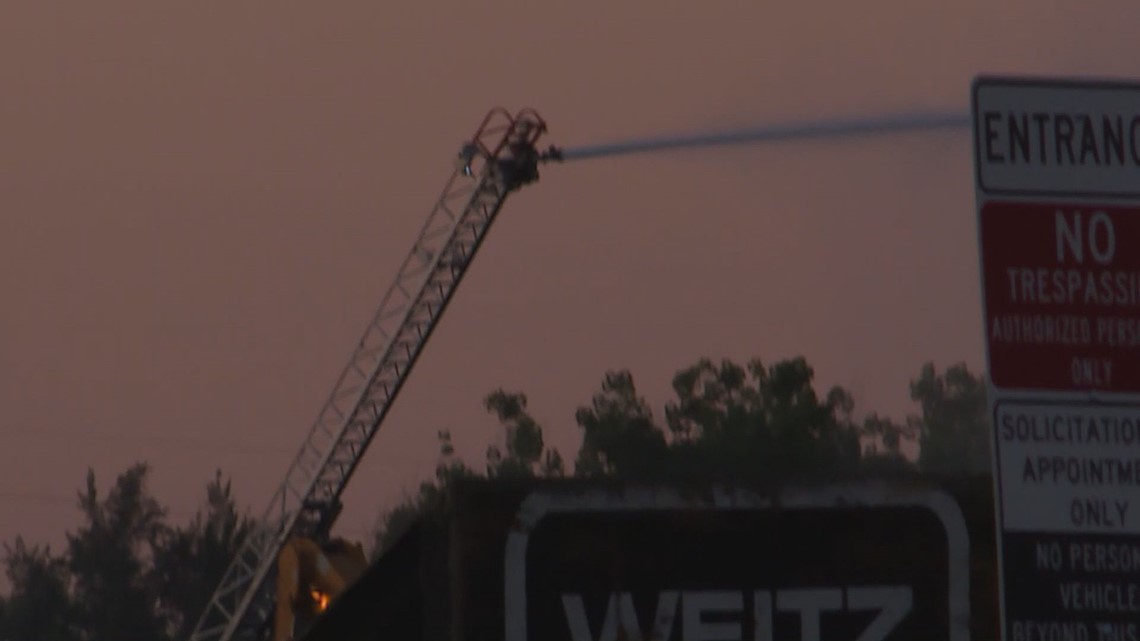 Who's the most at risk?
Sky9
Kind of like with forest fires, people with asthma, existing lung disease, the very young and the very old are the most at risk for breathing troubles due to bad air quality. That means if you have a preexisting condition and there's a fire like this one, stay inside.
If you don't have a preexisting breathing issue, what should you know?
Sky9
Tuesday night was not the time to go for a jog in the part of unincorporated Adams County in the immediate vicinity of the fire, according to Gerber.
And, if visibility was obscured by smoke where you were and you could smell the fumes, you were definitely breathing in more particulate matter from the pollution than someone in another part of the city.
Quick science detour: Gerber described particulate matter as small molecules of stuff in the air that's not gas (unlike ozone). The particulates in the air are different in a wood fire than a metal fire.
Courtesy Billy Fenwick
"Some of the stuff which comes out of a fire like that can add chemicals into the air which might contribute to ozone the next day or even later and that can have a more general effect," he said.
Another potential risk of breathing in contaminated air? The risk for some sort of infection days later.
And if you find yourself exposed to particulates/air toxins on a regular basis, it's possible that lung function can permanently damaged, according to Gerber.
People could see the smoke in places as far away as Golden. Are they at risk?
Sky9
It depends on the wind, Gerber said, and there's no hard and fast answer to this question.
"In general, if where you are, if the visibility is OK, so if you can, you know, have fairly unobstructed visibility say to the mountains in the distance, probably the particulates are not that high in that specific area," Gerber said.
That's different from the smoke that comes from wildfires, which sometimes can be smelled as they drift distances in the hundreds of miles.
Courtesy Alexandra
"You could see that plume from City Park in Denver, but you couldn't really smell anything in City Park as opposed to some of the days when there are wood fires where there's just a much larger mass of burned material and particulates that kind of blow on in here," Gerber said. "You can sometimes smell that acrid smell of a wood fire, you know of a wildfire, when it's a hundred miles away versus this – it tended to be more localized.
"And that's not to say that people right near there or downwind of it might not have smelled it, might not have had an effect, but I don't think this had a general effect on the Denver metro area the way some of the other fires can have an effect."
What can you do about this?
Sky9
Gerber said those face masks you can buy at the drug store aren't the most effective – in fact, the only ones that really work are industrial-grade. The best bet is to just avoid exposure to the air.
If you're in one of the high-risk groups for breathing issues due to pollutants like this, Gerber recommends checking the Colorado Department of Public Health and the Environment's air quality maps for information about where not to go: https://www.colorado.gov/airquality/
But seriously though … should this fire worry you more than others?
"I would say that the effects from that fire were probably, you know, reasonably limited to the immediate vicinity," Gerber said.