Unlicensed Colorado day care had been warned to stop operating 6 years before death of infant
Despite being told to stop operating multiple times, court documents say the woman operating an unlicensed day care in Douglas County continued to do so.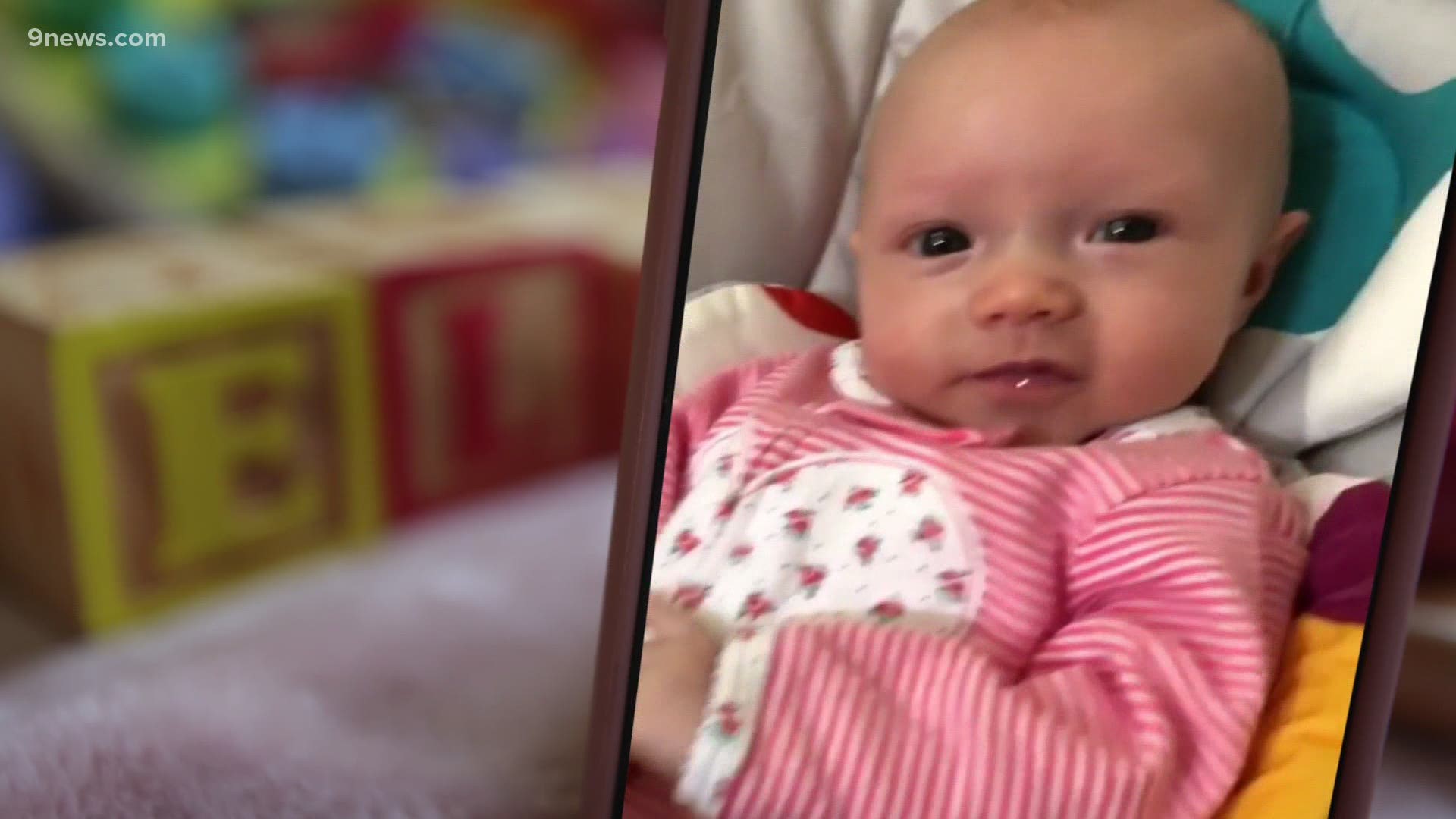 A phone call no parent wants to receive
:
3-month-old Elle Matthews died while she was being taken care of at an unlicensed daycare
Kelsey Matthews was in a work meeting when her phone buzzed with a call from her day care provider – she let it go but then almost immediately felt compelled to call back.
"I just kind of had this feeling, like, I don't understand why she's calling," Matthews told 9Wants to Know.
After hitting redial, Kelsey was shocked when it was a first-responder, not her day care provider, who answered. And what he said was bewildering: Her 3-month-old daughter, Elle, was on her way to the hospital – could she meet her there?
"And I said, 'What happened – is she alive?'" she recalled. "And he said, 'I don't know, ma'am. I was not on the scene when she was transported.'"
Kelsey reached her husband, Tony, and they both rushed to the hospital.
It had been a regular morning. Kelsey and her two daughters – Elle, and her 3-year-old sister – stopped for doughnuts, then headed to the Parker-area home where day care provider Amanda Anderson operated her business.
"Both of the girls went into the house," Kelsey said. "My daughter took her shoes off. I unbuckled the baby, got her out, gave her kisses, handed her over to Amanda and told her to have, you know, a great day, told my 3-year-old to have a great day, and left and went to work."
Now she and her husband were being ushered to a room at Sky Ridge Medical Center.
"They took us back," Kelsey said, fighting back emotion, "and they had the curtains pulled in her room and as we were walking you could hear the nurse say, here comes the parents, here comes the mom and dad. And they pull back the curtain … and there was her little body laying on a big, you know, standard bed.
"And she was in her diaper and you could just tell that she was already dead."
Kelsey reached for her baby.
"I touched her arm and I said, please come back, please come back to me," she said.
But Elle didn't come back.
The little girl with wisps of light hair – who smiled, cooed and laughed her way through cell-phone videos – was gone.
PHOTOS: Remembering Elle Matthews
Nearly six months later, Elle's death remains shrouded in mystery, and her parents have endured not only the heartache of loss but a series of surprising disclosures that have left them grappling for answers.
They knew Anderson, who had been caring for their older daughter for a couple years, wasn't licensed.
They didn't know that Anderson was caring for 17 children that day, a shocking discovery laid out in court documents obtained by 9Wants to Know. That far exceeds the limits set by the state for unlicensed day care providers like Anderson.
On top of that, the couple learned the state had repeatedly told Anderson to shut down because she'd run afoul of rules for unlicensed day cares like hers – but she never did.
Within days of Elle's death, according to court documents, she was again caring for young children. Ordered to shut down, she kept on providing day care, according to court documents.
Anderson, 34, faces two felony charges – child abuse-carelessly or recklessly causing death, and tax evasion.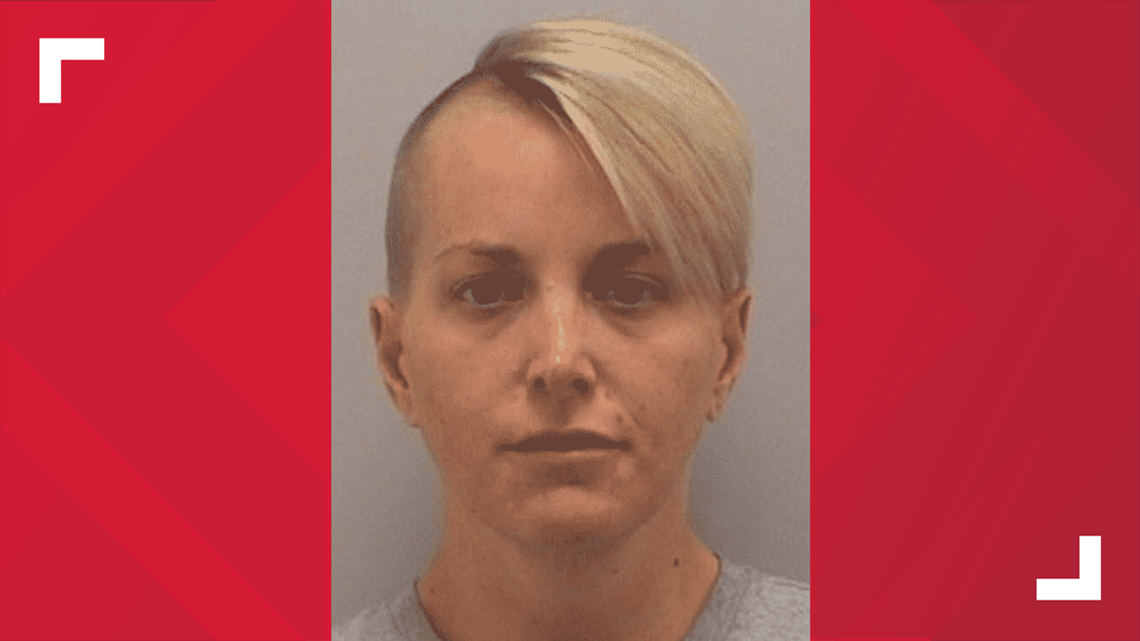 Due back in court Friday, she did not respond to multiple messages left by 9Wants to Know.
An attorney who represented her until recently withdrawing from the case also could not be reached.
And officials at the Office of Early Childhood, a part of the Colorado Department of Human Services, refused a request for a sit-down interview, leaving unanswered what kind of follow-up was done after Anderson was told to stop providing unlicensed day care to make sure she actually heeded the orders.
In a written statement, Madlynn Ruble, spokeswoman for the Office of Early Childhood, said, in part, "Transparency is very important to our department and the administration and we are heartbroken and appalled that children have died in the hands of irresponsible unlicensed child care facilities in our state. This is something that we would like to discuss, but right now, this is an open law enforcement case and an active court case, and we cannot compromise the integrity of that process."
When do daycares need a license?
:
Daycares need a license to care for more than four children
Kelsey and Tony Matthews met Anderson in the fall of 2018, when their older daughter – who they asked not be named – was about 16 months. A colleague of Kelsey's had recommended her, and the couple met with her one evening.
They took with them a series of questions recommended by Colorado Shines, a program that helps parents find safe day care.
"One of them was, is she licensed?" Kelsey told 9Wants to Know. "And she replied with, no I'm not."
According to Kelsey, Anderson gave a number of reasons for deciding not to become licensed with the state – citing regulations she would have to follow that she did not agree with.
For instance, Kelsey said, Anderson told the couple that if a child in her care had an allergic reaction, she would be prohibited from using another child's medication even in an emergency. Kelsey said Anderson also told them she wanted to be able to live her life with her family, and have her children be part of the experience – but if she were licensed even a detail as seemingly inconsequential as where she could store her family's shampoo would be regulated.
"She gave us what we felt like at the time were, you know, valid reasons for, for her not wanting to be a licensed," Kelsey said. "We did follow up with her with questions. We did tour her house. We asked where our daughter would be sleeping– things like that. Everything seemed to really check out."
Kelsey said Anderson told her she'd be caring for anywhere from seven to nine kids – two of whom would be there part-time.
The couple had no idea that exceeded what state law allows for unlicensed day cares:
They can care for no more than four children who are not related to each other – and no more than two of them can be under age 2.
Or they can care for children they are directly related to, children who are siblings from an unrelated family, or a combination of both.
Over roughly two years, the couple had a good experience with Anderson – and after Elle was born, it was an easy decision to send her there as well.
"She said it was a normal day, a regular day"
:
Elle Matthews was found unresponsive on Aug. 26, 2020
According to court documents, Anderson called 911 the afternoon of Aug. 26, 2020, reporting that she'd put Elle down for a nap and returned later to find her unresponsive.
Paramedics rushed her to Sky Ridge Medical Center, where she died a short time later.
When Douglas County sheriff's deputies questioned Anderson, she initially said she lived at the home with three children of her own and was watching six others who were inside the house, according to court documents.
But when a deputy asked her to sign a form allowing them to search the home, she refused, according to court documents.
It wasn't until later that day that deputies obtained a search warrant and entered the home.
While they waited, deputies kept a tally as parents picked up their kids.
They determined there were 17 kids in the home – Anderson's 7-year-old daughter and 16 others, records show. That included three infants, five children who were between 1 and 2 years old, and four more who were between 2 and 3.
Besides Anderson's daughter, the oldest of the kids was 5, according to court documents.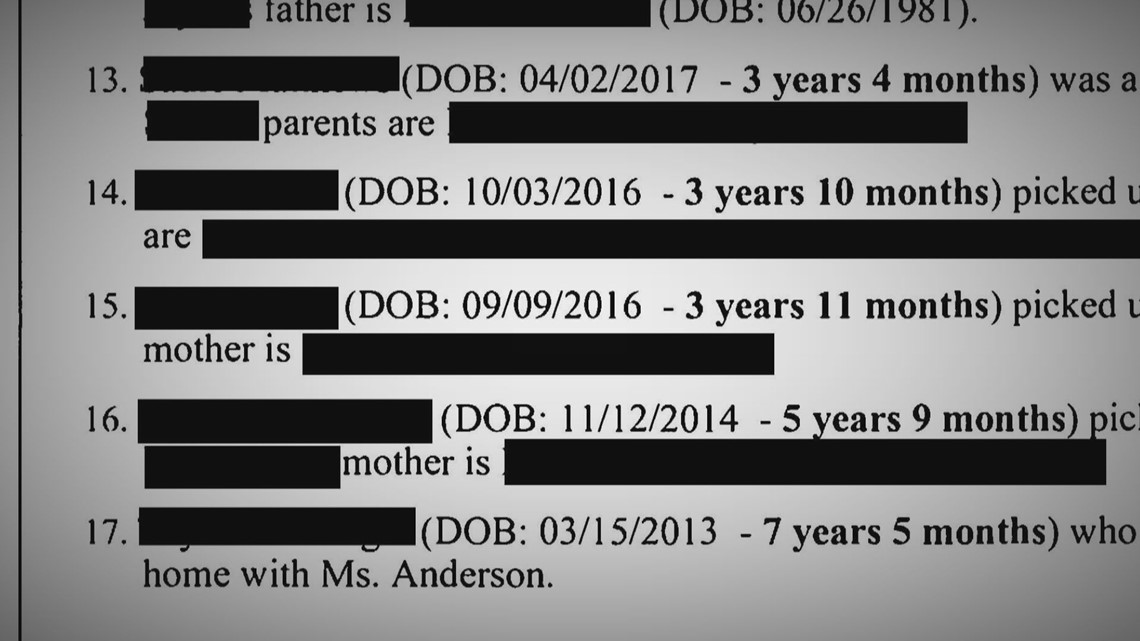 The day after Elle died – before Kelsey and her husband knew how many kids were in the house – she called Anderson.
"She was crying and was apologetic," Kelsey told 9Wants to Know. "And I said, you know, what happened? And she said it was a normal day, a regular day."
Kelsey said Anderson described giving Elle a bottle, putting her down for nap, and then returned three times to check on her. The first two times, everything was fine. The third time, Elle wasn't breathing.
Kelsey's reaction when she found out there were 17 kids in the house that day?
"Disbelief, like not even able to wrap my head around it," she said. "Tracing back through all of the interactions that I ever had with Amanda, trying to see if she had ever said something that would have been a red flag or could have been a red flag."
She came up with nothing.
There was something else in that conversation that raised questions in Kelsey's mind.
She said she had made it clear she wanted Elle to take her naps in a DockATot – a small, bed-like structure for babies. She said when she spoke to Anderson, she asked if the police had taken Elle's DockATot as evidence?
"She paused for a second and she said, no they didn't, and they forgot it – it's in the laundry room," Kelsey said.
And it puzzled detectives, too, according to court documents – neither Anderson nor her attorney, who responded to the home, ever mentioned the DockATot. It wasn't in the bedroom where Anderson said Elle had been sleeping.
In fact, according to court documents, both Anderson and the lawyer said Elle "was napping in the master bedroom, on the master bed, during the time we were on scene on Aug. 26, 2020."
When deputies asked about it the next day, they were told the DockATot was in the laundry room on a different floor.
Elle's parents knew of no serious medical problems.
"She was never sick, never had a cold – the only time that she was ever given medication was after her first round of shots," Kelsey said. "There was nothing that we knew of that would have caused her to pass."
After an autopsy, a forensic pathologist found no signs of trauma but could not determine how Elle died. However, Dr. Dawn B. Holmes, the pathologist, wrote that suffocation in soft-bedding or smothering "cannot be definitely excluded."
Repeat warnings but no changes
:
Documents show Amanda Anderson had been accused of breaking state law as far back as 2014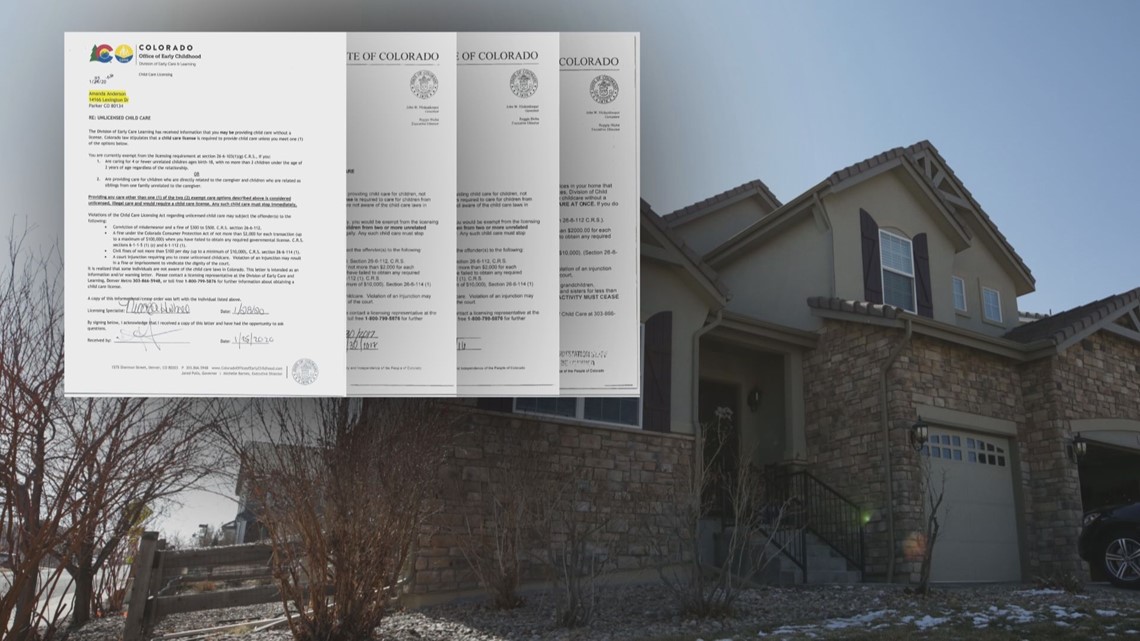 Investigators quickly determined that state officials had been told as far back as 2014 that Anderson was violating state law – providing care to too many children from too many families. Documents obtained by 9Wants to Know show they repeatedly told her in writing to stop:
March 26, 2014: An order to "cease all unlicensed child care at once."
Sept. 16, 2016: A warning that "if you are providing child care services for children from two or more unrelated families at the same time on a regular basis, you are doing so illegally. Any such child care must stop immediately."
March 30, 2017: Another order to stop "immediately."
Jan. 28, 2020: Another order, which noted that caring for more than four kids or children from more than one other family besides her own "is considered unlicensed, illegal care and would require a child care license."
Eight months after that last order, Elle Matthews died. The state again ordered her to stop providing unlicensed day care.
But court documents show it didn't stop her – and call into question why there wasn't follow-up to make sure she did stop.
According to a motion for a permanent injunction, filed by the Colorado Attorney General's Office, within days of Elle's death Anderson told other parents the girl was a victim of Sudden Infant Death Syndrome and that "she was reopening her day care."
Sheriff's deputies outside her home the next week observed vehicles pulling into Anderson's driveway and parents dropping off kids.
Then came another order to stop.
On Oct. 12, deputies went to Anderson's new home to arrest her in Elle's death.
"On the day of her arrest," according to the motion for the injunction, "Ms. Anderson was providing care to unrelated children."
A judge has issued a temporary order barring Anderson from providing day care. A hearing where that order could be made permanent is scheduled for April 29.
Although no one from the Office of Early Childhood would answer questions, a woman who has worked in child protective services as a caseworker, investigator and supervisor told 9NEWS that the kind of practices Anderson is accused of engaging in put kids at risk.
"I think at its core, children, especially young children, are completely dependent on their caregivers to meet all of their basic and essential needs," said Kelly Garcia-Brauch, who is also a licensed therapist. "And when there is gross misconduct at how children are cared for, it puts children at risk of harm and potentially a fatality."
Her reaction to the report that 17 children were in the home?
"I'm disgusted," she told 9Wants to Know.
And she similarly lamented the failure of anyone to shut the day care down before Ellle's death.
"I think it speaks to the lackadaisical nature, unfortunately, at times of the government entity that governs those practices," she said. "My question to that is, is this a lack of knowledge and training to fulfill your job responsibilities? Or is this deliberate negligence on the part of the governing entity. And I can't answer that."