KUSA — The company whose truck was involved in a collision with a school bus has a "conditional" safety rating – the equivalent of being on probation – from the Federal Motor Carrier Safety Administration, 9Wants to Know has learned.
RoadSafe Traffic LP, operating at RoadSafe Traffic Systems Inc., is above the national average for incidences in which its vehicles or drivers were taken out of service, according to federal records obtained by 9NEWS.
"Investigators do an audit, and the company is then informed that it is not satisfactory and it is required to come up with a corrective action plan," said Duane DeBruyne, a spokesman for the FMCSA. "That could include hiring a full-time safety manager and other things.
Photos: Weld County school bus crash along County Road 49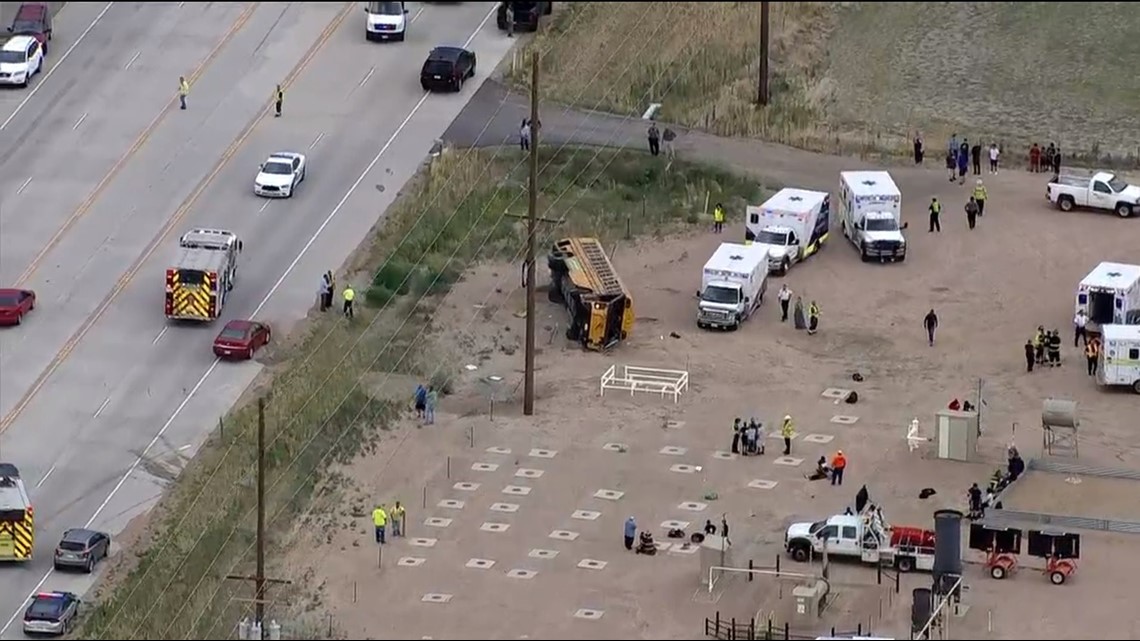 "So speaking generally, if a company has a conditional rating and is involved in a crash, they could be put out of business."
Maggie Bennett, RoadSafe's vice president and general counsel, declined to discuss Thursday's crash or the company's federal safety rating and said Thursday's crash was being investigated. The company released a statement Friday morning: "We extend our deepest sympathies to all those on board the school bus involved in the accident. We deeply regret the accident, and are launching a full investigation into what happened. Safety is our first priority, and we are doing what we can to help first responders, law enforcement, those who were injured, and their families."
RoadSafe has been operating in Colorado since 2003, according records on file with the Secretary of State's office.
Thursday's crash occurred on a county road about four miles northeast of Hudson. According to Trooper Gary Cutler of the Colorado State Patrol, a RoadSafe truck sideswiped a Weld County School District 6 bus in a near head-on collision.
The northbound bus – carrying 29 students, four adult chaperones and the driver – was returning from a day trip to Elitch Gardens in Denver when the southbound pickup drifted across the center line after the driver apparently fell asleep at the wheel.
Cutler said the bus then slid off the road and rolled over once and stopped on its side.
A total of 29 people were transported to areas hospitals, and although several had serious injuries none were believed to be life-threatening.
Cutler identified the truck driver as William J. Carroll, 36, of Littleton. Troopers issued him a ticket for careless driving causing injury.
There is no suspicion that drugs or alcohol were involved in the incident. Carroll could not be reached for comment Friday.
According to court records, he has one prior traffic citation in Colorado – a 2011 ticket in Cherry Hills Village. He ultimately pleaded guilty to driving while his license was under restraint and making an illegal lane change.
STORY | Truck driver may have fallen asleep at the wheel before hitting school bus nearly head-on, CSP says
According to federal records, in the past two years RoadSafe has been the subject of 124 inspections, some of which also included driver or hazardous materials examinations.
In each category, RoadSafe was above the national average for incidence of problems:
- Over the course of 90 vehicle inspections, 23 were taken out of service. That's a rate of 25.6 percent – the national average is 20.7 percent. –
- Over the course of 124 inspections involving drivers, 12 were taken out of service. That's a rate of 9.7 percent – the national average is 5.5 percent.
- -Over the course of 7 inspections involving hazardous materials, 2 results in "out of service" orders. That's a rate of 28.6 percent – the national average is 4.5 percent.
Federal records also showed that the company's vehicles have been involved in 15 crashes in the past two years, three of which resulted in injuries. The crash records do not assign responsibility for the accidents, so it is impossible to know who was at fault.
DeBruyne, the Federal Motor Carrier Safety Administration Spokesman, said that generally when a company has a "conditional" safety rating "they submitted a corrective action plan and if the investigation shows they didn't adhere to that plan, that is going to be a very big consideration."
He was traveling and unable to determine Friday if RoadSafe had submitted such a plan.
According to its website, RoadSafe "is the nation's largest provider of temporary traffic control and protection, pavement marking and sign installation services."
9NEWS reporter Jordan Chavez contributed to this report.
Contact 9NEWS reporter Kevin Vaughan with tips about this or any story: kevin.vaughan@9news.com or 303-871-1862.