DENVER — Coroners across the United States will find it much more difficult to list "excited delirium" as a cause of death following a recent decision by the National Association of Medical Examiners (NAME) to distance itself from the controversial term.
The medical examiners association broke the news to the 9NEWS ORIGINALS team late last month after repeated attempts by 9NEWS to get the association to comment on the matter for an ongoing investigation.
"NAME does not endorse use of the term 'excited delirium' as a cause of death," wrote Dr. Joyce DeJong, the 2023 NAME president, to reporter Chris Vanderveen in a March 31 email.
It was a stunning clarification for an organization that has repeatedly, over the course of many years, declined to publicly criticize the term.
While "excited delirium" is not recognized as a diagnosis by both the American Medical Association and the American Psychiatric Association, law enforcement officers and coroner's offices have used the term, for years, as an explanation for why people suddenly die after oftentimes violent altercations with police officers and sheriff's deputies.
Excited delirium, according to some, represents a confluence of characteristics marked by, among other things, severe agitation, imperviousness to pain, profuse sweating, high body temperature, and – on occasion – sudden, unpredictable death.
Officers in Minneapolis thought George Floyd had it. So did officers in Aurora when they took Elijah McClain to the ground in 2019.
Through an examination of autopsy reports, police reports and court filings, 9NEWS has identified 139 deaths since 2010 in which the term was used to try to explain why the person might have died in the first place. All but two happened during or immediately after law enforcement involvement.
Coroners and medical examiners wrote the words "excited delirium" on at least 96 – or nearly 70% – of the cases we examined.
In Colorado, the decision by NAME is bound to put some county coroners' offices in some awkward spots. One of those offices is the Adams County Coroner's Office, headed by Monica Broncucia-Jordan.
Whatever was going on in Paul Egli's head on an August evening in Adams County, it wasn't good. A clerk at a motel called dispatchers to let them know something was wrong.
"There's a guy walking around in his underwear," the clerk said. "I don't know if he's drunk or high or what."
Surveillance video shows the moment the first Adams County Sheriff's Office deputy arrived. Egli, still in his underwear, spotted the deputy and made a beeline in the opposite direction.
A report from the 17th Judicial District Attorney's Office outlined what happened next.
The deputy "approached the male from behind and attempted to place handcuffs on the male. The male attempted to roll away … [before the deputy] brought the male to the ground," according to the report. "The male continued to resist arrest."
More deputies arrived. There was some sort of a fight. Handcuffs were finally placed on Egli, and then he stopped breathing.
One month later, the Adams County Coroner's Office attempted to solve the mystery.
"Cause of death: Cocaine-Induced Excited Delirium," read the autopsy report.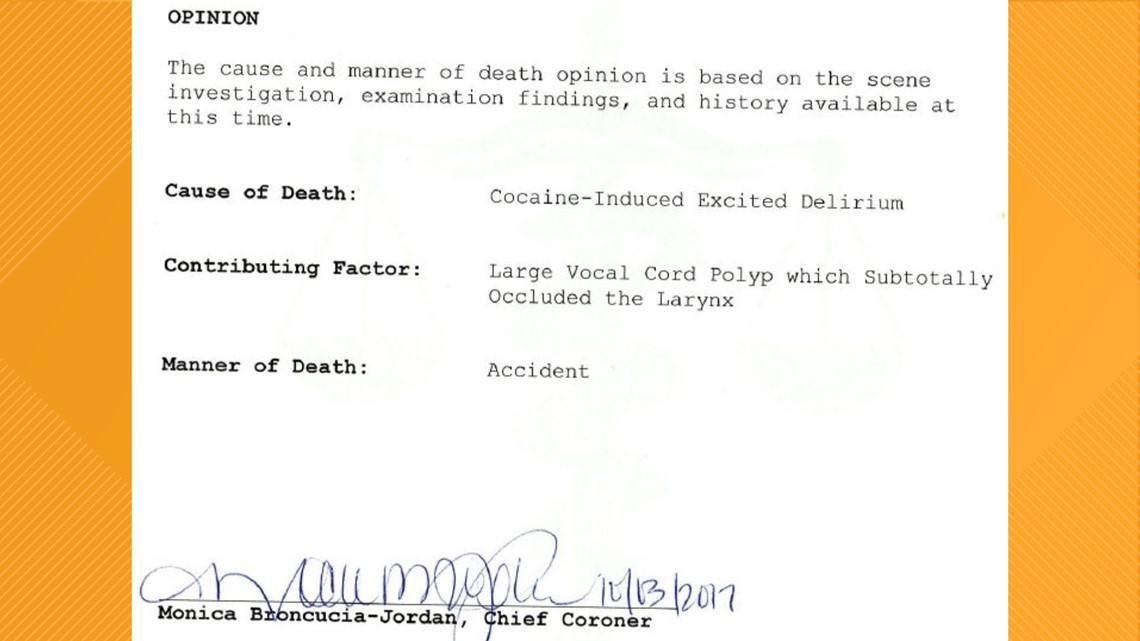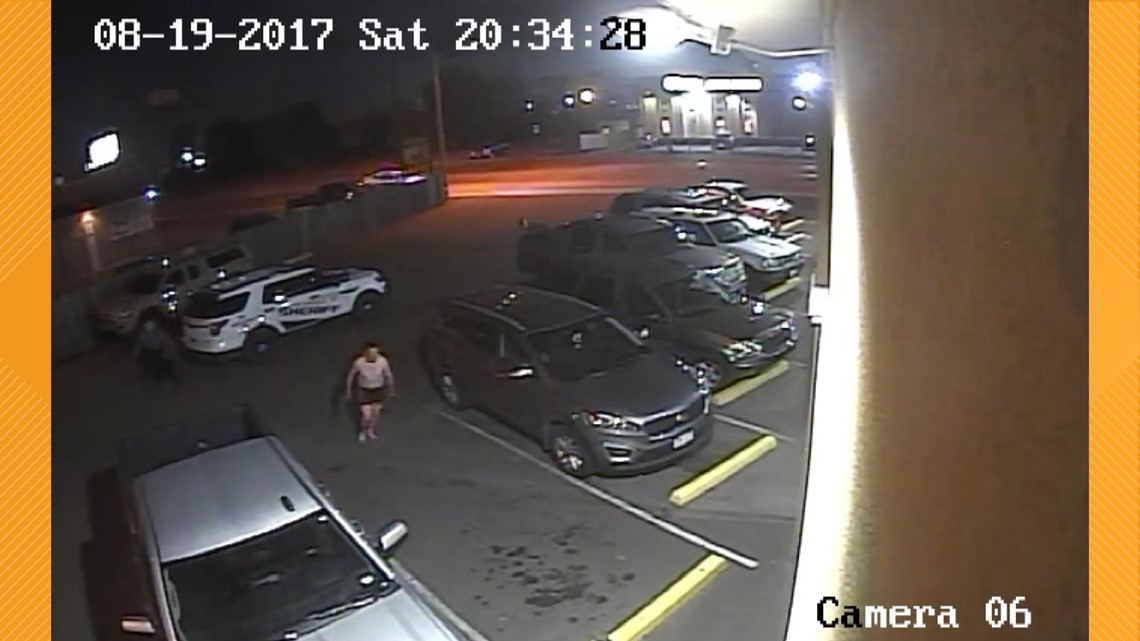 A few months prior, the same coroner's office came to the same conclusion about another death also involving law enforcement restraint. Alex Gutierrez died after an intense fight during an attempted arrest with, among others, Thornton Police officers. When fire crews arrived at the scene, one openly asked whether Gutierrez had been involved in a car accident.
"Cause of death: Methamphetamine-Induced Excited Delirium."
Manner of death? Undetermined.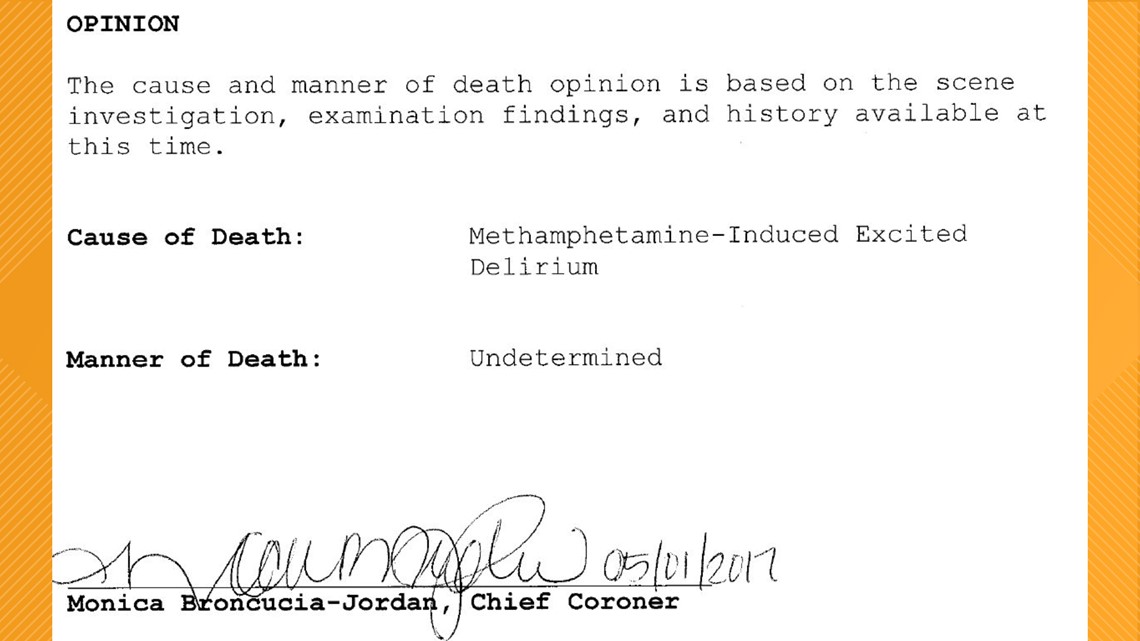 Both autopsies played an important role in clearing any of the officers of criminal wrongdoing.
Both conclusions were wrong, according to Dr. Joye Carter Rush, a forensic pathologist with more than three decades of experience. 9NEWS asked Carter Rush to review both autopsy reports.
"I consider [excited delirium] a wastebasket term," she said. "You just dump it in there instead of doing your work. What are the circumstances of death? What happened before the takedown? What happened during the takedown?"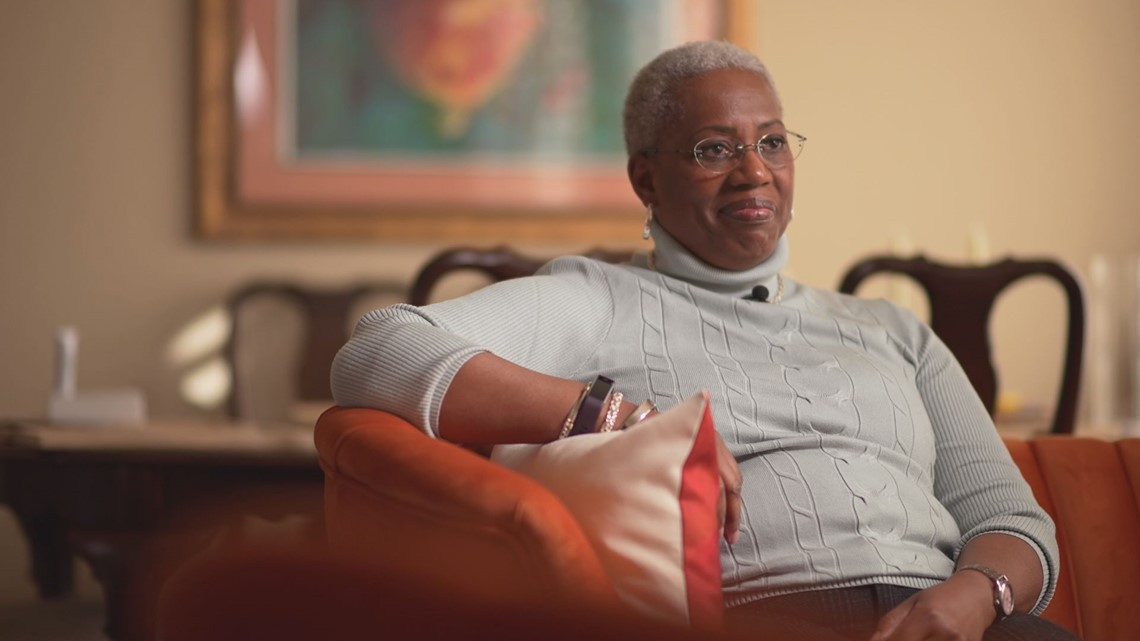 Carter Rush has become a vocal critic of the term.
"It serves as an excuse for excessive, aggressive and prolonged restraint," she said.
Two years after the deaths of Egli and Gutierrez, the Adams County Coroner's Office was asked to look into the death of Elijah McClain. McClain died after a fight with Aurora Police officers and a subsequent injection of ketamine in 2019.
"While on scene, [McClain] displayed agitated behavior and enhanced strength. These features are commonly seen in Excited Delirium," read the initial autopsy released in late 2019.
The report couldn't arrive to a specific conclusion as to why McClain died and classified the manner of death as "undetermined," but that initial autopsy's conclusions were cited heavily when the 17th Judicial District Attorney's Office first decided not to charge any officers involved.
A subsequent "amended" autopsy finalized in 2021 dropped all use of the term "excited delirium."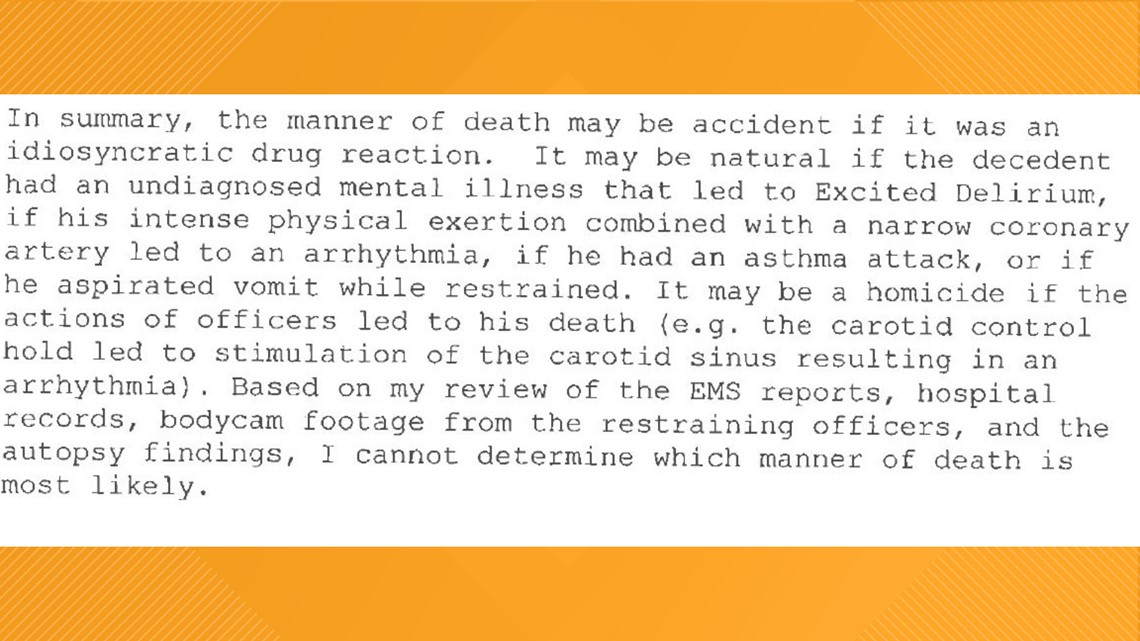 While investigating these deaths, 9NEWS asked Adams County Coroner Monica Broncucia-Jordan for comment on her office's repeated use of the controversial term.
"This office strives to follow state and federal law, and nationally recognized standards of practice. Colorado law specifically cites the National Association of Medical Examiners as the standard," she replied in a written statement.
"The National Association of Medical Examiners has NOT abandoned this as a medical diagnosis," she added. "If NAME takes a position that opposes the use of excited delirium in classifying death, then under my leadership, this office will follow accordingly."
In light of the recent statement from the NAME, we reached out again to the Adams County Coroner's Office for additional comment. Specifically we wanted to know if it might change its policy due to the NAME's decision to not endorse use of the term. We have yet to hear back.
The 2020 death of George Floyd changed a lot of things in this country. One of those things, undoubtedly, is how this country will look at the term "excited delirium" moving forward.
Cited by one of the arresting officers in Minneapolis, "excited delirium" has found its way onto police reports, autopsy reports and court filings for decades.
In late 2020, the American Psychiatric Association said, "The term 'excited delirium' is too non-specific to meaningfully describe and convey information about a person," as it added it "should not be used."
Dr. Debra Pinals helps represent the APA.
"We owe it to people to get this right," she told 9NEWS. "The phrase 'excited delirium' had become more and more a catchall for many circumstances that were difficult to explain."
In 2021, the American Medical Association adopted a policy opposing it as a diagnosis.
"Current evidence does not support 'excited delirium' as an official diagnosis," read the AMA press release. "The AMA "denounces 'excited delirium' as a sole justification for law enforcement use of excessive force."
Last year, Physicians for Human Rights issued a scathing report on the use and overuse of the term in some questionable cases.
"Excited delirium is not a valid medical or psychiatric diagnosis and should not be used as a cause of death," PHR researcher Joanna Naples-Mitchell said.
"Why is it that excited delirium is coming up almost exclusively in the context of restraint deaths?" she asked. "It's got to be more than a coincidence."
More from 9NEWS reporter Chris Vanderveen: