If you Google "helicopter crash fire," you'll see some of the same images I've been looking at since 2015 depicting what the National Transportation Safety Board calls a post-crash fire.
In fact, more than three years into our "Fueling the Fire" investigation, I've seen more images of these fires than I'd care to count.
Every one of them makes me think of Dave Repsher.
On July 3, 2015, a post-crash fire burned more than 90 percent of Dave's skin.
I wish I could come up with the right words to tell you just how remarkable Dave's story is. Right now, all I can think of are numbers.
He spent 165 days in a coma.
He spent 397 days in the hospital.
He just recently went through his 53rd surgery.
Dave's survival story, I believe, is unparalleled.
I can't thank them enough for saying yes.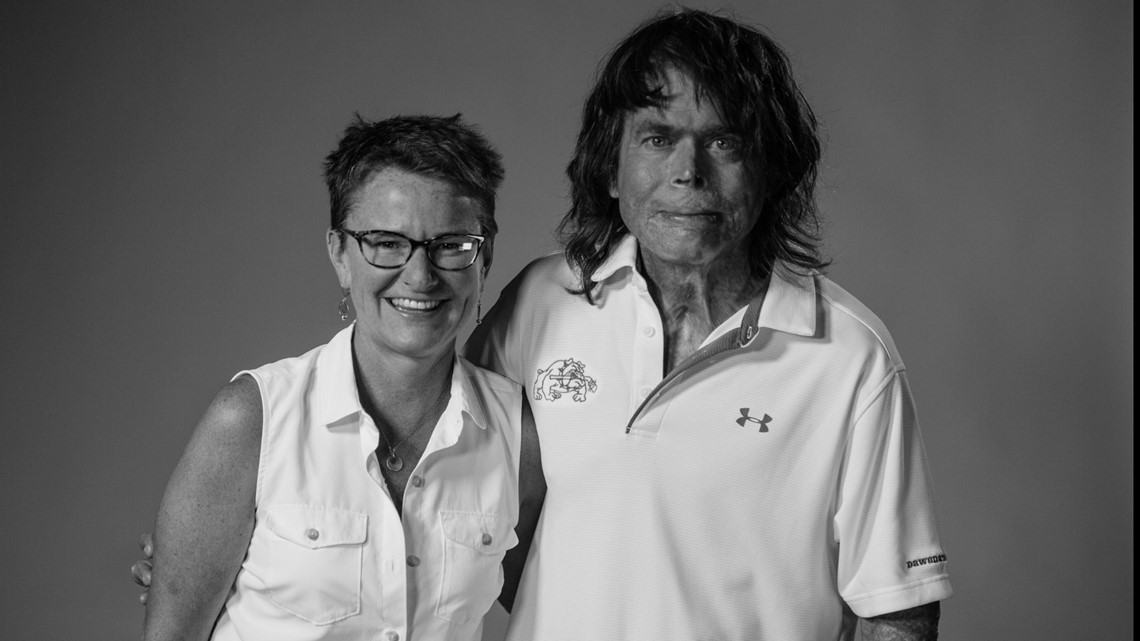 When we, as journalists, ask someone to trust us with their personal story, I believe we – as journalists – must work our rear-ends off to do that story justice.
The Repsher's story is as personal as they come.
Our most recent installment of "Fueling the Fire" is an attempt to tell that story. I know, for many, it will be difficult to watch.
Parts of it remain difficult for me to watch.
But his story, I believe, is an important one nonetheless. This year, partially due to our years of investigative work on the subject, Congress passed a law that will protect flight nurses like Dave Repsher and countless other people for years to come.
From now on, helicopter manufacturers will have to include crash-resistant fuel systems on every new helicopter they build.
What happened to Dave should never happen again.
If you've followed our investigation for any amount of time, you know post-crash fires are almost entirely preventable.
The military all but eradicated them in the 1970s.
There remains more work to do. Thousands of helicopters in use today don't have crash-resistant fuel systems. The new law doesn't do anything there.
Retrofitting the civilian fleet will be costly, likely too costly for many.
Congress will consider tax incentives to encourage smaller operators to retrofit.
Dave Repsher wants to be the face of this problem moving forward.
I think if his story can't change minds, then likely nothing will. Amanda told me a few months ago, Dave was the strongest person she knew.
Today, I can say the same.
Thank you, Dave and Amanda for letting Chris Hansen and I into your lives. We asked a lot of you.
Your story is as remarkable as they come.
A Message from Dave and Amanda Repsher
We are not getting through this alone. We are very blessed to have an army supporting us. The virtual impossibility of recognizing everyone in person weighs heavily on us and many remain unknown to us; so we simply will express our deepest heartfelt thanks. In full realization that this is hardly sufficient we would like it to be known that the outpouring of support was, and still remains, both palpable and welcomed. With the efforts of the untold many, our journey forward through this tempest became filled with optimism and love. There will undoubtedly be new obstacles ahead, but we will not be facing them alone.Though we can not possibly list everyone individually, we would like to thank our family and friends, our angel donor Matt Martinez, the entirety of the medical and therapy teams, other burn survivors, hockey world and Dawg Nation, the DRepsupport team, all of the fund raising groups and everyone who has supported us financially, our former employers and coworkers, everyone who helped to share our story, our community, the local churches, prayer groups, our case management team, our legal and settlement teams, and everyone who worked on our house and made it possible for us to come home. You all are in our hearts every day.