These revelations came during the first day of what was supposed to be a two-day preliminary hearing which Letecia Stauch refused to attend. Evidence was presented until roughly 3 p.m. when the prosecution rested. The judge said he would not rule Thursday on whether the case will proceed to trial but will do so during a hearing set for Sept. 23.
Leticia Stauch appeared briefly by Webex at the start of the hearing, which started at 9 a.m. and was wearing an orange striped jumpsuit and black mask.
>The video at the top of this story aired in March 2020 when Letecia Stauch was arrested.
When asked why she was not physically in court, she responded that she had confidence in her counsel and did not wish to appear in person even though she understood it was her right to appear there in person.
Prosecutor Michael Allen objected to her not being present and asked the court to waive the hearing, enter a not guilty plea and set a trial date. Judge Gregory Werner denied that request and decided the hearing should proceed as scheduled without the defendant present.
Content warning: The testimony in this hearing is graphic and may be disturbing for some readers.
During afternoon testimony, Sgt. Rosario Hubbell with the El Paso County Sheriff's Office (EPCSO) testified that on Feb. 3, 2020, deputies began looking for blood as evidence at the home where the 11-year-old boy was last seen. The crime lab used a chemical called BlueStar, similar to luminal, to look for blood not visible to the naked eye.
Photos shown in court indicate blood covered much of the wall by Gannon's bed. Blood was also found on the carpet in his room which had soaked through the concrete, according to testimony from Hubbell.
She testified that blood was found throughout the home including in the following areas:
Laundry room
Family room
Gannon's bedroom
Garage
Storage room
Stairs
The largest amount of blood was found in Gannon's bedroom under his bed which is why investigators believe that is where he was killed, Hubbell said.
Gannon's blood was also found on the bottom of a right Nike women's shoe, according to Hubbell's testimony. Swabs taken on the interior of the shoe matched Letecia Stauch's DNA profile, she said.
A DNA profile taken from a handgun found in the master bedroom of the home also came back as a match to Letecia Stauch, and a firearms expert reported that the three bullets found in the suitcase with Gannon's body were consistent with the bullets from the gun found in the home.
Letecia Stauch was arrested in South Carolina on March 2, 2020, months after Gannon was last seen on Jan. 27 of that year. That is the day that prosecutors allege she killed the boy in his bedroom hours before reporting him missing.
Sgt. Patrick Younkin with the (EPCSO) was among the first to respond to the Stauch home the night Gannon was reported missing. He said they got to the home just after 10 p.m. even though the initial report for a runaway juvenile came in at 6:55 p.m. He explained that runaway calls are given "non-emergent" status and the response to the home was delayed as they dealt with other calls.
He asked to search the home, and according to body camera footage shown in court, Letecia Stauch did not hesitate when she answered yes.
The footage shows a deputy looking through the home with a flashlight and opening a black vehicle, and inside there's a suitcase that appeared similar to the one later found under a Florida bridge with Gannon's remains inside. In the video, the suitcase was not opened and the deputy moved on.
The deputy then searched Gannon's room and there were no obvious signs of a struggle. Younkin testified that there was nothing immediately apparent to indicate a struggle had occurred in the house.
He said he went back to the home on Jan. 29, 2020, to assist with a search warrant, and at that time, he testified he found a red liquid substance in the garage and on the stairs. It was dry and he said he wasn't sure what it was.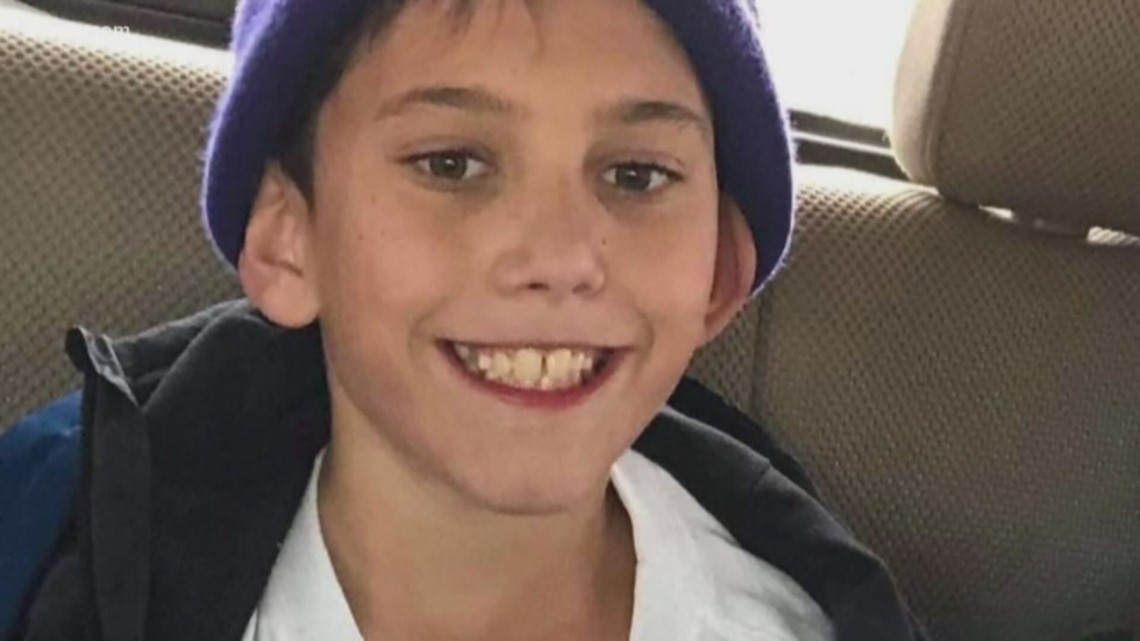 Kevin Clark, who was a senior analyst with the Colorado Springs Police Department (CSPD) when Gannon disappeared, was the second witness to take the stand Thursday. He testified about the whereabouts of Letecia Stauch on Jan. 28, 2020, the day after Gannon was last seen.
A lot of the information came from data retrieved from the telematic system on her primary vehicle, a Volkswagen Tiguan, which provided law enforcement with timestamps and locations of the vehicle.
It showed that Letecia Stauch left her home at 8:15 a.m. and headed to the Colorado Springs Airport to pick up her then-husband Al Stauch, who had been in Oklahoma for military training
When she got to the airport, according to the data, she parked her Tiguan in the temporary lot at the airport where it remained until around 8:30 p.m., according to court testimony. She then rented a Kia Rio, picked up Al Stauch, and they headed home in the rental car which was seen pulling up to their home on a doorbell camera at 9:15 a.m. on Jan. 28.
Data from the Tiguan shows that it was picked up from the airport that evening. Investigators compared the car data to data from Letecia's Stauch's cellphone and determined she was with the vehicle throughout the evening, according to court testimony.
The data resulted in several law enforcement searches for Gannon while he remained missing. In some areas, dumpsters were searched, but nothing was found, Clark testified.
He also testified that throughout much of the evening of Jan. 28, Leticia Stauch's phone was in airplane mode.
Between 9:07 p.m. and 9:19 p.m., she traveled north on Interstate 25 and exited on County Line Road and traveled to Highway 105 where she headed northbound into a rural area of Douglas County, according to testimony.
At one point, she doubled back and headed south on 105, according to Clark, who said the southbound trip took longer than the northbound trip.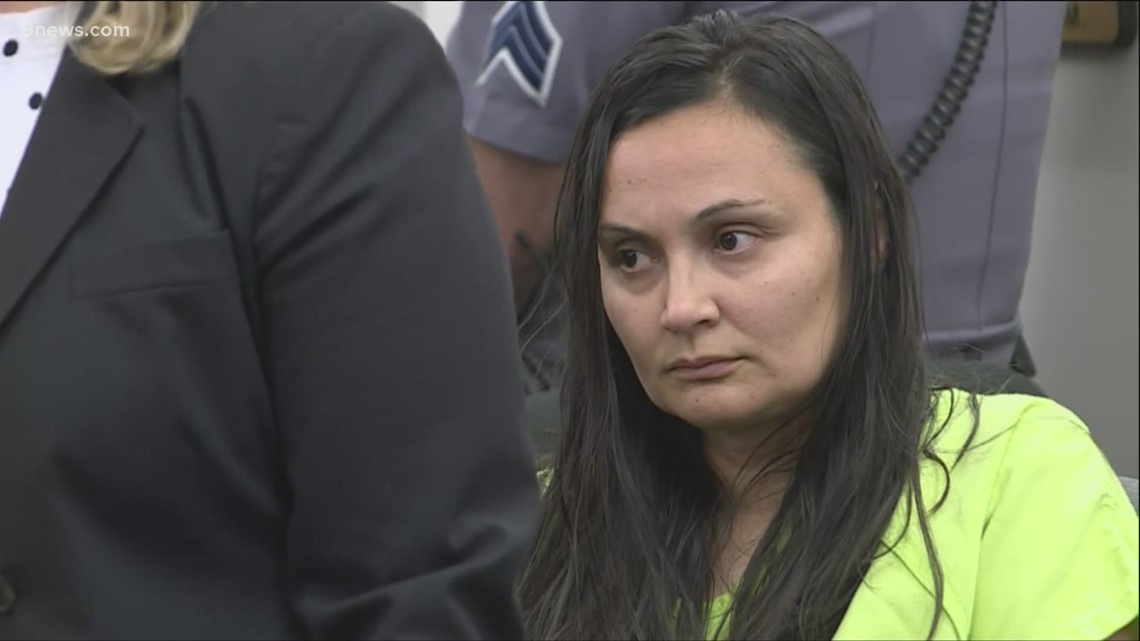 Between Feb. 12-20, 2020, numerous agencies conducted an "outside search" near Highway 105 between Palmer Lake and Larkspur. A plywood board was found in that area on Feb. 15, according to court testimony.
Lt. John Sarkisian with EPCSO, who was in charge of search efforts for the case, testified later in the day that they were not specifically looking for a board, but for anything that appeared out of place.
On closer inspection, he said the board appeared to have some type of stain on it that he believed to be blood. He said it initially tested presumptive positive for blood and the next day, he testified that he learned it was Gannon's blood.
Around 9:30 pm., the data shows that Letecia Stauch headed back to I-25 and exited at Briargate Parkway where her phone connected to WiFi at a Starbucks for about 55 minutes despite still being in airport mode, according to court testimony.
Eventually, she arrived, according to the data, at a Holiday Inn parking lot, where her daughter picked her up, Clark said. The Tiguan was left in the hotel parking lot overnight.
The next morning, which was Jan. 29, her daughter took her back to the hotel to get the Tiguan. This is also the same day, according to Clark, that EPCSO took the Tiguan and Letecia Stauch's phone as potential evidence.
On Jan. 30, a relative of Letecia Stauch flew into Denver International Airport (DIA) and rented a Nissan Altima, Clark said. Investigators determined that Altima traveled to the same spot the Tiguan was three days prior along Highway 105.
In early February 2020, Letecia Stauch rented a Budget Rental van and purchased a Verizon cellphone in a Trinidad Walmart, Clark testified. Data from the van, show it traveled from Colorado to Florida, according to Clark. Data was compared from the van to the phone purchased by Stauch, and it showed they were traveling together, Clark said. Her daughter was with her during this trip, according to testimony
The van arrived in Pensacola on Feb. 4, 2020, and Letecia Stauch and her daughter rented a room at a Candlewood Suites in Pensacola, which is just over three miles from where Gannon's body was found, Clark testified.
The pair then traveled to Myrtle Beach, which is where Letetica Stauch was eventually arrested.
Gannon's remains were found in Florida on March 20, 2020 which was about six weeks after Letecia Stauch's trip. The first witness of the day was Sgt. Jason Yoder with the Santa Rosa County Sheriff's Office in Florida, who testified about how those remains were found and their condition.
EDITOR'S NOTE: 9NEWS has a reporter in the courtroom. However, the information in this story has been provided courtesy of our partner KRDO.
Yoder said bridge inspectors from the Florida Department of Transportation found Gannon's remains in a suitcase. He said the workers were inspecting the west side of a bridge and when they couldn't use their equipment anymore they walked under the bridge and found the suitcase.
They opened it and discovered the body of what appeared to be a small child inside, Yoder testified. The fully clothed, severely decomposed body was in the fetal position and wrapped in blankets, according to Yoder. A pillowcase with sharks on it was also in the suitcase and it had two bullets in it, according to court testimony.
During afternoon testimony, an EPCSO investigator testified about a photo taken on Letecia Stauch's phone at 8:14 a.m. on Jan. 27 that appeared to show Gannon asleep in his bed. The blanket in the photo appeared to match the one later found with Gannon's body. The investigator also noted that the bedding which had sharks on it was different than the bedding observed by investigators when they responded to the home later that same night.
Yoder testified that right above where the suitcase was found there is an emergency pull off and investigators believed there was evidence the suitcase was tossed down from there.
"The way it found was consistent with someone dropping a suitcase off the bridge," Yoder said.
Yoder attended the autopsy for Gannon and described the wounds he observed. They included:
A skull fracture
Gunshot wound to the jaw
Defensive wounds to his hands
Cuts on his arms and hands
Sharp force injuries to his left chest area and right back area
The autopsy determined that his cause of death was a gunshot wound to the head and blunt force trauma to the head.
Since her arrest more than a year ago, Letecia Stauch has been held without bond on felony charges. They include:
First-degree murder after deliberation.
First-degree murder of a person under 12 by someone in a position of trust.
Child abuse resulting in death.
Tampering with a deceased human body.
Tampering with physical evidence.
Seven counts of a crime of violence for using a weapon (the weapons listed in the complaint include a firearm, blunt object and sharp object).
One count of crime of violence – causing severe bodily injury or death
She's also accused of slipping out of handcuffs and attacking a deputy as she was transported to Colorado from South Carolina following her arrest and plotting an escape from the El Paso County Jail.
After the prosecution rested Thursday afternoon, Letecia Stauch returned to court to appear by Webex. During that short appearance, she waived her right to a preliminary hearing related to the alleged escape charge she faces.
Court proceedings have been drawn out for various reasons including the COVID-19 pandemic and questions about whether Letecia Stauch was competent to stand trial. Ultimately, two mental health evaluations determined that she was mentally fit and that case could move forward.
There were further delays when Stauch asked to represent herself at trial and then complained to the judge that she was granted access to the law library at the jail only a few hours a week, which is where she would need to go to access case documents electronically.
Eventually, she was given nearly 1,800 pages of paper documents. In May 2021, she was granted new attorneys and is no longer representing herself.