COLORADO, USA —
UCHealth hospitals in Colorado now issue health care workers tasked with healing patients with coronavirus a single protective mask per shift, according to internal documents obtained by 9Wants to Know.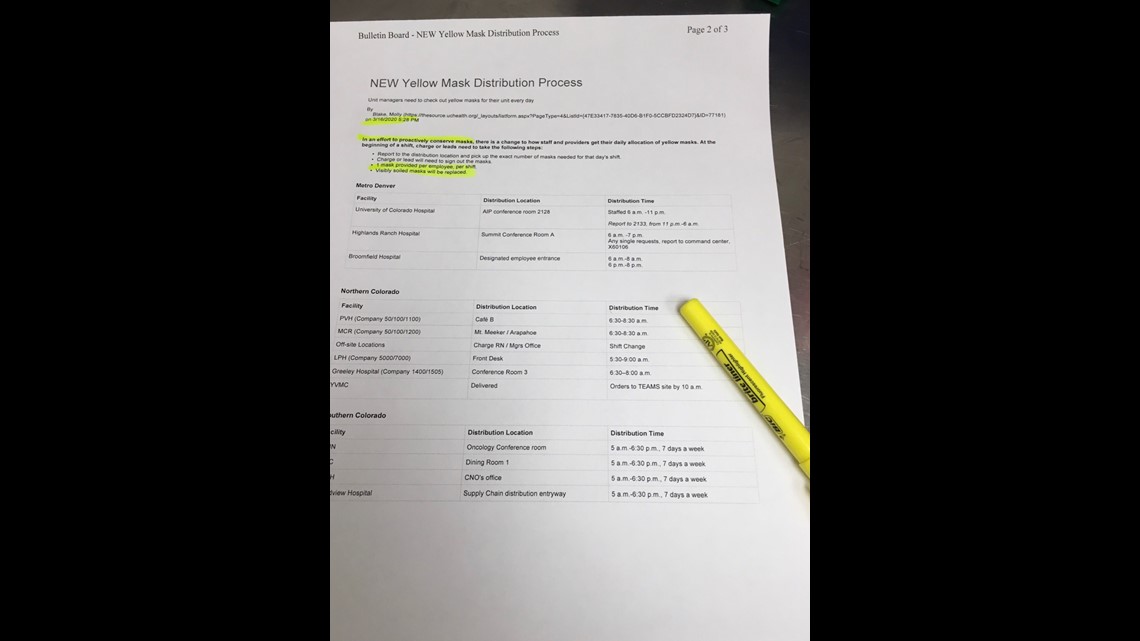 The memos said this is being done to "proactively conserve masks" because of a "shortage of N95 respirators, masks and gowns" across the United States.
A Colorado health care worker, who asked not to be named for fear of retribution, said this is not enough.
"Only getting one N95 mask per shift per respiratory therapist is ludicrous," she said. "Not only are you putting the health care workers at risk, you are putting your other patient population at risk."
"We do have guidance from health departments and manufacturers with specific guidelines on how it can be reused, yes," Weaver said.
A portion of UCHealth's website, online as recently as Friday, said their hospitals had "plenty" of personal protective equipment (PPE) to "take care of our extraordinary caregivers."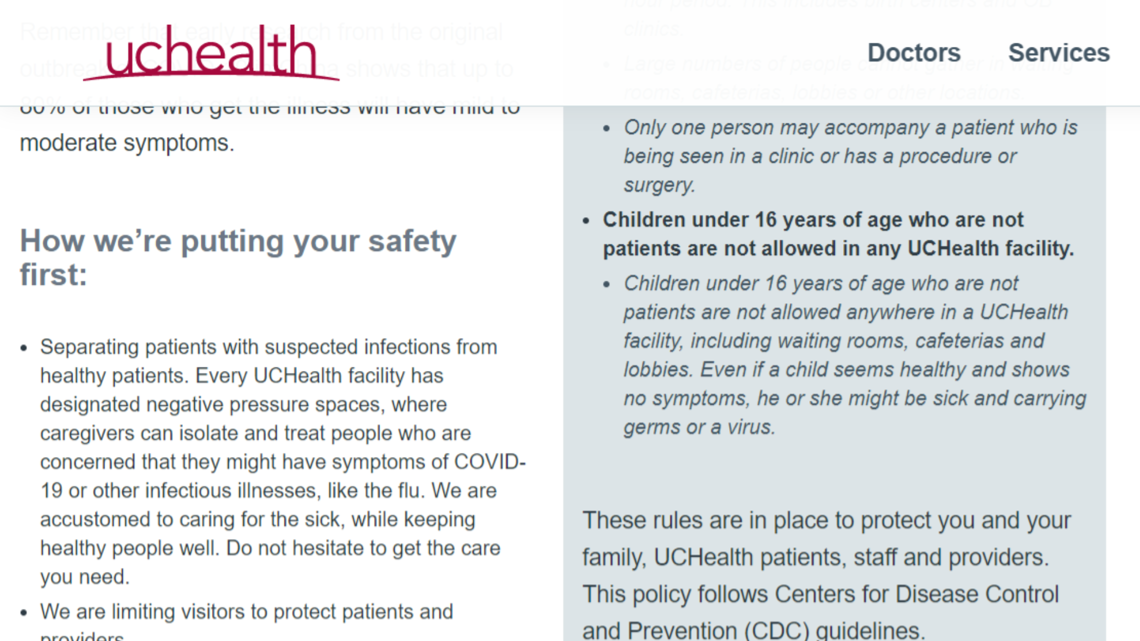 Weaver was asked if it was true that UCHealth has "plenty" of protective gear.
"I don't know that any hospital has plenty," Weaver said. "I know that all hospitals across the nation are concerned about PPE, and all hospitals are conserving it."
Other hospitals across Colorado are moving to a similar practice out of necessity. Julie Lonborg, senior vice president at the Colorado Hospital Association, said hospitals seek to limit PPE use as much as possible each day because of lessons learned from states struggling to cope with even more severe shortages. She said representatives from those states wished they had limited PPE earlier.
"We're calling it PPE conservation mode," Lonborg said. "Again, not normal circumstances – and not just for hospitals that are experiencing the surge but all hospitals so that we preserve this really important equipment as long as we can."
Dr. Payal Kohli, 9Health Expert for 9NEWS, said she was concerned by what she saw in the UCHealth policy, established on March 16. PPE like gloves, gowns, goggles and face shields are in short supply. Using them just once limits the potential for infection.
"Equipment is supposed to be disposable for a reason because when you're wearing it it can often be contaminated with small particles that you don't realize [are there]," Kohli said. "When you're reusing the equipment you have the potential to touch the equipment and contaminate more surfaces or actually infect yourself and other patients so you're essentially taking bacteria, viruses and germs from one patient's room to another so it can certainly be a portal for transmitting infection as well."
The unnamed healthcare professional said she was afraid she was unknowingly spreading COVID-19 to other patients because she cannot change her mask. She may see children or immunocompromised people in a cancer ward after treating a coronavirus patient. She fears she "probably already has it." If there aren't masks that are up to par, she fears other masks are not doing enough to protect her.
"We're breathing in that same air in these crappy masks that are not protecting against small particles," she said. "Then we get it."
Longborn, with the Colorado Hospital Association, said the PPE limitations are not ideal but are better than nothing.
"I think what we believe is it's going to keep them from being vulnerable on the back end when there's no more PPE," she said. "The CDC has issued a suggestion, that if you don't have PPE wear a bandana. And we're trying to put that off from happening in Colorado as long as humanly possible."