KUSA – Few injuries are more personal and painful than burns. At this moment, a Colorado flight nurse continues to fight for his life inside the burn unit of University of Colorado Hospital. Four months have passed since a fiery Flight for Life helicopter crash left him with burns on more than 90 percent of his body.
WATCH: Fueling the Fire documentary which air Dec.19, 2015:
9Wants To Know spent months gathering data, asking questions and interviewing nationally recognized experts on the subject of post-crash fires in an effort to better understand why it happened to him and why it has happened for decades under the regulatory eye of the FAA.
The 9Wants To Know investigation revealed thousands of helicopters – more than 150 in Colorado alone – remain vulnerable to potentially deadly post-crash fires.
The problem, well known by federal regulators, has existed within the country's civilian helicopter fleet for decades despite repeated warnings from safety experts. Those warnings documented the tendency of fuel tanks to rupture even after survivable, low-impact crashes and hard landings.
"It's unsafe," Colorado congressman Rep. Jared Polis (D-Boulder) told 9NEWS shortly after he was briefed on 9Wants To Know's findings. "Enough have suffered and died from a ridiculous loophole in our safety laws."
It's a loophole that has allowed many well-known manufacturers ample wiggle room to continue to build helicopters with antiquated fuel systems that could never meet the latest federal standards. These standards are currently more than two decades old.
Conversely, the US military has gone so long without a fatal post-crash fire in one of its helicopters, it's hard for researchers to find more than one death due to burns during the last four decades.
When 9Wants To Know asked one of the leading researchers on the subject of civilian helicopter crashworthiness in the country what would happen if nothing changed, he put it bluntly.
"More people are going to be severely burned," retired Army Colonel Dennis Shanahan said.
9Wants To Know asked: Will more people die?
"Yes," he replied. "I think this story needs to be told."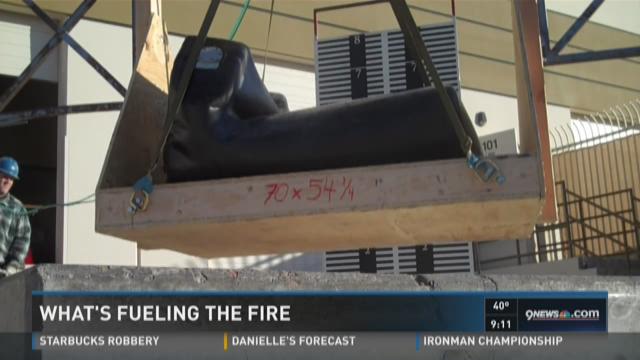 "It was an inferno. Absolutely," recalled Jimmy Rhodes, a CT Tech at St. Anthony's Summit Medical Center.
He said his first instinct was to run toward the burning Airbus AS-350B3e which had just crashed shortly after takeoff from St. Anthony's helipad on July 3 in Frisco.
"The fire was just all around us," he said. "I could smell the jet fuel."
Inside the helicopter, pilot Pat Mahany and flight nurses Dave Repsher and Matt Bowe struggled to get out of the wreckage.
"I had to get [Mahany] out of there. I couldn't let him burn," Rhodes said.
"I saw the whole thing," Jordan Dobrin, a local mortgage broker who was riding his bike on a nearby path when the helicopter went down, said. "It just blew up right away."
The National Transportation Safety Board isn't expected to release its final report on the crash until sometime in 2016 at the earliest. Its preliminary report makes little mention of the nature of the fire other than to say: "A post-impact fire ensued."
Sources close to the family told 9Wants to Know Mahany likely died due to the impact. Repsher, however, suffered burns on more than 90 percent of his body and remains in critical condition at University of Colorado Hospital's burn unit. A recent entry in a webpage devoted to his recovery said he had just gone through his 28th surgery as of November 2015.
Bowe has since been released from the hospital.
"The fire was on Dave," Dobrin said. "Huge flames."
The Flight for Life helicopter, built by Airbus and owned by Air Methods, was only 1-year-old, but its fuel system needed only to meet the standards in place when it was first certified by the FAA back in 1977.
The fuel tank, for example, is nothing more than a large plastic container that some industry insiders compare to a large milk jug.
"The fire didn't need to happen," Rep. Polis said.
Rep. Polis calls it a loophole. In 1994, acting on a request the NTSB made nine years prior, the FAA mandated all newly built and newly certified helicopters have crashworthy fuel systems that would meet or exceed the latest standards at the time.
For example, a fuel tank would have to survive a 50-foot drop test without spilling a drop.
Those standards, still in place now, only apply to newly certified helicopters. And since most helicopters in use currently were first certified by the FAA prior to 1994, helicopter manufacturers have built thousands of helicopters since then without updated fuel systems.
The AS-350 that crashed in Frisco, for example, was 1-year-old, but the FAA certified the AS-350 model in 1977. As a result, and even though it was new, it was not required to have a crash-resistant fuel system.
"Even by the FAA's own observation, it's unsafe. But because of a loophole they're still letting these helicopters to be sold even though we know they are unsafe," Rep. Polis said.
In July, the NTSB said more than 4,700 of the 5,600 helicopters manufactured since 1994 didn't have fuel systems that would meet the 1994 standards. Analysis of FAA records by 9Wants to Know shows there are currently 173 helicopters registered in Colorado that are not required to have crash-resistant fuel systems. The vast majority were built after 1994.
In the interest of full disclosure, the AS-350 9NEWS leases for SKY9 operations - which was manufactured in 2003 - is included on the list of helicopters not required to have a crash-resistant fuel system.
Nine of the 17 emergency medical services helicopters (HEMS) currently operating in Colorado are also not required to have the more robust fuel systems, even though all were built after 1994.
All of the "Flight for Life" helicopters in Colorado are AS-350B3s, for example, and thus are not required to meet the 1994 standards. After numerous requests for comment by 9Wants to Know, Air Methods - one of the largest HEMS operators in the country and owners of the five Flight for Life helicopters in Colorado - announced in late October it planned to retrofit all of its AS-350s starting as early as 2016 with crash-resistant fuel systems.
Its statement read, in part:
"We are working directly with a third party who is seeking certification for a crash-resistant fuel system for the entire Airbus line. We expect a crashworthy system to be certified in 2016 for the AS350 ... fleet. For us, it's about doing the right thing."
INTERACTIVE TIMELINE: http://bit.ly/1NIGL86
In July, NTSB Chairman Christopher A. Hart authored a safety recommendation urging the FAA to mandate all new helicopters - no matter the date of certification - have a crash-resistant fuel system.
"We've seen it in the military. We want to see similar progressive action taken in civilian helicopters," Hart told 9Wants to Know.
FAA Administrator Michael Huerta responded recently by saying the FAA will consider the request. The response, with no timeline for possible implementation, is yet another reminder of just how long this problem has existed with full knowledge of federal regulators' full knowledge.
Dennis Shanahan, a former Army colonel and one of the leading researchers in the country on crashworthiness of helicopter fuel tanks, knows by the time he started doing research for the Army the problem had already been solved.
"It was 1976, and we already had crash-resistant fuel systems in every helicopter in the Army," he told 9Wants to Know when 9Wants To Know visited his southern California home.
Blame or credit, of all things, the Vietnam War.
Tired of losing soldiers to fiery helicopter crashes in the late '60s and early '70s, the Army committed itself to solving the problem of vulnerable fuel tanks. It started, among other things, installing bladder tanks and breakaway, self-sealing fuel valves.
In a few years, the problem went away.
Shanahan's research suggests to him since the mid-1970s, only one person has died as a result of burns suffered as a result of a post-crash fire in a military helicopter.
At the same time, he knows, hundreds died in post-crash fires in civilian helicopters even as evidence mounted as to the need for more robust fuel systems: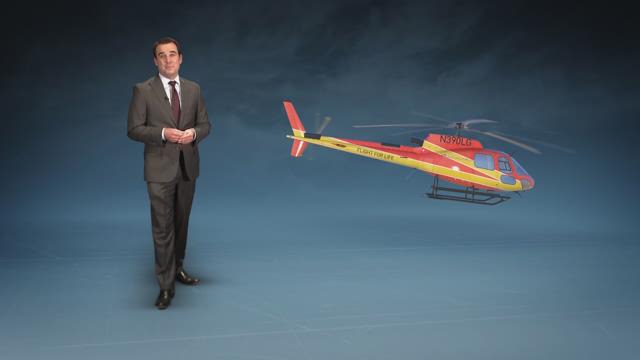 Shanahan said the FAA has all of the data it needs to make a decision now.
"I think it's deplorable," Shanahan said. "I think the manufacturers and the Federal Aviation Administration have a moral imperative to require [crash-resistant fuel systems] on all new helicopters right away."
INTERACTIVE MAP OF HELICOPTER CRASHES: http://bit.ly/1NLlF98.
A 9Wants to Know investigation of hundreds of NTSB accident reports since 1994 indicates crash-resistant fuel systems do make a difference when it comes to post-crash fires in fatal helicopter accidents.
After reviewing reports on the crashes which resulted in post-crash fires, 9Wants to Know found the helicopter that crashed in Frisco in July - the AS-350 - has the highest incident rate of fires that happen after a fatal crash.
Of the 46 fatal crashes involving an AS-350 since 1994, 22 have resulted in post-crash fires. That's an incident rate of 48 percent
The Bell 407 – which has a crash resistant fuel system as part of its design – was involved in 22 fatal crashes since 1994. Four resulted in fires. That's an incident rate of 18 percent
The Bell 206, which is not required to meet the 1994 standards but does have some measures in place to protect the fuel system, particularly in the newer ones, experienced a fire incident rate in fatal crashes of 26 percent
The Robinson 44, which is also not required to have a system in place that would meet the 1994 standards, experienced an incident rate of 43 percent. Robinson has scrambled to replace the R-44's aluminum tanks with more crashworthy ones over the last half decade.
Airbus supplied a statement to 9Wants to Know this week which read, in part:
"The data presented does not take into account the widely varying circumstances of each accident. Because of the differences, a reliable comparison of accidents requires detailed analysis of the facts and circumstances contained in the accident reports."
9Wants to Know examined each of the reports outlined in our investigation, and while Airbus' statement suggests, accurately, the difficulty of assessing survivability of individual accidents, our data shows – in fatal crashes – the AS-350 burns more often than helicopters with more robust fuel systems. It is important to note that while a fire may have followed a crash, many crashes are not survivable with or without a fire.
In addition, Airbus stated it has offered a crash resistant fuel system on all new AS-350s (also known as H125s) since July 2014. Also, Airbus stated it is working with a third-party vendor to design a retrofit in AS-350s currently in use. The design, "is expected to be certificated and available for purchase by aircraft owners in 2016," according to Airbus.
"Safety is No. 1 priority for Airbus Helicopters," the statement concluded.
Read the full Airbus Helicopters Inc. statement here: http://bit.ly/1NICfqc.
Lauren Searle lives in Denver, but her mind is constantly thinking of Wichita Falls, Texas.
In October, 2014 her sister, Leslie Stewart, was a few months into her dream job as a flight nurse when the Bell 206 she was in crashed just outside of United Regional Health Care.
NTSB accident records indicate Stewart managed to crawl out of the helicopter and was six feet away from the cabin when the helicopter erupted into a ball of flames.
She suffered burns on close to three-quarters of her body and died as a result of her burns four days later.
"She survived the crash," Searle said.
A local photographer from the NBC affiliate in Wichita Falls who just so happened to be in the area at the time of the crash recorded much of the fire.
Searle said, every so often, she'll take another look at video of the fire online.
"There are some days when I have to say 'Where is my sister? What exactly happened?' Because I don't want to make it any worse than it was," she said.
The NTSB's final report said the helicopter that crashed did not have a crash-resistant fuel system.
Searle believes - had it had one - her sister would be alive. It's why she has made it a priority to start talking to people, legislators and operators about the dangers associated with antiquated helicopter fuel systems.
"If she had survived, she would be right there standing with me saying, 'Not again,'" she said. "My sister and I stood up for each other, and this is the time I need to stand up for her."
As soon as 2016, Founder of the Air Medical Memorial Steven Sweeney hopes to bring a permanent memorial for victims of air-medical-operation accidents to a patch of open space in Jefferson County. Leslie Stewart's name will be one of 400 names on the memorial wall.
Sweeney said the post-crash fires are beyond troubling.
"In many of the cases, the aircraft was just consumed, and you have to wonder why," Sweeney said.
When he heard of the accident of Frisco, he said it crushed him.
"It was a punch in the stomach," Sweeney said.
He knew pilot Pat Mahany and considered him among the "best of the best" when it came to helicopter pilots.
When asked of the inability of the FAA to require crashworthy fuel systems on most helicopters flying in the US now, he said: "The evidence is there. [Changing this] would just be the right thing to do."
Rep. Ed Perlmutter (D-Colorado) agrees. In October, he and Rep. Polis authored a letter urging the FAA to speed up its review process.
"The technology has been there for 30 years to fix this," he said. "The military demanded better, and they got better. I think we've got to demand better on the civilian side."
FAA Administrator Michael Huerta, responding to a question from 9Wants to Know, said he's listening to the concerns.
"What we want to ensure is fuel tanks operating in the system are safe," he said. "We're constantly looking at whether we need to adjust whatever actions we're taking."
He did not say how long the process might take.
Jeff Carter still looks in the mirror, on occasion, and doesn't recognize the man staring back at him.
"There are days I just don't want to be stared at," he said.
In 1994, the same year the FAA changed the rules for newly certified helicopters, Carter's helicopter – a Bell 206 -- crashed while he was trying to deliver supplies to firefighters working a fire near Tucson, Ariz.
"I remember the explosion, but I don't remember sliding down the mountain," Carter said.
By the time the firefighters on the ground were able to get to him, the damage was already done. His face bore the brunt of the fire that resulted from a leaking fuel tank.
On the day 9Wants To Know caught up with him, he was speaking to students at Denver Christian School.
"[One] part of my face came from my back. [Doctors] took the skin off my back and put it on my face," Carter told the kids.
He then explained he's gone through more than 100 surgeries since the crash.
"I stopped counting a few years ago," Carter said.
He said the pain, particularly early on, was relentless.
"It was excruciating. There were a few times I just didn't want to be alive anymore," Carter said.
He said he left that time in his life behind him years ago, thankfully. He now is married and has two boys.
"I have not let that crash define who I am. It did change me, but it's not the defining moment in my life. It's just something that happened to me," Carter said.
When asked of the 4,700 helicopters built since 1994 that don't have crashworthy fuel systems, he turned pessimistic.
"I think it's a shame. It's something that can be addressed and could be fixed," he said. "When there is a chance to fix something, it'd be nice if they could do it."
RESOURCES
1960 Army report on military helicopters and post crash fires - http://1.usa.gov/1MmWVjb
1980 US Army investigation reports military has essentially eliminated post-crash fire fatalities in survivable helicopter crashes - http://bit.ly/1WQwSWF
1994 FAA mandates all newly certified helicopters have crash resistant fuel tanks - http://1.usa.gov/1MVkzJ7
1994 FAA says newly certified helicopters must have tanks that would survive 50-foot drop test (see page 142) - http://1.usa.gov/1HwcmZz
2014 NTSB Safety Recommendation specific to R-44 Helicopters and crash resistant fuel tanks - http://1.usa.gov/1M4Zp7O
July 2015 NTSB Issues Safety Recommendation based upon Wichita Falls, Texas crash - http://1.usa.gov/1LG5qHv
Previous USA Today report - http://usat.ly/1LX3IE0
Previous 9NEWS reports on this subject:
July 27, 2015 - http://on9news.tv/1Nt8HbR
Aug. 31, 2015 - http://on9news.tv/20Pg72E
Oct. 10, 2015 - http://on9news.tv/1XFq40f
Oct. 22, 2015 - http://on9news.tv/1PqojTp
(© 2015 KUSA)